As you may of noticed, I've been quite pleased with the Astrolux flashlights I've reviewed of late. This brings me to the latest… the Astrolux S43  😎
One important item of note; the S43 is available in two different LED types. THIS review is for the Nichia 219C version in neutral white.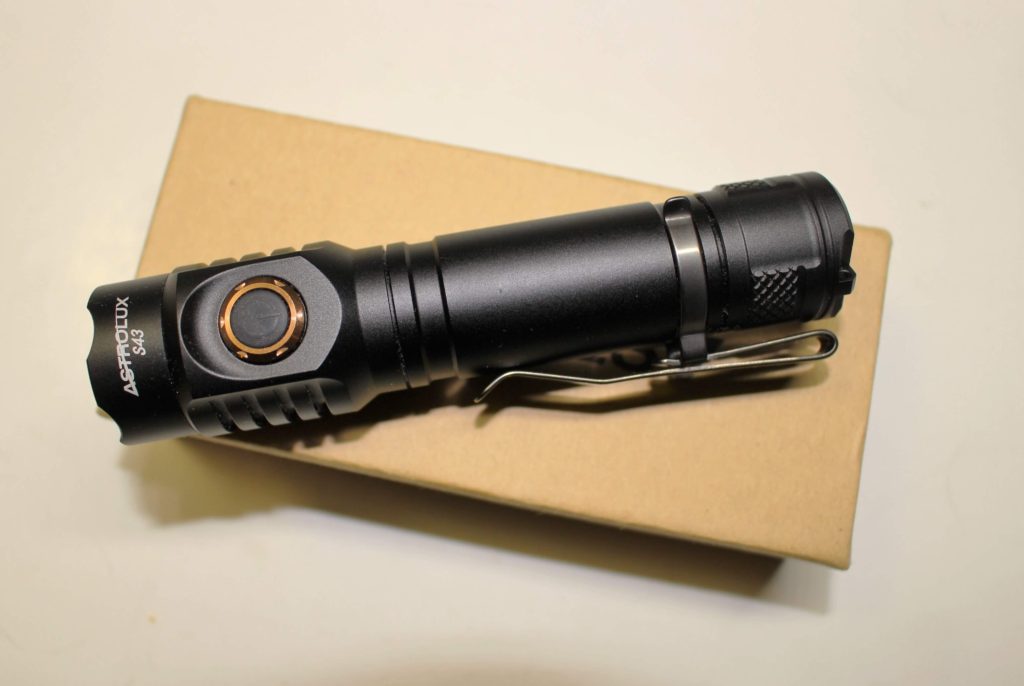 Minimal Packaging (but fair accessories)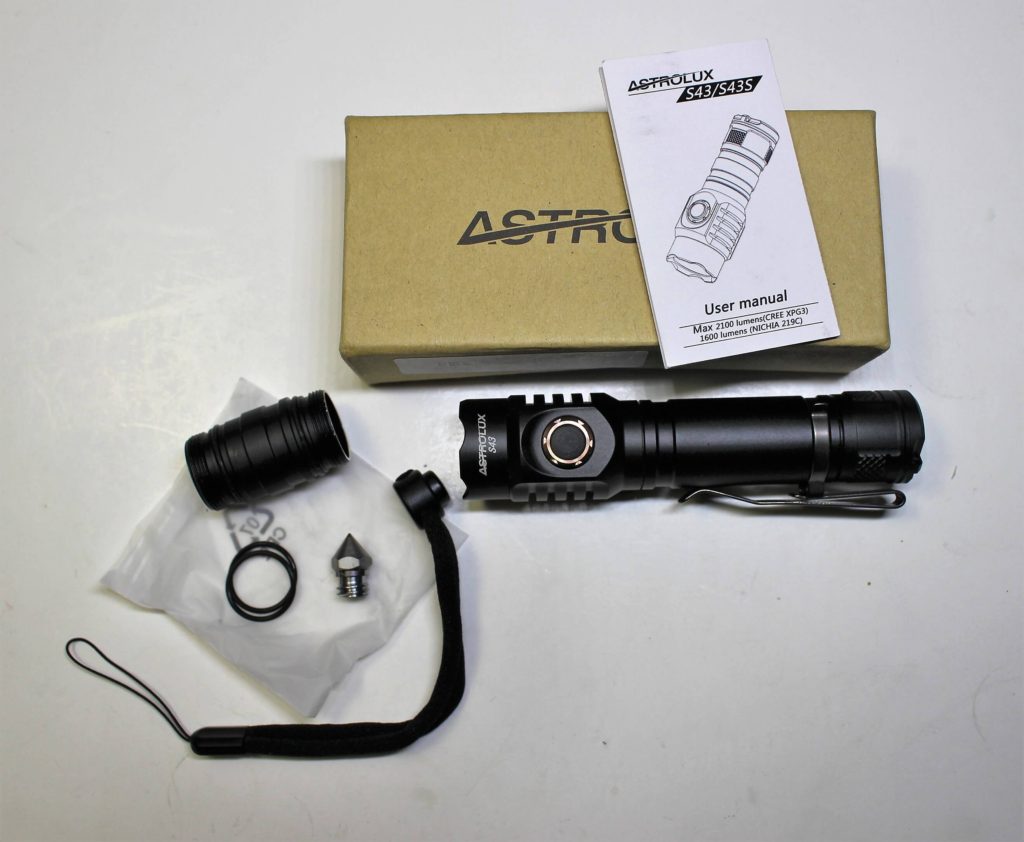 Astrolux puts their lights in very non-descriptive, recycled boxes. Tucked inside along with the S43, are some pretty decent accessories. These are comprised of the user manual, 2 spare O-rings, a pocket clip, an attack hammer, a conversion tube, and a lanyard.
Weights and Dimensions
Length; (with 18650 extension) 4.7″
Length; (with 16340/18350 tube) 3.4″
Weight; (with 18650) 5.03 oz
Weight; (with 18350) 2.90 oz
Specifications 
LED; (4) Nichia 219C's (neutral white)
Max Output; 1600 lumens
Beam distance; 148 meters
Working voltage; 2.8 – 4.25
Body; aerospace aluminum alloy w/hard anodized finish
Impact resistant; 1.5 meters
Water resistant; IPX-6
Features
USB rechargeable
TWO operating modes; (ramping default)
Efficient constant current circuit
Charging protection (overcharge/discharge)
Ultra clear mineral-glass (TIR) lens
Battery voltage/charging indicator
Mode memory
Mode lockout
Instant access to lowest & highest mode
Removable attack hammer
Battery Options and Output 
Depending on which tube option you prefer, the Astrolux S43 can run on two battery types.
For the longest runtime, a 18650 is suggested. For a more compact option, but shorter runtime, you can use either (1) CR123, 16340, or 18350. Among those options I prefer the 18350.
Be aware that on "some" Samsung 30Q batteries, the flat-top connector is more recessed than others. The S43 will not accept these. The more defined flat-tops of the Sanyo battery (for example) ensure good contact.
Output is from 1 to 1600 lumens, which is 100% user-defined when set to ramping.
Default Operation
By default, the Astrolux S43 is a ramping flashlight, and operates by simply pressing the side switch, once quickly. Once on, press and hold, for the light to perform a smooth "ramp"… and stopping when your desired output has been reached. One quick press shuts it off, and mode memory recalls that level for the next time.
For the lowest mode anytime (from OFF) press & hold for 1 second. For the highest output anytime (on or off) double-click.
To check battery voltage, (from OFF) click 3x fast! The beam, and the switch, will blink-out the number of volts.
Alternate User-Interface
There's another whole world of choices within the S43, that is if you're daring enough to change to the alternate UI  😉 This includes having access to the "hidden" strobe modes, plus many settings for "moonlight". By changing the UI, you're going over to a traditional "mode" light, instead of ramping.
The way to switch the UI is to follow this link, which will take you to VERY detailed instructions;
http://img.banggood.com/file/products/20180928023133S43usermanualdraft05withadvancedSettings201809281109231.pdf
http://img.banggood.com/file/products/20180928023247NarsilMCSS43draft05withadvancedsettings.pdf
USB Charging
There's no USB cable included, but when one is connected to the port, you should have a "red" glow within the switch. It'll change to green when all is good to go.
Lockout Mode
To lock out the light, press the switch four times fast, while OFF. It'll "blink" the confirmation. This action also turns off the green switch light. To unlock, press four times again.
A different, but more challenging method of turning off the green indicator, is to press & hold the switch for 1.5 seconds, then release and click again quickly. If done correctly the indicator will be off. A single click will still turn the light on…so it's not locked…JUST the indicator is off.
It's Beam Time!
The Big Picture
So when looking at the Astrolux S43 as a whole, you see a very well-rounded flashlight. It has many similarities to the S42 which I reviewed in 2017. The alternative interface offers amazing flexibility in performance options, as long as you have the time and patience to learn how to set them.
Something else you need to know. The 18350 adapter tube is slightly tapered at one end. When replacing it with the 18650 tube, you must tighten the narrower end into the tail cap. If you do it the opposite way…the flashlight will not work!! 
Among its positives;
A super-clean neutral-white beam
Smooth, dual-direction ramping
The convenience to use in two different lengths
USB charging
Two separate user interfaces
The battery voltage indicator
The Negatives;
It gets hot when running close to maximum output — VERY quickly! Like, thirty seconds quickly! This also means I would limit its time above "medium" mode when using a 18350 battery. If you anticipate using it on "high" most of the time, I'd recommend always using it in its largest form.
The button (switch) can be a little fussy. When turning off for instance, it needs a quick, firm press. If you don't release it fast enough on a press, it'll just "blink" at you and remain on!
Recommendation
Does the Astrolux S43 look good enough to buy? Then please visit their Banggood product page  😀 Then at checkout, enter code "9f1297" for a cool discount!
Please follow Lightsngear and like us: