Astrolux has been churning out pretty good quality flashlights. Before receiving the S42, I'd heard of them, because a couple of their models were clones of lights previously released by Manker. There was a clone of the popular E14. All that aside, today I'll be spotlighting the Astrolux S42, a VERY powerful light that's also USB rechargeable.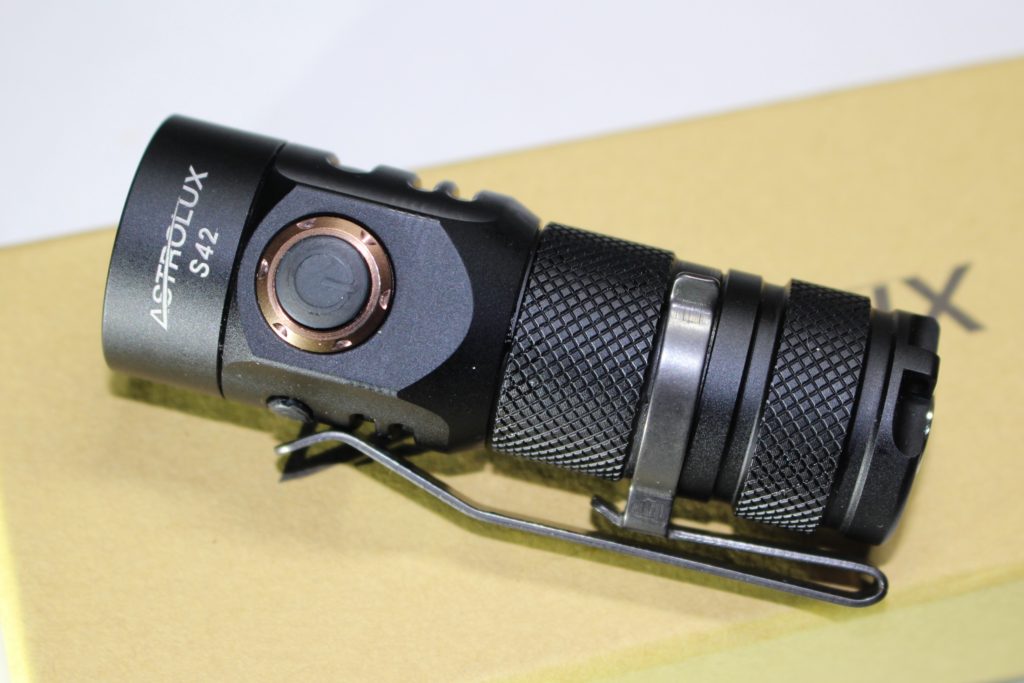 Good Presentation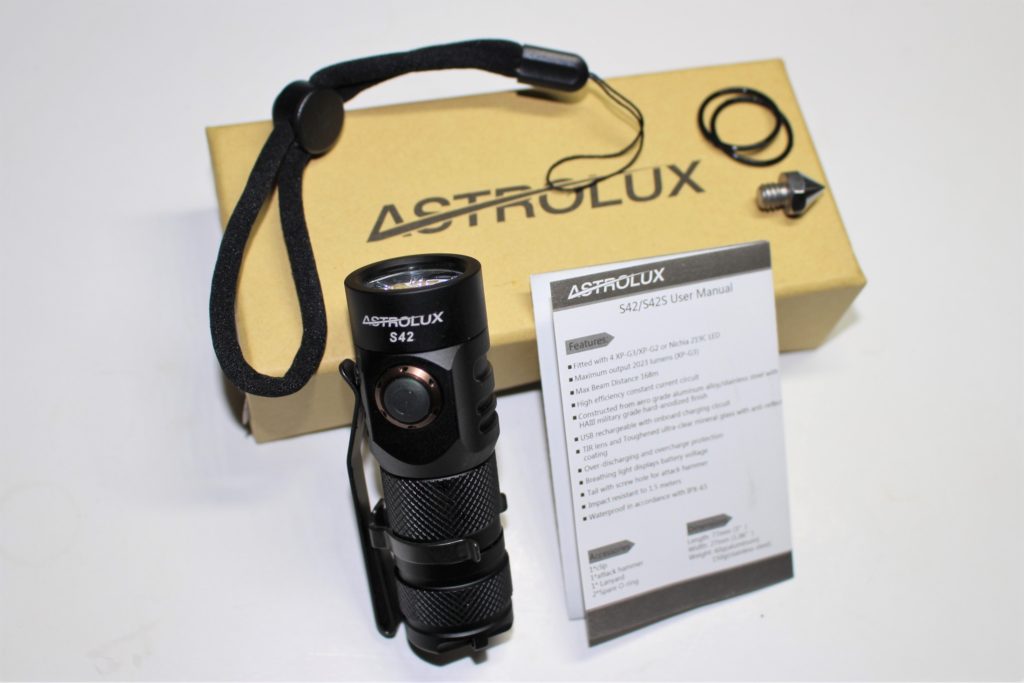 My Astrolux S42 arrived in a long thin brown box, not unlike what I'd expect to see a piece of costume jewelry packed in! Once the top was removed, I saw that everything was resting in little foam cutouts. 
The S42 has a clip attached, and is joined by a small user manual, and a little package containing an adjustable lanyard, two o-rings and an "attack hammer" which I'll talk about shortly.
Stats and Features 
Length; 3.1″

Width; 0.9″

Weight; (with battery) 87.2 grams

Battery; (1) 18350 or (1) 16340

Beam Distance; 168 meters

Impact resistant to 1.5 meters

Waterproof; IPX-6 (not submersible)

Made from aero-grade aluminum alloy

TypeIII hard-anodized finish

Anti-reflective ultra-clear, glass lens

Internal USB charging circuit

Attack Hammer Defense Tool
Okay, so what's an attack hammer? Very simply, it's a two-piece set that screws into the base of the light. The "attack" part is a sharp cone, which if jabbed at someone, could cause serious injury! For non-human defense, breaking glass is the obvious use. It can/could be a handy tool, but you won't want it attached to the base unless you have a use for it. In the meantime it's small and could get lost if you wanted to carry it around separately.
Battery Power 
Your Astrolux S42 can run on either (1) 3.7v 16340, or (1) 3.7v 18350. It should also accept a disposable CR123, but it's not very economical and the light won't be as bright. I've been using mostly IMR 18350's, and the S42 seems to like them. IMR's are usually recommended for lights of this intensity. 
LED, Modes, and Runtime 
For modes, there are SEVEN of them! But, there are also TWO groups of operating modes to choose from. 
Group 1; Moonlight, Low, Medium 1, Medium 2, High 1, High 2, Turbo. PLUS, three specialty modes; Strobe, Battery strength checker, Biker flash.
Group 2; Low, Medium 2, High 1, High 2.
The S42 also offers mode memory, but ONLY when using "group 2". 
Here, you have choices. The S42 I received has 4 XP-G3 LED's. It's also made with either XP-G2's or Nichia 219's. Apparently the XP-G3's offer the highest output… which is as follows;
Moonlight – 2 lumens (2 days)

Low – 20 lumens (1 day)

Medium 1 – 140 lumens (6 hrs)

Medium 2 – 240 lumens (2 hrs)

High 1 – 545 lumens (1 hour)

High 2 – 735 lumens (40 mins)

Turbo – 2023 lumens*
* The manual states that turbo mode is only constant for 20 seconds, and the output then drops to 'high 2'… but I've kept it running on turbo for over two minutes, and saw NO drop in brightness. 
Output varies with the other LED types. On both of them, moonlight is 1 lumen. 
On the XP-G2, turbo is 1740 lumens. For the Nichia 219, turbo is 1630 lumens. The Nichia version has the warmest color temperature of all three LED types.
Operating the Astrolux S42
The side switch is the only switch. 
When I got my S42, it was already set to group 1. This means from a quick click, moonlight is the first mode. With each subsequent click, the modes advance up to turbo, and repeat.
To turn it off at any time, a HOLDING press is required. 
The special flashing modes cannot be reached through the standard mode switching. To get to them, you need to start at "moonlight", then press and HOLD the switch for about 2 seconds. This will activate "turbo". Now you can click through the other modes; strobe, battery check, and bike flash. With the 'battery check' activated the light will blink up to five times…. as follows;
5 blinks = 80-100%
4 blinks = 60-80%
3 blinks = 40-60%
2 blinks = 20-40%
1 blink = 0-20%
Remember; there's NO mode memory on G1, so it always defaults to 'moonlight' after its been turned off.
Changing 'groups' is super-easy. While it's on (in any mode) double-click the switch. That activates the other group. Among the lights I've used which have mode groups (programming modes etc) the S42 has the simplest 'switching' user-interface I've seen!!  🙂 
Remember; only G2 has mode memory. 
Super-Cool Beam Pics
Breathing Light and Lock Out Mode
I haven't talked about this yet… but now it's time. As soon as you insert a battery into the Astrolux S42, you'll notice a green light underneath the top half of the switch. You'll also notice that it fades in and out. This is the "breathing light" and unless you turn it off, it illuminates constantly… when the light IS off. Turn the light on, and the 'breathing' stops. 
The breathing light isn't going to be everyone's favorite feature. You'll either love it, or hate it. It's handy in the dark, because obviously it provides a 'beacon' as to where it is. It's also using extra battery power, but, I think the drain is relatively low. 
So… how do you disengage it? Simple. While the S42 is 'off', apply a HOLDING press to the switch. After about two seconds, the green will disappear. But guess what? You've now locked-out the light so it cannot be turned on. What's that? Now you want it unlocked? Simple again. HOLD the switch for a second or two… and watch the breathing-light reappear! That's right… as long as the S42 is operable, you'll have the breathing light to deal with.
The good thing is that locking and unlocking is a snap, so if the green light is useless to you, and you want to spare the battery any unnecessary drain, then lock it every time you turn it off, and unlock it when you want it on. It's your choice, but you can't have it both ways. 
Low Battery Indicator
The S42 manual says nothing about this, but what appears to happen, is when the battery voltage gets low, the output will drop and the beam blinks… once, about every seven seconds. 
USB Charging 
Charging a battery internally on the Astrolux S42 is as easy as connecting a micro USB cable to the port on the head. 
When connected, the switch button will illuminate to indicate charging status. If the battery is lower than 3.6 volts, the indicator should be 'red' and will flash. As the volts increase, the flashing 'red' will turn to a flashing 'green'. It'll turn solid green when complete. 
Options
As I already noted, the S42 is made in three different LED options. Although I wouldn't count on every merchant to stock all of them. Anyway, in addition to that, you can also buy an 'extender tube' which permits the use of an 18650 battery, instead of the smaller cell. You won't get higher output, but you WILL get significantly longer runtime! The manual shows the differences between the two battery types. 
Taking Notes
I like the Astrolux S42! It's a very cool little flashlight. When running on turbo it naturally begins to heat up quite quickly, so even if it doesn't ramp-down automatically, I'd suggest using it on turbo for only brief moments at a time. 
I very much like the beam and its profile. It isn't a "throwing" light, but is instead very useful at casting light within a couple of hundred feet or more. Its sheer brightness compensates for any lack of beam distance. 
The range of modes is very good. Realistically there's not much difference between the two medium and high modes in G1, but turbo is brighter than anything I've seen from a flashlight this tiny! 
For safety or security, the inclusion of the attack hammer is pretty inventive. It makes sense that it's removable, but its size makes it almost impossible to carry it, without losing it! 
The fact that memory is absent on G1, is reminiscent of a couple of Manker models. As is the extensive range of output choices. But changing between the S42 groups is much easier to remember, if you don't do it often. 
If you choose not to use the internal charging, I've found that removing the head, is a faster and easier way to change out the battery. The tail cap needs to be very tight for a good connection, and the head seems to tighten down with greater ease. 
Speaking of the internal charging… I'm not completely sold on its ability to perform a 100% charge. Of the batteries I've used in it (and charged) it often seems too fall short of a "complete" charge. It tells me it's done, but when I test final voltage, it's only around 4.04 volts, instead of 4.15 – 4.18  😥  Perhaps the light is merely treading cautiously. To under-charge is certainly safer than to OVER-charge! 
Recommendation
Despite any minor idiosyncrasies, the Astrolux S42 is an incredibly bright and versatile little flashlight. It was my friends at Banggood who gave me the chance to test the S42. If you're interested in having one, pay them a visit and check it out! I happen to know their price is very competitive! 
Please follow Lightsngear and like us: