In the past year Olight has been busy churning out new products. Among those, have been new entries into the arena of headlamp lights. This review, examines their latest; the Olight HS2, an extremely compact headlamp which is (of course) also USB rechargeable.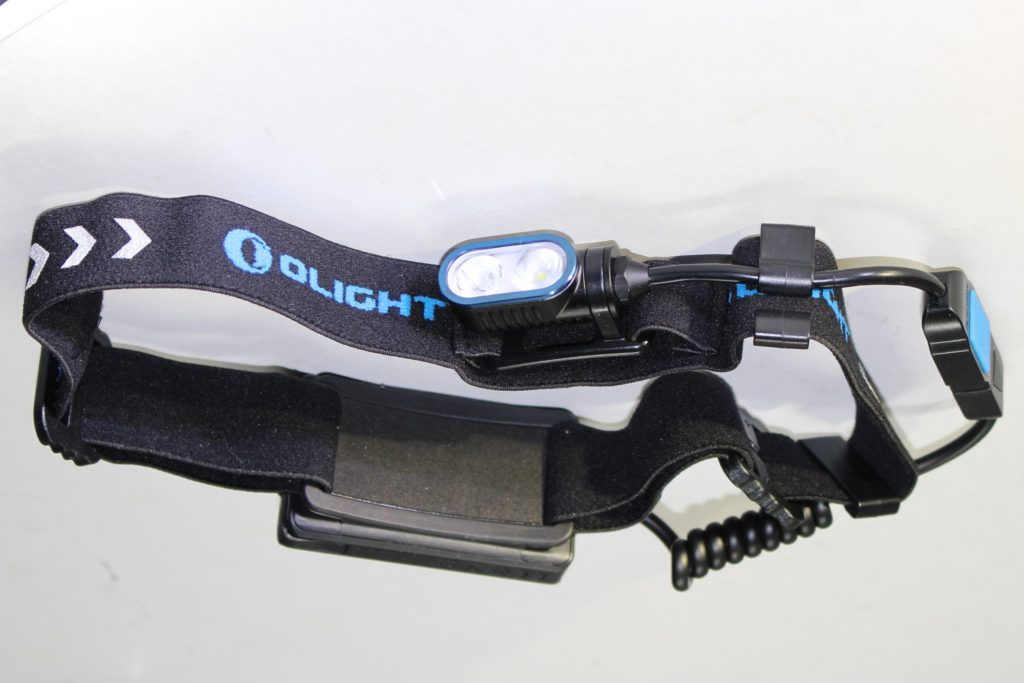 Olight HS2 Packaging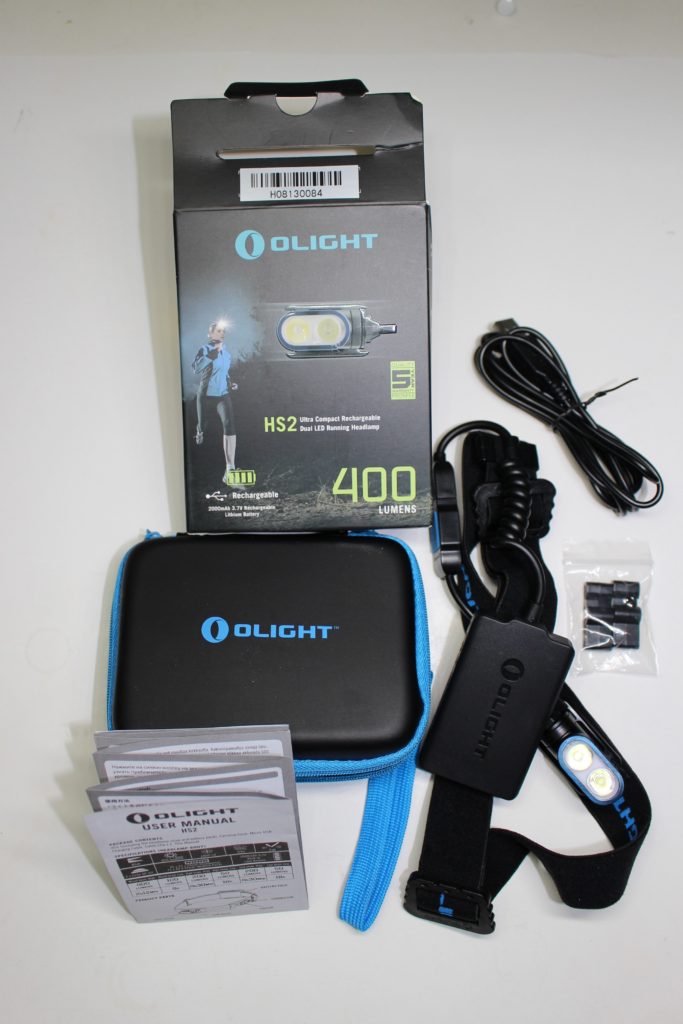 The somewhat familiar packaging presents all contents neatly tucked within a cozy (zippered) padded carrying pouch. These include the HS2 light, already attached to the fully adjustable headband, as well as a user manual, a USB charging cable, and two spare headband snap-guides. It also includes a 2000mAh rechargeable battery pack, which is part of the headband.
Weights and Measures 
Total weight of the entire product is approximately 3.75 oz.
The actual "light" is only 1.2″ long and 0.6″ wide.
Notable Features
The actual light portion of the Olight HS2 is comprised of two separate LED's, (which are CREE XP-G2's) and lenses. It's impact resistant to one meter, and waterproof to IPX-4. This basically means it can handle "splashes" of water without issue. Try to keep it protected from anything heavier. I.E. — DO NOT SWIM while wearing the band!!!
Output, Modes, and Runtime
There are two regular modes; low and high… plus SOS. Top output is 400 lumens. Each LED can be set to either low or high. Or they can be used together…. which is what produces the 400 lumens. One of the LED's is more of a flood light, and the other is slightly focused, creating more "throw". Beam distance is rated at 85 meters (93 yards).
Here are the modes as described in the manual.
Mixed beam high – 400 lumens (2 hrs 12 min)

Mixed beam low – 100 lumens (9 hours)

High beam high – 200 lumens (4 hrs 30 min)

High beam low – 50 lumens (18 hours)

Low beam high – 200 lumens (4 hrs 30 min)

Low beam low – 50 lumens (18 hours)
This Olight description is a tad confusing. They should've identified each LED as for what they are; flood and
throw. Instead, they named them "high and low". It doesn't matter which one is which, because the outputs are the same.
Operating the Olight HS2
First things first. Make certain the micro USB connector that's attached to the light, is connected to the battery cable.
When wearing the device, the click-switch is easy to locate… as long as you remember which side of your head it's on. Its location depends upon which hand to turn it on with feels right for YOU.
One quick click activates the light on high, with BOTH LED's blazing! This is the default, and it can't be changed. A second click switches to low… again with both LED's on.
From here, it depends on what you want. If you need to return to high, click again. If all you want is ONE LED
on… then DOUBLE-click. This produces low beam. For high beam… click again. The beam it defaults to when switching from two to one, is the "flood" beam. Want the "throw" beam instead? Then DOUBLE-click. You'll have a tighter beam, bit it'll still be on low. Again for "high" – click once. A DOUBLE-click after you've already sampled both beams separately, will return to having them both on together. Whether it's "high" or "low" output, will depend upon which mode it was on when you had them separately. Whichever it is, a single-click will toggle back and forth. 
To turn it OFF…… press and hold the button for 2 seconds. 
To activate SOS, TRIPLE-click the button while the light is ON. SOS cannot be reached when the light is OFF. With SOS on, a single click returns to the previous mode.
Something you'll also notice right away, is that there are no sharp jumps between mode changes. With each click, there's a 'fading' of the light, from turning it on and off to changing the modes. It's nothing Earth shattering… just a nice touch. 
Outdoor Gallery
Here are some beam shots. Click EACH picture for a FULL size image.
Charging the Battery
Connect a/the USB cable to the port on the edge of the battery pack, and the other end to a USB power source. There are FOUR little blue indicator lights on the pack. The lights will illuminate and blink (while charging) in accordance to how low the battery is. When the charge is finished, all indicators will be solid.
To check the charged state of the battery anytime, either with the light on or off, press the tiny blue button on the battery. The indicators will light up to show how high the charge is. Obviously you won't be able to see them unless you're holding the unit… or are checking this in front of a mirror!
Low Battery Signal
When the battery is very low, and we're talking 10% low… the last indicator will blink, and the "pack" will BEEP for 10 minutes, unless you push the blue button to shut it up. Just remember if you do that, the light will shut off (from the dead battery) within a few minutes. It's best to turn the light off and charge it ASAP. Just for reference, the light CAN be used while charging. 
Thinking Out Loud
Olight has done well in the design of the HS2. The headband is quite comfortable and easy to put on. The way in which the power switch has been designed is also well thought out. It's large, easy to locate, and switching can be done quickly and easily 
For charging, the battery pack seems quite quick and efficient. Its method for checking state of charge is convenient. I would recommend doing that before strapping on the band, just so you won't be left in the dark unexpectedly. 
The modes are good. High is very bright, and the switching ability to use only one LED saves on battery consumption. Its LED design of one being more of a "spot" and the other, a "flood", is unique, although side to side there's not a HUGE difference between the two. It's about 20%. 
Recommendation
I'm recommending the Olight HS2, as being one of the easiest, and most comfortable headlamps I've used to date. Granted, most of the others have been hybrids, so each are somewhat unique unto themselves. 
For a chance to see if the HS2 is available on Amazon, click here!
Please follow Lightsngear and like us: