In the spotlight today, is the BLF A6 "special edition" flashlight.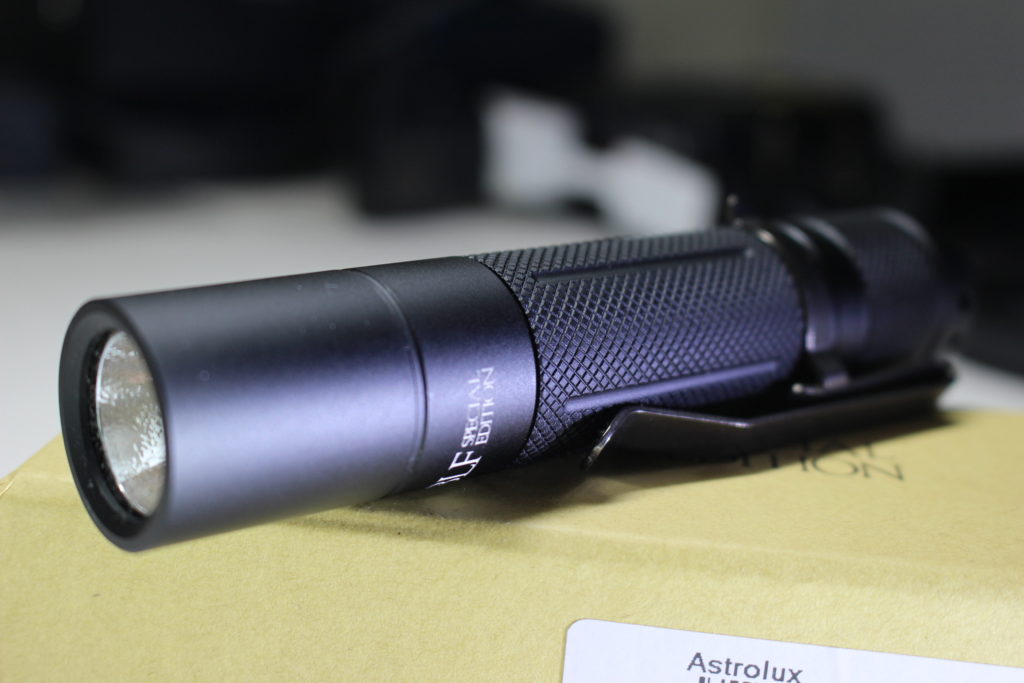 60 Seconds in History
"BLF" is an acronym for "Budget Light Forum", where flashaholics who appreciate great quality at a lower price go, to talk about the newest lights and answer user questions. 
The A6 bears a striking resemblance to the Astrolux S1, which aside from an extra accessory is more or less the same product. Where the gap is greater, is the price. The A6 is several dollars less.
No Frills Packaging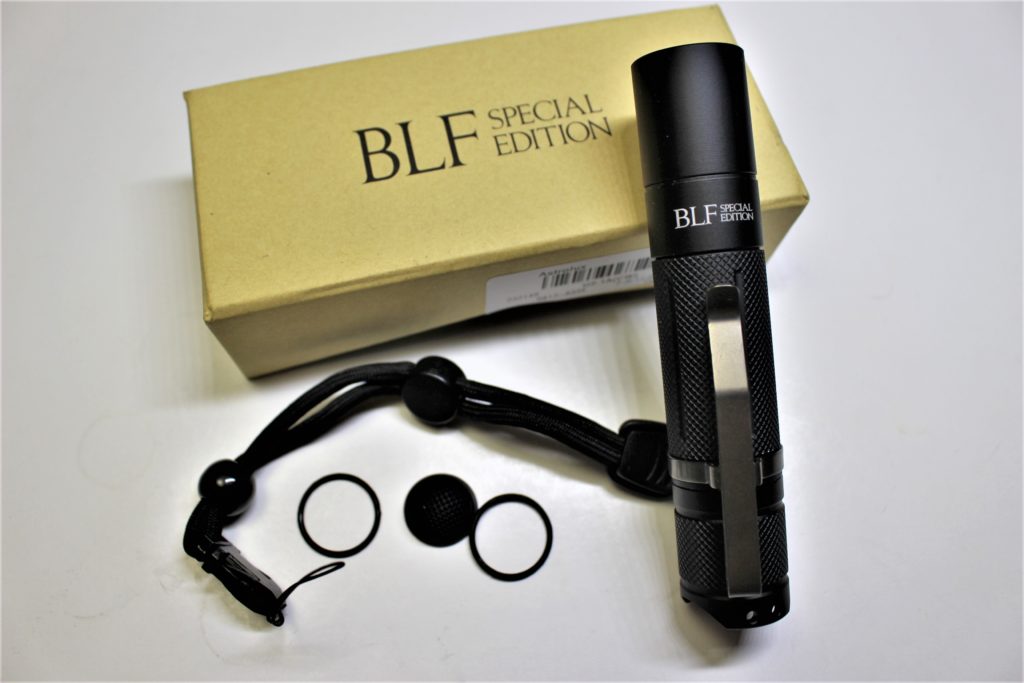 From the photo, you should  be able to tell that the BLF A6 comes in a plain, but sturdy box. A pocket clip is attached, and an adjustable lanyard, a spare switch cap and two extra o-rings are tucked in the box. There's no user manual… at least not in the package that I got.
Quality Through and Through 
The LED is a Cree XP-L

It's impact resistant to 1 meter

Waterproof to IPX-8 (submersible)

The lens is toughened ultra-clear mineral glass

An orange peel reflector produces a nice smooth beam 

Working voltage to 4.35 (will only accept 'one' 3.7v battery)

This version is the "cool white" (1A); it also comes in neutral white (3D) and "yellow light" (5A)
The A6 weighs 118 grams with a 18650 battery inside, and is 4.7″ tall.
The Battery, The Modes and the Output
As previously alluded to, power to the BLF A6 comes from ONE 18650 battery. A "high-drain" cell, such as a Samsung Q30 is recommended. Acceptable voltage in the light is only to 4.35, therefore using TWO smaller batteries such as CR123's or 16340's is prohibited. 
The A6 has TWO operating groups. More on that coming up! 
Meanwhile the modes in Group 1, are;
Moonlight

Low

Medium 1

Medium 2

High 1

High 2

Turbo
The modes in Group 2 are;
Output on turbo is an outstanding 1600 lumens! But, just be aware that it only stays blazingly bright for about 45 seconds… before it automatically steps down to high. 
In addition, both Groups offer three "special" modes; strobe – battery check – and a biker flash. For the battery check, the light blinks up to five times… indicating amount of charge. 
1 blink – 1 to 25% full
3 blinks – 50 to 75% full
5 blinks – 100%
Operating the BLF A6
For those who prefer one button operation, the A6 offers just that. 
The user-interface offers quite a few options, but, if you prefer to keep it simple, you can do that as well. My A6 arrived already programmed in Group 1. 
While in Group 1 
Fully click the switch and the A6 turns on in moonlight. Every subsequent half-press advances the modes until you reach TURBO. For the three special modes that follow 'turbo', you need to do something completely different!
The "Special" Modes
The three flashing modes; strobe, battery check and biker flash, can only be accessed from MOONLIGHT (in Group 1). So once it's on, the switch requires a long press…about 1.5 seconds. TURBO will appear. From there, you need to perform the same "long press" to advance to each of them. Make sense? 
Going in Reverse!
Want to change things up? Want to go from "high 1" to "medium 1" without having to cycle around again? Then go in reverse! Each long press while in any of the seven modes, will go BACK to the mode that preceded it! It might a few tries to get it right, and if you're doing it wrong it'll just stay on the mode it's on. 
While in Group 2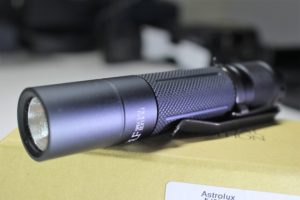 Each half-press cycles though the available modes; low, medium, high, turbo. Just like in the first group, you can also go backwards, with a long press between each mode. And it gets better! — the "special" modes are ALSO available in the second group! 
To access strobe, battery check etc… you need to cycle past TURBO in REVERSE… (with a long press). Then, reaching each of the three modes is the same as in Group 1. 
Switching Groups
To switch between groups, turn the BLF A6 on in the lowest mode ('moonlight' for G1 and 'low' for G2). Begin "tapping" the button… repeatedly… about fifteen times… until the light stops working. After a moment they'll be TWO blinks… followed by a pause… then two MORE blinks. If you do nothing, no changes will be made. To initiate the change, you need to click the button BETWEEN the first TWO blinks. If done correctly, when you turn it on again, it'll be in LOW. 
Mode Memory
So, up until now you thought the A6 had no memory function, huh? Ha Ha, fooled ya! It does  🙂 
Turning memory on and off is part of the group switching procedure. When I mentioned that there are two sets of "blinks"… the first set is for setting the group. The second set, is for enabling mode memory. So, after the FIRST blink of the SECOND set of blinks… click the switch. Memory can be enabled for both groups. 
The Beam Shots
In My Own Opinion
The BLF A6 is a really nice little flashlight. I know we've come to expect lights that have a side-switch. We've also seen a lot of USB rechargeable lights. But here, we have budget-priced light which although is lacking some extra "frills", makes up for it in quality and flexibility. 
At first, I though the switch seemed touchy about how long it needed to be pressed, in order to perform a task. But, after using it for a while, I found it wasn't as temperamental as I feared. If you're completely unaccustomed to this type of user-interface, then it'll present a daunting challenge. But with the instructions in front of you, (from this review) it's just a matter of getting used to it. The biggest complaint though is that there's NO manual in the packaging! However… if you can find one for the Astrolux S1, you should be okay. 
I especially like the reverse sequence, and the battery check mode. I also like that memory can be turned on in both operating groups! However in some cases I wish it DID have a side-switch, because I'm so used to them now. They're very convenient to operate on a nightstand. 
The members at BudgetLightForum were instrumental in developing this flashlight. To them, I tip my imaginary hat for making sure it had some very distinctive features.
Recommendation
The good folks at Banggood are responsible for letting me try out the BLF A6. They are the proprietary merchant for the light, so in considering a purchase, you need to pay them a visit!
If you have any questions, please let me know 🙂 
Please follow Lightsngear and like us: