Klarus loves making programmable flashlights. Lights which offer exceptional user flexibility. So with that in mind, I'm here to tell you about the Klarus XT2CR.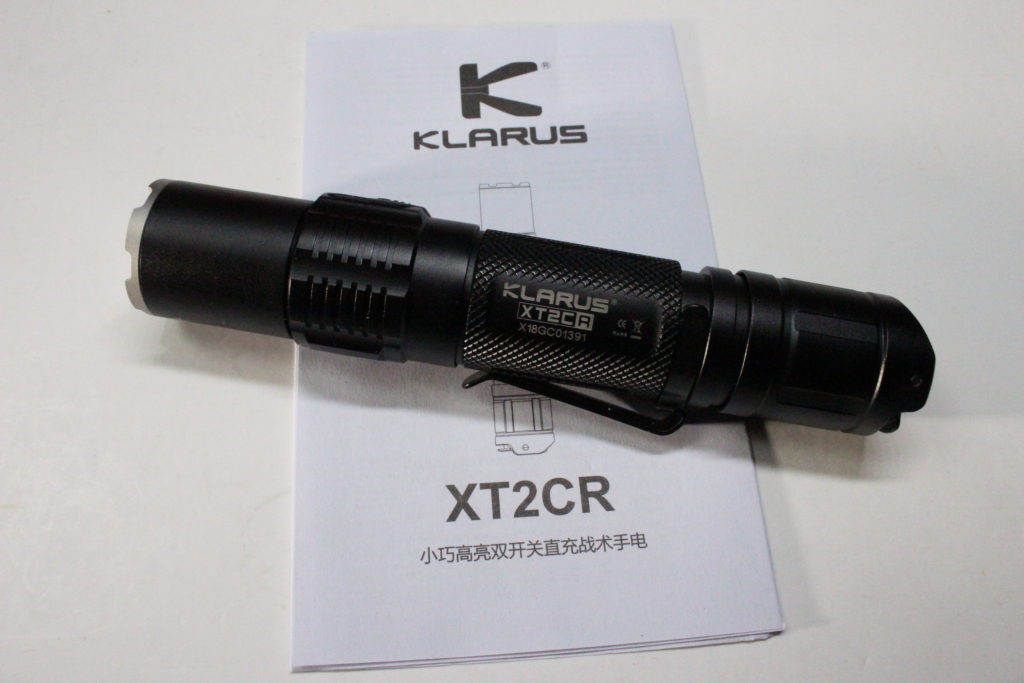 Love to Accessorize?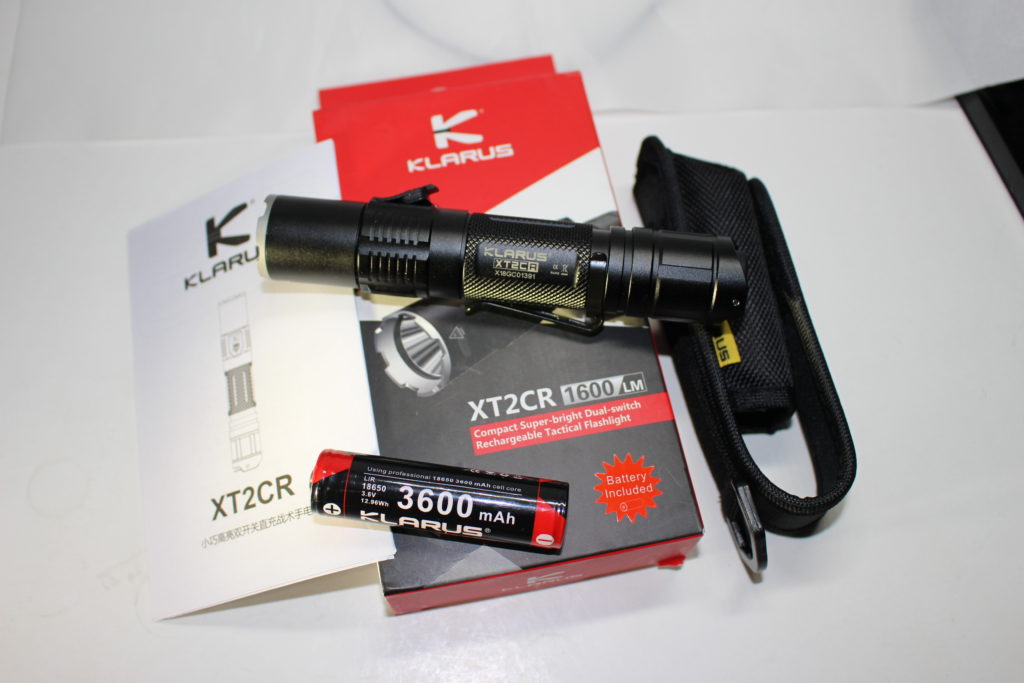 From the photo, you can see what accompanies the XT2CR. A user manual, a high quality 3600mAh 18650 battery, a belt holster… which contains a packet with a spare o-ring and a lanyard, and a micro USB charging cable.
Your Favorite Stats
Length; 5.5″

Width; 1″

Weight; (w/battery) 131.7 grams

Runs on 1 – 18650 battery (included)

Beam Distance; 240 meters

Impact Resistant; 1 meter

Waterproof; IPX-8
Features 
CREE XHP 35 HD E4 LED

Micro USB charging (for 18650 batteries only)

Convenient battery capacity indicator

Two programmable interfaces

Patented dual-switch tail cap for tactical operation

Internal "ITS" system monitors temperature to ensure the LED is not damaged by excessive heat

Constructed of aerospace aluminum alloy with TypeIII hard anodizing

Scratch resistant "AR" coated glass lens
Modes, Output and Runtimes
Low – 10 (200 hrs)

Medium – 100 (14 hrs)

High – 400 (4 hrs)

Turbo – 1600 (1.2 hrs)

Strobe – 1600

SOS – 100
Operating the Klarus XT2CR 
If you're at all familiar with the Klarus dual-switch design, which I've detailed on past models, then this might just be more of the same. But, if you haven't had hands-on experience with it, then keep reading!!
There's the Primary switch and the Mode switch, and both have different functions depending on which setting is activated. "Tactical" is made default at the factory. 
The Two Interfaces
What's the difference? Well, under the Tactical setting, you have instant access to Turbo and Strobe. With Outdoor, you have one-touch low and one-touch high, plus the other modes including SOS. 
In Tactical, you can cycle through the modes, but it's limited to low, high, turbo. When set to Outdoor, you can cycle through all four modes. In Outdoor, the "mode" switch behaves a bit differently, depending on whether  the PRIMARY switch is on or off. For a visual of these variables, please refer to the diagram image. 
The side-mounted indicator light acts as a battery reading when the light is turned on. It will illuminate for five seconds. Green = 70-100%, Orange = 30-70%, Red = less than 30%, Red "flashing" = less than 10%. 
Switching the Settings
To change between Tactical and Outdoor, this is what you need to do;
First of all, the light needs to be off. Next, hold down the mode switch for ten seconds. The indicator light on the side of the head will blink. DO NOT RELEASE THE SWITCH! Keep pressing it the whole time. Now, press the PRIMARY switch, then release both. If all has gone well, the other "setting" should now be active. 
Beam Shot Corner
Internal Charging 
The charging port is on the head. Connect the micro cable to it, and you're all set. The indicator comes on red, then goes green when the battery is charged. 
Other batteries (in series' of two) will fit the light, from CR123's to 18350's… but of course charging will only work when ONE battery is used. 
Just My 2 Cents
As expected the Klarus XT2CR is a cool flashlight. When I used it for the first time I noticed a small brown "spot" in the center of the beam. This was when using it at close range against a white wall. I'm assuming it's a characteristic of the LED, and is there to stay. Obviously it's not noticed when using it outside. 
The switch's work great, and once you decide which setting you prefer, they do as expected. The Primary switch has a lot of tension to it when pressed. It provides momentary (tactical) light when needed, but there's no way it could ever activate without the owners knowledge. The Mode switch is a softer press, but only works tactically unless held down for two seconds. 
Where the XT2CR needs an adjustment, is in the way the modes are spaced. For outdoor use, neither medium or high are bright enough to light up a large area. If you look at the beam pictures I took, you'll notice the one taken in a large open area. Only the 'turbo' pic lights up the area well. Medium mode with only one hundred lumens, and even 'high' with only four hundred, are too weak to be useful in that situation. On most lights where 'turbo' is well above one thousand lumens, high mode is usually eight or nine hundred! That's what THIS light SHOULD be. 
On a positive note though, you gotta love that Klarus includes the battery, which is appreciated. 
Recommendation
My friends at GearBest supplied the Klarus XT2CR for review. If you like what you saw here, take a look at it on their site, then decide if it's right for you. Prefer Amazon Prime?? Click Here 🙂 
Please follow Lightsngear and like us: