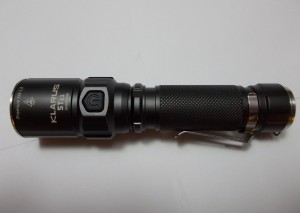 So here's yet another member of the Klarus family of flashlights. Not be be confused with the XT11, the ST11 is brighter and has a different user interface. So in this aptly titled article, let's take a detailed look at some Klarus ST11 flashlight facts.
The Basics
At close to 5″ long and about the width of a handful of uncooked spaghetti for two…the ST11 is a great companion for an inside jacket pocket, or the backpack of your choice. It's a tad large for the average pant pocket, since it's thicker than its cousin, the ST2C; (reviewed here). Keeping in line with many lights released over the last few months, its CREE XM-L U2 LED, puts out a stunningly bright 900 lumens! This will help to light up the distance as far as 300 meters. On its lowest setting, you'll get just shy of 1 lumen. The two levels between them, at 15 and 225 lumens respectively, are fairly well-spaced and offer ample light for a variety of close-range and not so close tasks.
Packaging
With minimal packaging, you'll find the ST11 nicely seated in a molded plastic bed. In accompaniment, are the usual accessories including a spare tail-cap cover, a lanyard and some spare 0-rings.
Power Supply
Feeding the ST11 is pretty standard as far as a flashlight of this size goes. Only Lithium-ion batteries can be used.
You'll need either (1-one) 18650; or (2-two) disposable CR123's [or its rechargeable counterpart, the 16340] or even (2-two) 18350 lithium batteries. Click here for a primer on Lithium based cells.
Operation; "LIGHT"
Operation of the Klarus ST11 is IDENTICAL to its more slender cousin, the ST2C. This is where the tail-cap switch is given a full click to initiate whichever mode it happens to be in. To change modes, give the side switch a "holding press"  until the next mode is "locked in". If you press quickly, you'll only get a burst of light. This is not to be considered as tactical mode. To engage tactical, you need to give the tail-cap a light "holding" press — from the OFF position.
Modes cycle from high to low. Strobe can be accessed anytime by "double-clicking" the side switch (from whatever mode you're in at the time). To exit strobe, just click the switch once.
The only part about this light that some users might find annoying, is in relation to the operation of the side switch. On other lights that utilize a similar switch, such as the Nitecore P16, mode switching is very fast. With the Klarus ST series, not so much. The switch needs to be held for 1 second in order for the mode to advance. If you're on medium mode, and need to get to high, you still need to cycle through the low modes by doing those "long presses" of the switch. Granted, it'll only make a difference of maybe three or four seconds…but in an emergency you might become frantic and click the switch too quickly, thereby shutting the light off! It's just something to be aware of.
"Beam Me Up Scotty"
The Klarus ST11 has a wider head than its slimmer cousin. The reflector is fairly deep and in some circumstances you may be able to choose between a smooth or orange peel edition. Although I believe smooth is the default.
The center spot of the ST11's beam is quite tight. But even in this indoor photo you can make out the large spill area.
Meanwhile, in outdoor use, you'll get a wide swath of light with excellent distance.
Indoor & outdoor beam shots. Click each image to see full-size.
Conclusion
The Klarus ST11 is a very good flashlight to either be part of an existing collection, or the beginning of one.
I received the ST11 after getting the similar ST2C. I assumed the two of them together would be no comparison. However I was pleasantly surprised by the ST11 — most particularly with its tighter beam and extended throw.
Have questions and/or comments? Please let me know in the space below.
If reading other user reviews on the ST11 appeals to you, here's the Amazon link!
Please follow Lightsngear and like us: