Miniaturization in the electronics world dates back to James Bond and further. LED flashlights obviously don't go back that far, but in terms of tiny, just about anything can be made super-small these days. Take the new Klarus Mi1C, for example. This is the definition of small when it comes to an EDC flashlight! 
Tiny From Every Angle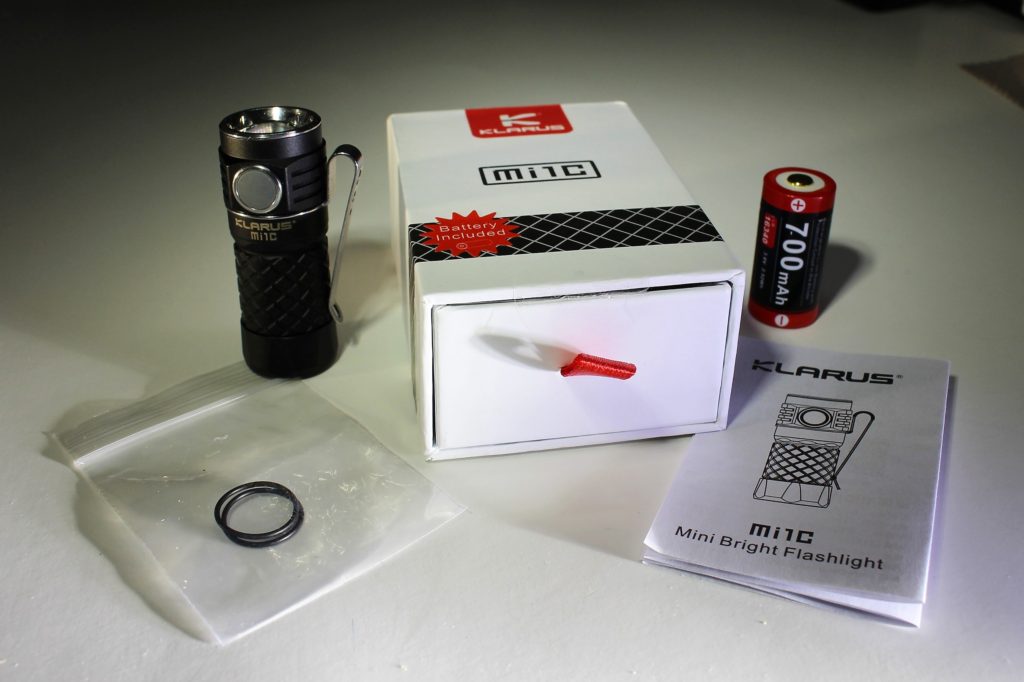 The mere introduction of the little box, should clue you in as to just how compact the flashlight is. A small red "ribbon" acts as a pull-tab on the box. Pulling on it, is like opening a drawer and finding a surprise inside! In this case, it's the Mi1C, tucked into a padded cutout. Underneath, lies a user manual and some spare o-rings. A pocket clip is factory attached. Open the tail-cap of the flashlight, and out pops a Klarus USB rechargeable 16340 battery! 
Specifications 
"Super-small" hardly describes it; just 2.1″ long

Lightweight; only 1.51 oz, INCLUDING the battery!

The LED is a CREE XP-L HI V3

Battery; either 1 – Li-ion 16340 (included) or a disposable CR123

It's waterproof to IPX-8

Beam distance is rated at 40 meters

Body; T6061 Aluminum alloy, with HA-III anodizing
Klarus Mi1C Features
Convex lens for an evenly-lit "floodlight" beam

Magnetic tail-cap affixes to metal surfaces

Mode memory remembers the last mode

Micro-USB charging on the included battery

Lock-out function prevents accidental activation

"ITS" (Intelligent Temperature System) monitors internal temp.

Battery capacity indicator function
Modes and Output 
There are four lighting levels and two emergency modes;
Moonlight – 1 lumen

Low – 10 lumens

Medium – 45 lumens

High – 600 lumens (305 w/CR123 battery)

Strobe – 600 lumens

SOS – 45 lumens
Details of the Operation
The battery is inserted with the positive end, down. Tighten the cap, and press the "big" side-switch. The default mode is 'medium', which it does at first, and after every battery change. Each press advances the modes from lowest to highest. A holding press turns it off. Mode memory remembers the last mode it was on, for the next activation. Instant 'moonlight' is available from OFF, anytime, by a holding press. 
Strobe is accessible from a double-click, whether the Mi1C is on or off. A second double-click, switches it to SOS. From either of the flashing modes, a single click, either turns it off, or returns it to the previous constant mode… if it's already on. 
As small as the light is, it only becomes marginally warm when left on 'high'. Actually 'high' mode only remains at 600 lumens for about 45 seconds, before doing a gradual slide, down to about 500 lumens. If the battery is down a bit in amperage, 'high' may POP down to 'medium' within 30 seconds. 
The BIG Wide Beam
The Battery Capacity Indicator
Anytime the flashlight is off, the battery capacity can be checked. It's only an estimate of course; but to check it, press the switch quickly THREE times. If the battery is anywhere from 70% – 100% full, the beam will flash three times. It'll flash twice if it's from 30 – 70%, and once, if it's under 30%. Of course if it's THAT low, you won't get too much out of it anyway.
Lockout Mode
The Mi1C can be locked, so the button doesn't trigger activation in your pocket. To set up lockout, press and hold the switch (from OFF) for about 5 seconds. It'll flash a couple of times you let you know it's locked. This is now what it does each time the button is pressed…even if it happens accidentally. To unlock it, and return to normal operation, press the button QUICKLY, three times. It should now work normally. 
Charging the 16340 Battery 
Easy-peasey! Just plug a micro-USB charging cable into the port on the battery. Red on the top of the battery means its charging. It turns blue when finished. 
Closing Thoughts on the Klarus Mi1C 
This is a cute, cool, little flashlight. But is it perfect? No. 
It's good in several ways, namely its size. It's even a tad shorter than the super-mini Olight H1 Nova! The magnetic tail is handy, as well as the clip, and it's easy to operate. 
But in my humble opinion, the problem is with the usefulness of the convex lens. I'm sure for some situations the wide beam will be helpful. But here's where I think it fails. The beam is so wide, that using it outside at lower levels, isn't very effective. It's actually better suited for INDOOR use, rather than outdoor use. An example of this would be to use while taking a walk. The lower modes are not bright enough for that, therefore 'high' is probably required… using up the battery much quicker. Then, after it's been on 'high' for a minute, it ramps down a bit, giving you less light. Then as the battery weakens a bit, you'll lose access to high all together. 
For those reasons, it works better as an indoor flashlight. 
Also remember, there's absolutely NO reason to not use the 16340 battery they supply. It provides the best performance overall. Now, if you're using the light somewhere, where the battery can't be charged, and you MUST use a CR123 instead… just remember you'll only get HALF the output on high mode!  
Recommendation
Obviously if the Klarus Mi1C is the right light for you, then please visit my friends at GearBest, who supplied the flashlight for test and review. During holidays and other promotional events, I'm sure you'll find it very competitively priced!! 
Please follow Lightsngear and like us: