I'm very fond of Olight. They've put out some fine flashlights over the past few years. One of their latest is a headband light which converts to a standard EDC pocket light within seconds. This, is the Olight H1 Nova.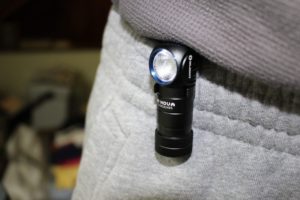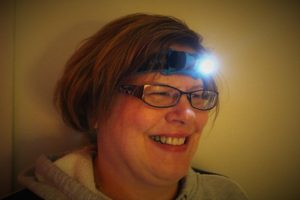 As you can see from the photos, the H1 Nova is quite at home whether attached to your forehead, or your waste, belt or pocket!
Good Things in Small Packages
Within its compact black and blue box (that's hard to say even once) the H1 is well equipped.
A small blue zippered case contains the light, a handsome headband, an instruction manual, and a pocket clip. There's also a FREE 3v, CR123 battery already inside the light. (click the photo for a full-size view)
Olight H1 Nova Stats and Features
First and foremost, the H1 is tiny. It measures only 2.3″ long (or tall) and weighs a mere 39.8 grams including the battery!
It operates on either a disposable CR123, or a rechargeable 16340 lithium battery.
It's made from AL6061-T6 aluminum alloy. And in the Olight tradition, it also has a magnetic tail cap.
The LED is a Cree XM-L2 which is behind a bead lens (almost like the eye of a fly!) This creates a rather soft and very balanced beam.
The beam distance is 66 meters. It's impact resistant to 1.5 meters, and waterproof to IPX-8.
Mode memory always recalls the last mode used.
Modes and Output
There are five modes, plus SOS;
Moonlight — 2 lumens (15 days)
Low — 15 lumens (42 hours)
Medium — 60 lumens (8.5 hours)
High — 180 lumens (3 hours)
Turbo — 500 lumens (*3 mins at a time)
* Once on turbo, the H1 will remain at this output for 3 minutes. After that, and over the course of 1 minute, it will ramp down to high mode.
Easy Operation 
The power switch is on top of the light. It doesn't "click" like a standard switch, but works with a soft press instead. One short press turns the light on and off. Once on, it requires a holding press to cycle through the modes. Release the button when you get to the mode you want.
The regular sequence is low>medium>high.
Moonlight can only be accessed by a HOLDING press while the light is off
Turbo can only be accessed by DOUBLE-clicking while the light is on
SOS can only be accessed by TRIPLE-clicking while the light if off
Lockout Mode 
The H1 can be locked out, to avoid accidental activation. To do this, press and HOLD the button while the light is OFF. Moonlight will come on… then go off. The light is now locked, BUT, if you press the button, moonlight will come on, but only in a momentary "tactical" way. To unlock it and restore to normal use… again, press and hold from the OFF position, The light will blink, and remain on.
The Big "Light Show"
The Good and the Great 
You know, I really have nothing negative to say about the Olight H1 Nova. It's an extremely well-proportioned flashlight. Many headband lights don't have the ability to go to "EDC" use at the drop of a hat, and the included pocket clip allows just that.
As you can see from the beam photos, it's pretty bright even just on high mode. I guess it would be nice if it lasted a little longer on turbo mode…but with its small size, it's better for prolonged use so it doesn't over heat.
Even on low mode, it would be a good addition for bikers and hikers… simply to increase visibility, even if you carry an additional flashlight.
The only thing that puzzled me was the fact that one of my 16340 brand batteries (from "AW") will not power the light on turbo. When I attempted to activate the mode, it went to it only for a split second, then reverted to high. It wasn't until I switched to an Eagletac 16340 battery that it went to, and remained on turbo. Turbo also worked fine on the Olight CR123 battery that was included in the package. It's disposable however, and using the light exclusively on "123's" can get expensive over time.
The headband is comfortable and adjustable, and the light is easy to attach and remove. The only nuisance might be that it's difficult to insert into the headband if the pocket clip is attached. And if you need to remove the clip, just be careful not to lose it!
I'm certainly going to recommend the H1 Nova. It's a welcomed accessory to anyone who needs a good bright light while performing tasks that require the use of both hands.
To add the Olight H1 Nova either to your own personal collection, or to someone else's, please follow this link to Amazon or this one, to eBay!
Please follow Lightsngear and like us: