The original Convoy C8 goes back a couple of years. What I'm reviewing now, is the "new" C8.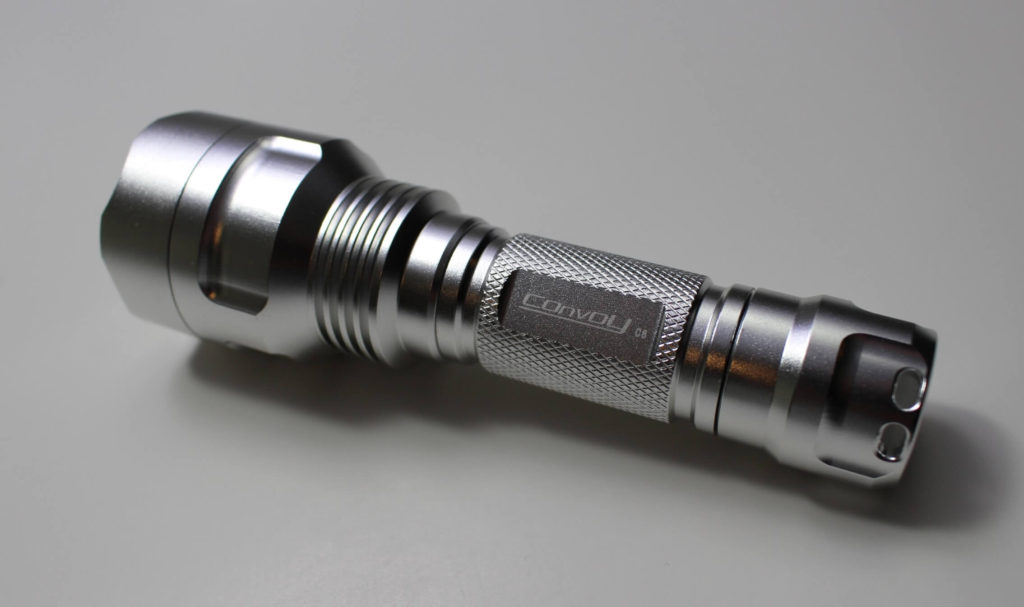 With an updated LED, (the Cree XP-L HI) and 993 lumens, it can now throw with the best of them.
No Package (to speak of)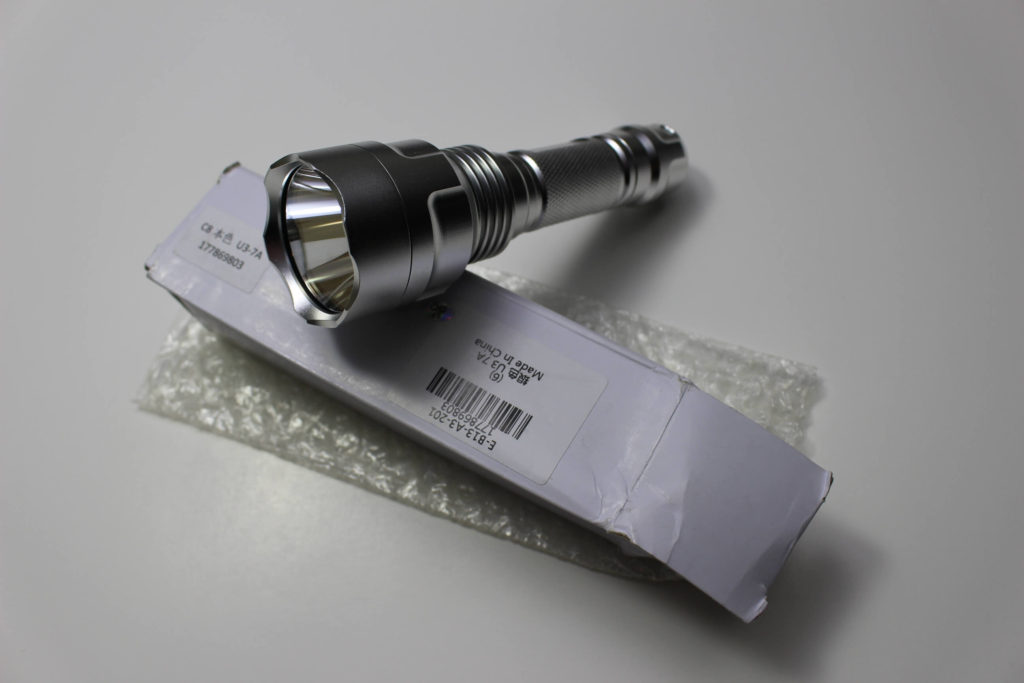 As you can see, my Convoy C8 arrived with minimal packaging. No accessories what so ever. I do not know if this is typical, or whether it would arrive at YOUR mailbox the same way.
Specs and Features 
I don't have a lot of information on the C8. I got no instructions with the package, so I needed to rely on outside sources for basic bits of information.
One thing I can tell you with certainty, it's 5.6″ long and weighs 184 grams including an 18650 battery.
Recommended battery is an 18650 rechargeable. I do not know the working voltage of the light, so I haven't heard if other battery types are compatible.
The LED is a Cree XP-L HI. And combined with a large (smooth) deep reflector, beam throw is measured close to 500 meters!
It's waterproof to IPX-8, and impact resistant to 1.5 meters.
It has 5 constant output modes.
Moonlight
Low
Medium
High
Turbo
If convoy identifies them as something different, I wouldn't know. But those are the modes as identified by ME. Turbo is said to be 993 lumens. I do not know the exact outputs of the other modes.
There are also 3 flashing modes.
Strobe
Bicycle flash
Battery voltage indicator; which works by "flashing" the voltage in 25% increments. For example, 2 flashes 50%. 3 flashes, 75%  and 4 for 100%
Other traits that deserve honorable mention;
The lens is toughened glass
The body is aluminum alloy
There's a low voltage warning when the battery depletes close to 3 volts. The light flashes every few seconds
Other Versions of the Convoy C8
What I have here is the U3 7A version of the C8. The color temperature of the LED is extremely warm; 3000-3000k. Other versions available are the "V2 1A" a "U4 3A" and a "U6 3A". The others also feature a "cool white" version with a 5000k+ color temp. There's even an XM-L2 U2 version as well.
Very Simple User Interface
On this version of the C8, it works the same as dozens of other budget flashlights. One firm push of the rear button turns it on, and a half-press changes the modes. On THIS version, there is NO mode memory.
The sequence is moonlight>low>medium>high>turbo>strobe>bicycle flash, and finally, voltage indicator. A little feature I DO like very much, enables the user to go from ANY mode (beyond moonlight) BACK to moonlight, WITHOUT the need to cycle through any of the other modes, including the flashing modes. All you do is half-press (and HOLD) the switch for about 2 seconds, then release, and presto!
Behold the Beam Pics!
The Pros and Cons of the Convoy C8
Fit and feel are very good and it's made from quality components
The switch responds well and isn't too tight to press
Excellent variation of modes!!
Tail-cap glides smoothly over the threads
Package lacks instructions
Only accessory is a wrist strap
The version I received has no mode memory… but other versions CAN be purchased with updated software, that offers mode memory and other programmable functions
GearBest supplied the Convoy C8 for review. For a possible purchase, visit them here!
You may also check Amazon availability…. by clicking here!
Please follow Lightsngear and like us: