Zanflare (Zanbase) is a new company. The Zanflare F1 is their new flashlight.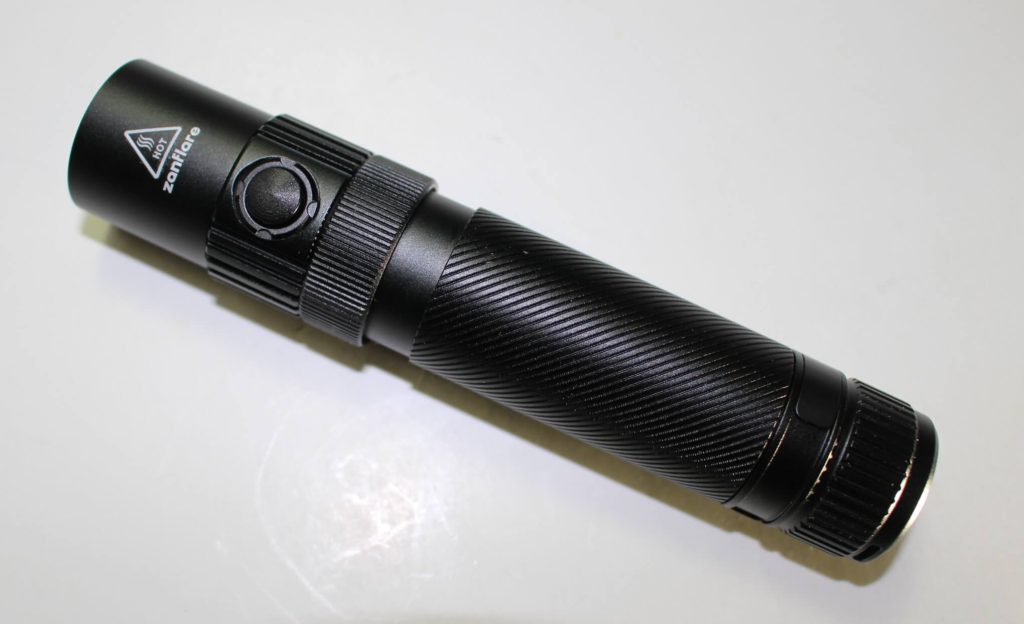 Full Package
A rather well "endowed" package comes with the F1. There's a zippered belt holster, an instruction manual, a micro USB charging cable, a pocket clip and an adjustable lanyard.
Features and Specifications 
Length; 5.3″
Weight (including battery); 144.5g
Beam distance; 252 meters
Waterproof to 2 meters; IPX-8
Impact resistant to 1.5 meters
Mode memory recalls the last mode used.
Fully integrated charging circuit. Built-in USB port.
Reverse polarity protection guards against improper battery installation.
An efficient regulating circuit keeps output as high as possible even as battery voltage weakens.
Two switches; one controls power, the other changes modes.
Batteries;
The suggested battery (and the only one for which can be charged internally) is an 18650. Other battery options are either (2) – 3.7v 16340; (2) – 3v CR123; or (2) – 3.7v 18350
LED, Modes and Output 
At the heart of the F1 is a Cree XP-L (V6) LED. This, combined with a smooth reflector, is what affords the F1 its excellent beam throw.
Modes;
Moonlight;  1 lumen
Low; 50 lumens
Medium; 290 lumens
High; 590 Lumens
Flare; 1240 Lumens
Regarding runtimes, constant use for 550 hours is estimated when on moonlight mode. In contrast, high mode will yield 2 hrs and 30 minutes, which is quite good. Meanwhile, "flare" mode will only remain constant for about 1 minute. It ramps down to high mode to prevent the components from getting too hot.
Operating the Zanflare F1
So there are two switches. One on the side, one on the bottom. The tail switch is what turns it on. To change modes, flick the side switch. It has a memory, so the last mode will always be memorized.
"Flare" is the top mode. Most lights would refer to this as "turbo"… but since we have a Zanflare… then that's what it's called. To activate flare, DOUBLE-CLICK from any mode. It puts out a lot of light on flare, but not for long. Even after it cuts back to high, you can put it BACK to flare if you want. But if you need it as bright as that for a few minutes, you'll need to do that several times in a row. For the safety of the LED, I wouldn't recommend it more than a couple of times.
To activate strobe, press and hold the switch in any mode. Once in strobe, you can switch to SOS by just clicking once. A second HOLDING press is required to return to the previous regular mode.
Charging an 18650 Internally 
Directly beneath the side switch is a ribbed-ring. Unscrew it to reveal a USB port. Insert the included micro charging cable into the port, and charging will begin. Confirmation of the process is a very small light to the right of the port. It'll be red while the battery is charging and will turn green when finished. I tested the charging current of the light, and it was reasonably good… at 500-600mA on average.
Low Battery Indicator
As the battery weakens significantly, the Zanflare will "blink" to alert you of its condition. As voltage drops below 3.0 it will blink once every 60 seconds. If you ignore the warning and the voltage drops any further, the light will blink THREE times in a row and shut off!
Follow that Beam
A click on each, will open the image full-size
Closing Arguments
The Zanflare F1 is very nice flashlight. It's simple in its design and user-interface.
Zanflare and GearBest have a unified association. I won't take any credit on how the Zanflare presents itself, but I was consulted last year on the types of features I look for in a flashlight, by my rep at GearBest. Overall, I think they did a fine job.
If given enough consumer exposure, the F1 can compete with certain models from several of today's leading flashlight manufacturers.
Switching on the F1 is quite smooth… although my only criticism to that, is with regards to the rear switch… which although works great… is a tad "stiff" to push. In other words, it has a far amount of tension. I could see an elderly person, or someone with arthritis in their thumb or index finger, having a very hard time clicking the switch. One thing for sure, it will NEVER activate by accident!
The modes are very effective, and moonlight (often one of my favorites) is dim enough to be useful when your eyes have adjusted to complete darkness. "Flare mode" on the opposite end of the spectrum, is extremely bright. And Zanflare has made it certain that the mode is not to be used in excess.
If you're looking for a flashlight of simple operation, which also includes several of today's most sought after features, I suggest you consider the Zanflare F1. The price on GearBest is very competitive, and by clicking here, you can take full advantage of that.
To check availability on Amazon, click here.
Please let me know if I can be of further assistance with regards to this post.
Please follow Lightsngear and like us: