Earlier this year I reviewed my first Convoy flashlight. This time around, the Convoy BD06 has crossed my path. I'd like to share my thoughts on that with you now.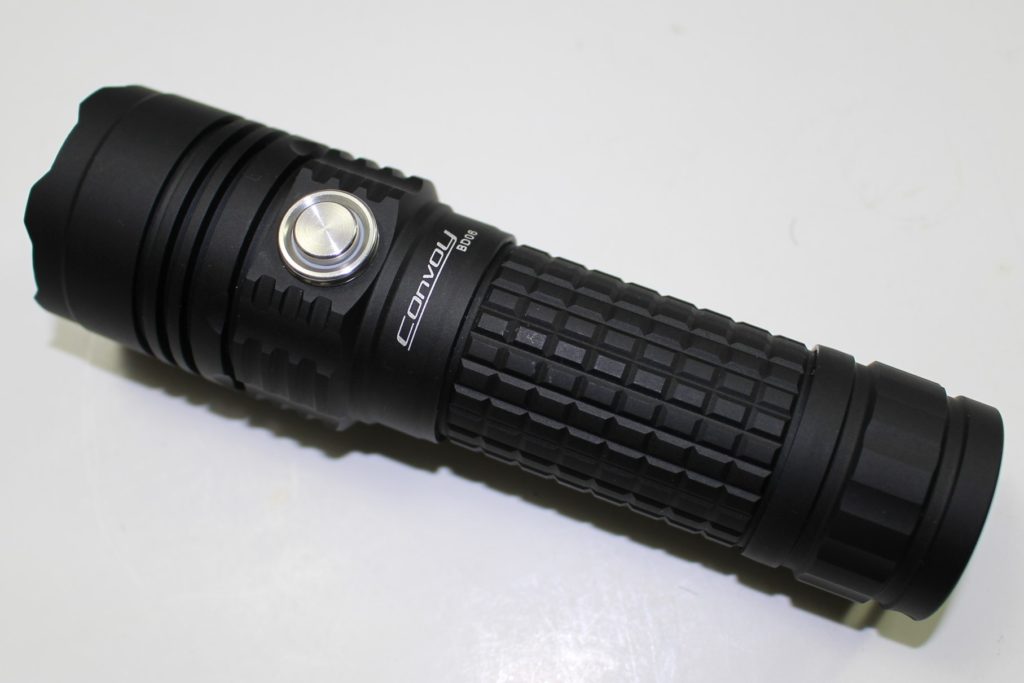 As you can see it's a "rugged" looking light with fairly good knurling on the tube, a flat bottom to enable tail-standing, and one-switch operation.
Packaging
From the photo, you can see that the BD06 comes equipped with a USB charging cable, a small USB "converter cap", a simple lanyard, an adapter plug and two 18650 battery rings. Oddly… (unless it's standard with Convoy), there's no instruction manual.
You'll notice that the adapter plug is for European use. I can't say whether with "your" order, you'll receive a North American adapter or not. I'm sure if you order from Amazon you probably will. My order came direct from China. This was of no inconvenience to me since I already own some USB converter adapters anyway.
The two clear plastic rings are used to permit an 18650 battery into the tube of the light, which lessens the chance of it rattling. More on batteries coming up.
The little "cap" next to the USB cable, is what the USB actually plugs INTO. In turn, the "cap" snaps ON TOP of the power switch! (photo below) This is how the flashlight charges the battery internally.
Convoy BD06 Specifications
Weight; 258g (including a 26650 battery)
Length; 5.6″
Width; 1.6″ (head) 1.2″ (body)
Waterproof to IPX-7
Working voltage; 3.7-5.0
Battery; (1) 3.7v rechargeable 26650 or (1) 3.7v 18650
Different Options Available
The Convoy BD06 conveniently comes with several different color temperatures. The version I'm reviewing here is a "neutral white" with a color temp of 4300-4500k. By going up in temperature, the tint will be "cool white".
In this review, the LED is an XM-L2 T6. The cool white version is an XM-L2 U2.
Main Features
Cree *XM-L2 U2 (or) *XM-L2 T6
Toughened ultra-clear glass lens w/anti-reflective coating
Modes; Low, Medium, High, Strobe, SOS
Maximum output; 900-1000 lumens
Low battery voltage indicator
Internal charging circuit
Charging indicator
Mode memory
Battery Choice 
You have two choices for batteries. Either one 3.7v 26650 (which is recommended) or one 3.7v 18650. Since there's a vast difference in thickness between the two, the accessory package includes two clear flexible rings. These rings are placed over an 18650 battery to mimic the thickness of a 26650. With the rings, there's less rattling in the tube.
As far as the two batteries are concerned, there won't be any difference in output, BUT, runtime would be substantially higher with a 26650. This is due to the higher average capacity that a 26650 can offer. Convoy has not supplied any runtime tests on the light, and I've not done any myself either. From experience, I would expect a fully charged 26650 to power the BD06 on high mode for about 2.5 to 3 hours.
Functionally Simple
Like many flashlights these days the BD06 has a convenient side-switch.
Turning the light on is as simple as giving the button a FIRM click. Once on, a light press will advance it to the next mode. As with many, the sequence is from low to high, followed by strobe and SOS. Unlike many, more expensive flashlights, the BD06 keeps things simple. The flashing/emergency modes aren't hidden, so you MUST cycle through them if your goal is to go from high, back to low. Personally, I'm used to having hidden modes, so to me, that action is annoying. Fortunately you can press the button quickly and try to bypass them as fast as possible.
As the battery drains to a level between 2.9 and 3.1 volts… the light will alert you that it's time to charge, by blinking in low output. Charge (or swap out) the battery as soon as you can.
Behold the Beam Shots!
The Charging Function
With a built-in charging circuit, re-energizing the battery in your BD06 is very easy. As described above, a little "cap" is included which has a USB port in it. The cap snaps over the power switch and even has an its own power button so the light can still be operated when attached. Plug the micro USB end into the cap and the other end to wherever a USB port can be found. Presto! Your battery is now being charged.
To verify that the battery is charging, simply gaze into the LED and you'll notice the entire reflector is bright red!! "Holy bezel Batman". It remains red until the charge is complete. And if you guessed that it turns GREEN at the point, you'd be correct! I hooked up an inline current tester to the USB and got a charging current of about 450mA. That's a bit on the low side. My prediction, is if you have a relatively drained battery and use the internal charging, it will some hours to complete. A 26650 will take longer than an 18650.
From the Observation Deck
All in all I think the Convoy BD06 is a nice flashlight. It's not cheaply made like those $10-$20 generic lights that are EVERYWHERE these days! It has a simple UI, and quality components. My biggest issue is that strobe and SOS are not hidden, but again, this is a "medium-end" flashlight, not  a high-end. The BD06 incorporates traits of both cheaper and more expensive lights. To some, this may be the perfect mid-priced flashlight.
For EDC purposes, it only comes with a flimsy wrist strap. Unlike pricier lights, it doesn't have a custom-made holster. Due to the thickness required by the 26650 battery, it cannot utilize a pocket clip.
To make the Convoy BD06 your own, visit here and choose the "flavor" of your choice!
All questions and/or comments are welcome in response to this review.
Please follow Lightsngear and like us: