The Convoy L6 is the BIGGEST flashlight Lightsngear has ever reviewed! It's big on size and ENORMOUS on power! In fact, for people who often complain about losing flashlights… the L6 is ONE flashlight you will NEVER lose! It won't even FIT in your kitchen junk drawer!
Big Box. Big Flashlight!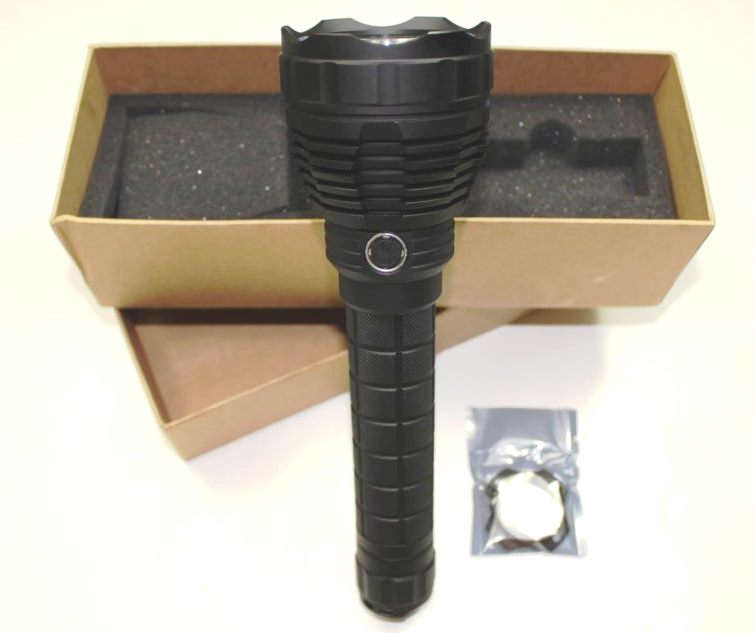 I suppose the size of the flashlight can make up for whatever else "isn't" in the package… such as a user manual, or a spare o-ring. I apologize for the slightly blurred image of the tactical ring, (bottom right), but as you can see it was the ONLY extra piece of equipment in the box.
Convoy L6 Stats & Features
Runs on TWO 26650 3.7v rechargeable lithium batteries. Those are the only batteries the L6 will accept. Convoy recommends that only protected cells be used.
First off, there are different tint versions of the light available. From appearances, I believe I received the 6000-6500k N4 1C cool white edition.
Size-wise, it's anything but small! The L6 is NOT your average 'edc' flashlight! Unless of course you carry a bug-out bag with you everywhere.
Anyway as for length; it's 10.4″ — width; 1.3″ (tube) 2.9″ (head)
Weight; (without 2 – 26650 batteries) 528g
The LED is a CREE XHP-70 N4, capable of producing over 4000 lumens! The reflector is coated orange peel.
It's waterproof to IPX-8 (therefore submersible).
Tail-stand operation is also possible.
It has 5 operating modes including strobe. They're listed in mA current and are as follows;
Low – 50
Medium – 200
High – 1700
Turbo – 5000
Without the correct method of measuring actual lumens, those "mA" readings equate quite nicely to output. Based on that, low and medium would be within those ranges. High, somewhere near to 1400 lumens and turbo within the range of 3500 lumens.
The lens is toughened ultra-clear glass with an anti-reflective coating.
Basic Operation 
So there are two buttons; the tail cap switch and the side switch. Push the TC switch to turn it on, then click the side switch to change modes. The TC switch also operates tactically. A "light" press will offer momentary light anytime. Strobe is activated by double-clicking the side button in any mode.
Modes change in order of low>medium>high>turbo.
That's Quite A Beam!
So let's get to the all-important beam-shots! As always you may click on each one for a full-size image. There's also an image in this gallery of what happens when you remove the reflector and just use the LED in its "raw" form.
Okay, the final image, is of the LED without the reflector. This produces an extremely wide beam with no center hotspot. This might be considered pleasing to someone who's used to using flashlights with a focusing lens. Obviously the beam won't "throw" as much but some people like it that way.
Thoughts and Observations
The Convoy L6 is one serious flashlight! In terms of power, it ranks right up there with others in the "granddaddy flashlight" category.
It's odd that the packaging comes without a manual… but I also understand that Convoy is a quality, but less expensive brand.
Convoy DOES recommend that only protected batteries should be used. In fact, they specifically recommend Keeppower 5200mAh cells. However, it's been noted that battery length might be an issue. For them to fit properly they shouldn't be longer than 70mm. It's been noted that protected Keeppower cells made in 2015 are the correct size. Most of those on the market that I've seen are 71mm.
There's no automatic stepdown on the L6. The output remains constant. Therefore it'll start getting quite warm when running on turbo. Just be mindful of that.
I don't have any runtime statistics for the light. If I was to make a guess… I would assume that you would get about 2 hours on turbo.
I'd like to thank GearBest for supplying the Convoy L6 for testing and review purposes. Please visit their website for a great price on the L6!
Please let me know if you have any questions or comments on this post.
Please follow Lightsngear and like us: