Okay folks. Are you ready for the BIG one? Strap yourself in, because THIS is the 5000 lumen BLF Q8! A marvel in flashlight technology. And a marvel in PERSONAL customization 🙂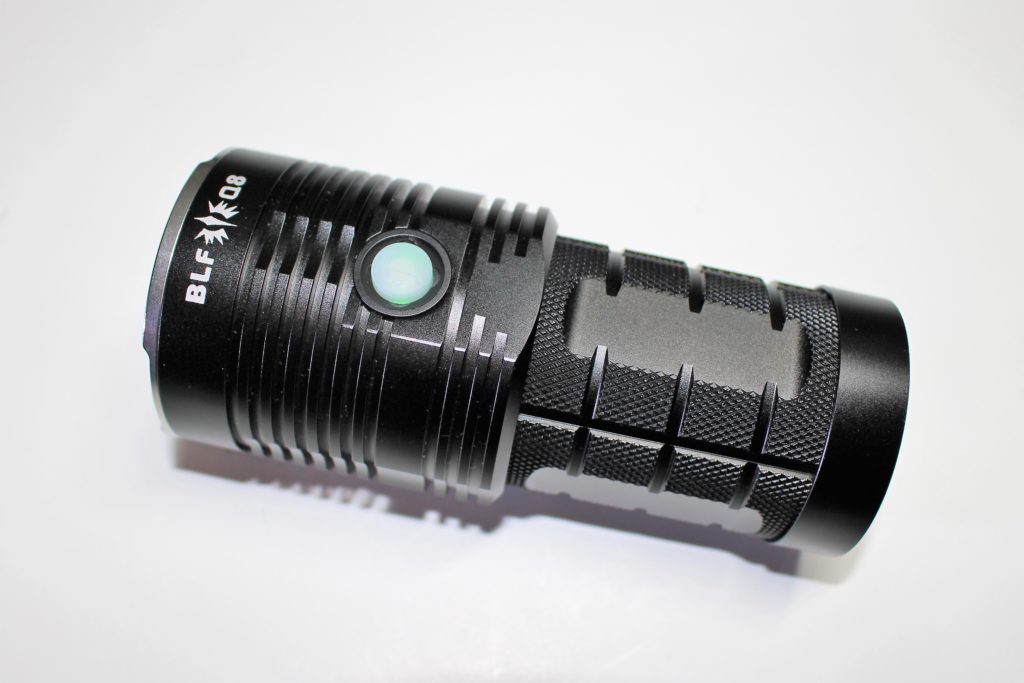 Box & Accessories
With a flashlight as substantial as this, you have to expect a little less in the way of accessories. So from the picture, you can probably see that the only extras are a small baggy containing THREE spare o-rings, a spare switch cover, and TWO product manuals.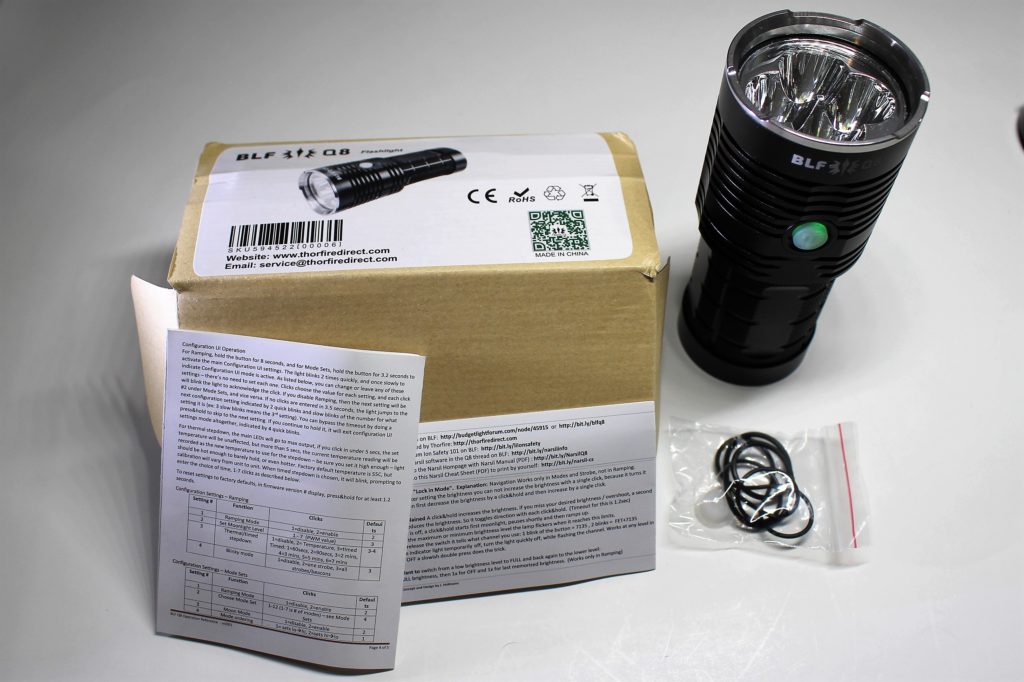 What's it All About — BLF?
BLF is the acronym for "Budget Light Forum". The Q8, is a collaborative effort between BLF members, and "Thorfire" — a quality flashlight manufacturer, to produce a flashlight that not only serves its owners to their satisfaction, BUT, can also be completely customized, so each user gets their OWN experience out of it!
Stats & Features 
Let's begin with the basics;
Weight; (including batteries) 20 oz!

Length; 5.1″

Width; (head) 2.3″

LED; FOUR Cree XP-L HD V6 (neutral white)
Battery requirements; FOUR 18650's
Now to the "nitty gritty";
Beam tint; Neutral White (4750K to 5000K)

Modes; 2 programmable sets – Smooth Ramping or Mode Set

Body; Aerospace grade aluminum alloy construction

Coating; TypeIII hard anodized

Impact Resistant to 1.2 meters

Waterproof to IPX-8

Beam distance; 450 meters

Lens; High transmittance glass

Reflector type; Aluminum alloy mirror reflective cup

Features advanced temperature regulation (ATR) technology

Direct access to Moonlight and Turbo mode

Mode memory; even works in the "ramping" setting

Stainless steel bezel ring protects core components from damage

Battery voltage indicator

Low voltage battery warning
Powering Your BLF Q8
Four 18650 batteries are required. As you can see from the photo, they all go into the tube positive end up. For some reason, the manual suggests protected cells. While they CAN be used, it's usually recommended that unprotected, high-drain (IMR/INR) batteries be used instead. It should also be noted that due to the battery contact design within the head, the light might not work with certain types of batteries. It depends on battery length, and how well the head can tighten over top of them. Unprotected button-top work the best.
I'm currently using unprotected Sanyo batteries — exactly like these. The head tightens over them beautifully and they work just fine. Alternatively (with more power and a higher drain) these Samsung cells will also work, and are excellent!
Operationally Speaking 
Seeing that part of the method for operating the BLF Q8 is a bit challenging to explain, I've included some photos of the manual. There are also configuration settings within each setting option. These allow you to set Moonlight to one of seven different values. In addition, you can adjust the thermal temperature of the light, which dictates how warm (or hot) it'll get before it automatically ramps down as a means of cooling itself. By default, it's set to drop after reaching 55° Celsius.
To read the COMPLETE manual on the BLF site; GO HERE.
So basically there are TWO settings to choose from. The first, which is also the factory default… is identified as "Smooth Ramping". This is the setting that I prefer.
The second is called "Mode Set". This includes many different settings, including two, which act the way a regular flashlight will… with standard modes of low, medium, high, etc… This is what I meant when I said it's highly customizeable, or user-defined. 
As soon as the Q8 is powered on, the switch button illuminates in green… then goes off. However, each time the light is turned off, the green illumination returns, and stays LIT, until you switch the flashlight ON again.
There are FIVE blinking (emergency) modes on the BLF Q8. They are;
Strobe

Police Strobe

Bicycle Flash

Fast Beacon

Slow Beacon
Now, if parasitic drain (on the batteries) concerns you, it really shouldn't. It's been noted that the Q8 can stay in "standby" mode (with the button lit) for several years, before draining all FOUR batteries! However…… if the green light drives you completely berserk, there are three ways to shut it off. The first being the most obvious; just loosen the battery compartment a hair, and it goes out. If that's something you're not likely to remember you've done, the next time you need light… then perform the next way in which to shut it off. Here, you'll start with the light OFF. Now press and hold the switch until 'moonlight' appears. The SECOND it comes on, click the switch again. If you did it fast enough, the flashlight will be OFF as well as the green indicator. . If you WEREN'T quick enough, the flashlight will be ON, and the indicator will be OFF… in which case you'll need to try again. If that's too much trouble, the third way to silence the illuminating switch, is to perform a 'lock-out' on the light. For that, you need to click the switch FOUR times. It will blink to confirm the action, and shut off.
BLF Q8; The Modes
Within the "Set Mode" setting, there are TWELVE groups. Each group has a varying number of modes available to it. Listing all of them here is a bit much, so I'll give you just the names of the available modes.
Moonlight

Ultra-low

Ultra-low 1

Ultra-low 2

Ultra-low 3

Low

Low 1

Low 2

Medium

Medium 1

Medium 2

High

Turbo
To see which groups have which modes, and to see the outputs for each of them, visit the BLF Q8 product page at Banggood.com!
Here's the way ramping works 
First of all, a 'holding-press' activates moonlight. If you WANT moonlight, release the switch. If you DON'T, and need a higher output, then continue to press and hold, which activates the ramping, all the way to Turbo unless you release the switch. If you pause for more than a moment, the direction of your ramp will continue (as when paused) when pressed again. If you release the switch at any time, and immediately press it again (without pausing) the direction of the ramp will switch.
EXAMPLE;
Press and hold> ramping is low to turbo> pause (2 sec or longer)> press and hold again, ramp continues to turbo. Once turbo is reached, ramping will reverse.

Press and hold> ramping is low to turbo> pause (less than 2 sec)> press and hold again, ramp REVERSES direction> (towards low) pause again (less than 2 sec)> press and hold, and ramping reverses in the OTHER direction (towards turbo)
Here are some basic switch functions when set to Ramping;
For MAXIMUM output, DOUBLE-CLICK anytime… whether it's on or off.

To check battery voltage, TRIPLE-CLICK anytime (see more on this below). Also from this mode, a DOUBLE-CLICK blinks out the approximate temperature of the operating environment… in Celsius. (example; 22° would be 2 blinks …(pause)… then 2 more blinks. Another DOUBLE-CLICK, blinks out the firmware version that's installed in the light.

To engage 'lock-out' of the switch, click FOUR times. Repeat the action to unlock.

Strobe is activated by maneuvering to TURBO, then DOUBLE-CLICKING. (see below for the others)
The BIG Beam Pics! 
Since I have the light set to Ramping, the pics below depict where I stopped the ramp at approximately "one-quarter" and again at the "halfway" mark to show the same approximate brightness that it would have if it was 'low' and 'medium' mode.
Checking Battery Voltage
A TRIPLE-CLICK from anywhere… on or off… will activate the Battery Check. This is pretty straight forward; it blinks the voltage. For example, 3.7 would be three blinks, a pause, then seven more blinks. It keeps doing it until the button is pressed again. Hopefully the voltage of each battery is pretty uniform! Otherwise if one was lower than the others, I'm not sure which one takes precedence, or whether it takes an average.
Getting to the RIGHT emergency mode!
In my opinion, only a TRUE flashlight geek might appreciate the way this sequence is set up. For the average person, who might only own one or two LED flashlights, this promises to be a tad hairy! So follow me closely on this one.
To access the 'blinking' modes when set to Ramping… you MUST get to TURBO mode first. So, perform a DOUBLE-CLICK (from anywhere) for turbo, then DOUBLE-CLICK again. Strobe is where you'll be at this point. Now, you can get to the other FOUR blinky modes if you want…BUT…just like when ramping, if you snooze…you lose!
Here's the deal. Let's say you want Beacon #1, which is the FOURTH mode in the chain. You need to get to Strobe, then click through 'Police Strobe' and 'Bike Flash', and you need to do it QUICKLY! If you pause on ANY of them, the one you pause on, is locked-in, and you CANNOT get to the next one unless you start over again!! So, what you would need to learn, is how many 'clicks' it takes to get to the mode you want. Think of it as licking a Tootsie Pop! So, Beacon 1 is THREE clicks from Strobe. Bike Flash is TWO clicks from Strobe. Got it?
Now, just to make it interesting… once you're 'locked-in' to any blinking mode OTHER than Strobe… you can actually GO BACK to the previous mode, by performing a HOLDING PRESS! (but as soon as you see it activated, release the button) Isn't that interesting??
What More Can I Say?
The BLF Q8 is the MOST "flashlight" I've ever used! You can take that comment however you want. It has SO many possibilities, that it's literally difficult to describe. Writing this review was a REAL challenge!
Because it was developed by flashlight enthusiasts who crave diversity in their lights, it offers just that. But, if you're NOT an enthusiast, and are just learning about LED flashlights… and possibly thinking that this would be cool to add to a growing collection… don't let it be too intimidating.
One of the beauties of the BLF Q8, is that it CAN be as simple as you want! Or… as complex as you want!
Obviously the Q8 isn't a pocket light. But it's certainly a great tool for camping, dog walking, etc. For hiking, it's probably too heavy, and will add unwanted weight to a backpack. It has no holster or lanyard, so carrying it (other than in your hand) might be an issue. For average to large size hands, it's comfortable to tote around. You can also use it as a weight, while walking!!
So, if you accept the factory settings (ie Ramping) it's very easy to use. Playing around with the configuration (see photo image above) might take some practice. For a customized UI, you have no choice!
Other than that, beam tint is great, as well as beam distance! The switch is responsive, and easy to keep off (when the light is off).
Banggood.com is the #1 merchant for BLF products. Visit them and check out the BLF Q8! And to sweeten the deal, use this code at checkout for an additional discount; M4DQ8. 
Prefer Amazon Prime? No problem —- click here for 2 day delivery and FREE shipping!!
Please follow Lightsngear and like us: