This is one of several recent flashlight reviews, where the light in question features the amazing Anduril firmware. It also happens to be the second one from Lumintop! Here was the first. Since the cat is now partially out of the bag, this is the Lumintop EDC18.
Very Small Package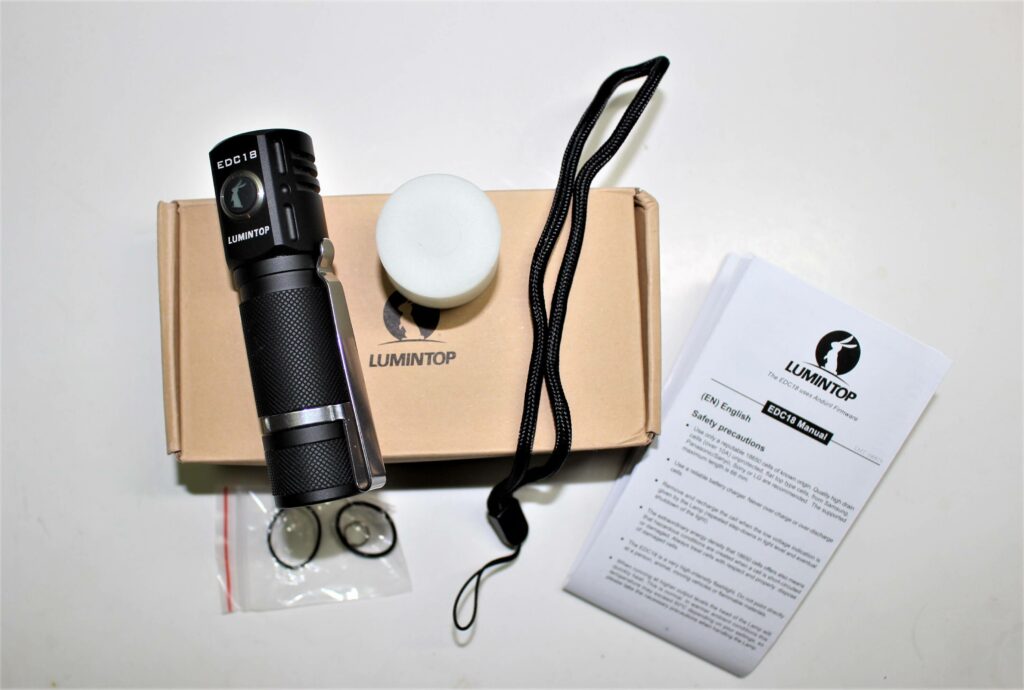 The EDC18 is a small flashlight. Therefore so is the package! Inside the little box is a pocket clip, a diffuser, and a spare parts package.
Specifications
Length; 3.6″
Weight; 4.33 ounces (w/battery)
LED; (4 versions available) 3 – XP-L HI (in CW & NW) SST-20, and 3 – Nichia 219C — which is the version I'm reviewing here
Maximum output; 2800 lumens
Battery; 1 – high drain (unprotected) 18650 is recommended
Driver; FET+7+1 driver
TIR Optical lens
Beam Distance; 200 meters
Waterproof; IPX-8
Body; Hard anodized aluminum
Features
Mode Memory
Two operating modes
Two sets of blinking modes (including battery check, biker flash, tactical strobe)
Instant access to lowest & highest output
Electronic lockout
Magnetic tailcap
Tailstand capability
Low voltage protection & thermal regulation
User defined UI courtesy of Anduril Software
User Interfaces
As with other lights configured with the same software, the Lumintop EDC18 is by default, set to a smooth ramping interface. This can be instantly changed to a standard "stepping" interface, which by default has seven levels of output.
The default ramping level for "the floor" (lowest) is "moonlight". The highest default level is 760 lumens… but this can be changed. So while ramping, any level of output between 1 and 760 lumens can be selected. The default floor for the stepping interface is 3.6 lumens. Meanwhile, the default "ceiling" (highest) is 760… which too can be changed. The default number of levels within stepping, is 7, which can be increased or decreased depending on your personal preference.
Instant Access
Several modes can be reached instantly as desired.
Moonlight; press & hold (from off – 1.5 sec) until you see a short blink
Turbo; double-click from "off"
Battery Voltage Check; triple-click from "off"
UI toggle; ramp to step & vise versa; triple-click while ON
Electronic Lockout; FOUR clicks from "off" doubles as "momentary moonlight") Four clicks to unlock
Momentary Mode; FIVE clicks from "0ff". Light only operates as long as button is being pressed. To exit, loosen & re-tighten the cap or head
Blinking Modes
There are TWO sets of blinking modes. Some are for emergency, and some are just for fun.
Group 1; To engage, click three times from OFF
BattCheck; this is the voltage check as described above
Sunset/Nighty-Night Mode; lulls you to sleep! (automatic shut-off)
Beacon; uses the previous output-level … adjusting ahead is recommended (blink speed is configurable)
TempCheck; displays the current air temperature in Celsius (can be calibrated if needed)
Group 2; To engage, (from "off") click TWICE, then HOLD on the THIRD click**
Candle mode; simulates a flickering candle
Bike flasher; pretty self-explanatory
Party strobe; motion-freezing strobe (adjustable)
Tactical strobe; (adjustable)
Lightning storm; simulates violent weather
** As an FYI – [for Group 2] If you (or someone else) is messing around in this group, "mode memory" will make sure the next time the group is activated, it'll return to the last flashing mode it was on, before it was shut off
Basic Lumintop EDC18 Operation
Press the switch for light. Whether it's in ramping or stepping, you'll need to hold the switch to advance the output. In either case, releasing and pressing again without delay, reverses the direction. To toggle between interfaces, click THREE times while on. A single click turns it off, and "memory" always recalls it for next time.
Configuring (changing) the Settings
Customizing the way the EDC18 operates is relatively easy, and it's the same as every other light with the Anduril software.
With the light ON in the interface that you'd like to tinker with, click FOUR times. For each possible setting in configuration mode, the EDC18 blinks once, followed by a "buzzing" light. The buzz is your cue to press the switch for as many times as necessary to change the setting. Within ramping, you can set the lowest and highest output level. The number of clicks represent the level you desire. So during the first "buzz", press once for the lowest level (which is the default anyway) and for the highest level (second buzz) it's also a single press, because for every click, the level DESCENDS. So TWO clicks would mean one level lower than Turbo. Three clicks is THREE levels lower than Turbo. And this can continue all the way to 150 clicks!!
Beam Pic Gallery
Something a bit different this time. The beam photos are not captioned as "low" and "high" but are instead designated as which "level" (in 'stepping') it is on. Example; Level 1 is moonlight,
To Summarize the Lumintop EDC18
I have basically nothing negative to say about the EDC18….because it's simply a great little flashlight!
One thing I didn't mention before, the switch illuminates in green with the Lumintop logo, and is lit at all times. This helps to locate the switch in all scenarios, which is helpful. It doesn't appear to have a negative effect on the battery. It should also be known that while Turbo is scorchingly bright, it starts getting the light hot in a matter of seconds. It's also programmed to decrease output within 30 seconds when left on Turbo.
This version of the EDC18 I received, features Nichia LED's, which produce a nice warm 4000k tint. Given their depth and placement within the head, the beam is very floody, but still has reasonable throw especially when pointing at a solid object. It's also an excellent indoor flashlight!!
One last note with regards to batteries. The manual references using smaller cells — 16340 and 18350. While the width of the tube is wide enough, the length isn't. Of the several brands I tried in both sizes, even those which were flat top, the overall length of the two batteries end to end, protruded too much for the cap to screw on completely. Most button top 18650 batteries are also a challenge. Only a flat top 18650 is guaranteed to fit properly.
The Lumintop EDC18 was supplied for review by Banggood. I would suggest visiting them if you'd like one. You can also enter coupon code BGEDC18 to shave a few bucks off the regular price 😀
Please follow Lightsngear and like us: