The warrior strikes again! Some time ago, I reviewed the M2R Warrior flashlight. As in standard Olight tradition, they like doing upgrades on previous good sellers. So in this review, I'm taking an unbiased look at the Olight M2R PRO Warrior, tactical flashlight.
Impressive Accessories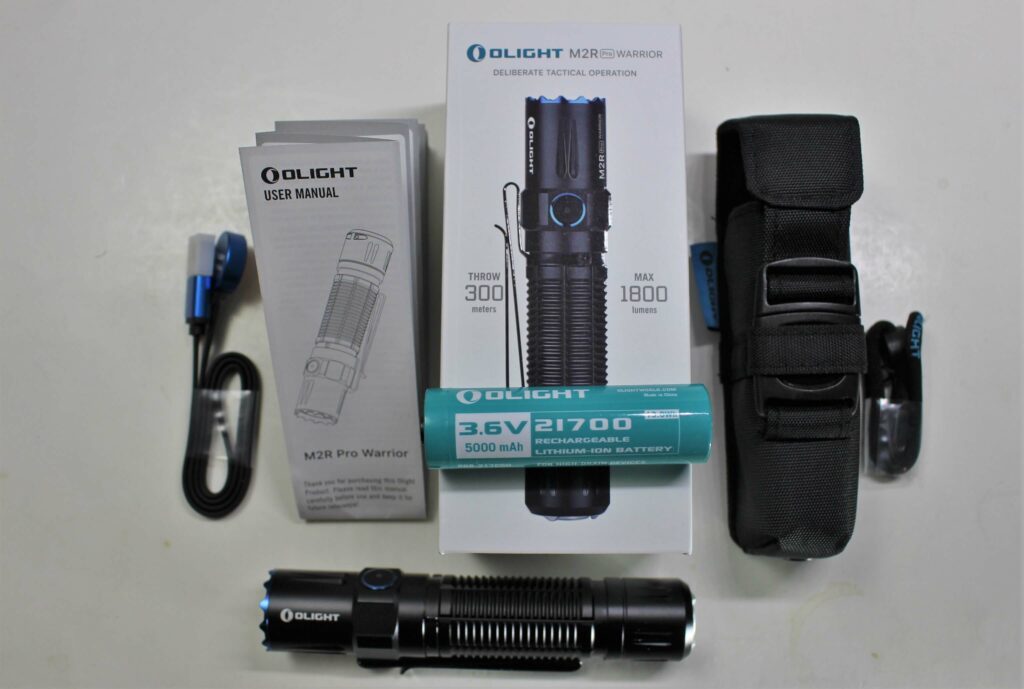 As with all Olight flashlights, the packaging is quite extensive. As pictured above, the Pro Warrior comes with a user manual, a very nice holster, a USB charging plate, a lanyard, and a 21700 rechargeable battery.
Specifications
Length; 5.3″
Weight; 6.31 ounces (including the battery)
LED; neutral-white (exact type not specified)
Max Output; 1800 lumens
Battery; 1 – 21700 lithium-ion (included)
Body; AL6061-T6 Aluminum Alloy
Beam Distance; 300 meters
Impact Resistant; 1.5 meters
Waterproof to IPX-8
Features
Mode Memory
Dual-Switch Operation
USB rechargeable
Max Charging Current; 2A
Battery Voltage Indicator
Charging Indicator
Crenelated Attack Bezel
Magnetic Base
Tail-stand Capability
Smooth Reflector
Toughened AR coated Glass Lens
Modes, Output and Runtime … Oh My!
There are FOUR regular sequencing modes on the Olight M2R Pro Warrior. These are low, medium-2, medium-1, and high. On the very low and very high end, there's moonlight and turbo respectively. These must be selected separately. The only flashing mode is Strobe.
Here's the basic order;
Moonlight – 1 lumen (more than a month)
Low – 15 lumens (130 hours – also a long time!)
Medium 2 – 60 lumens (40 hours)
Medium 1 – 250 lumens (10 hours)
High – 750~250 lumens (160 min~40 min)**
Turbo – 1800~750~250 lumens (4.5 min~145 min~45 min)**
**Please take note that "high" and "turbo" run for a specified amount of time before lowering the output automatically. 
How to Operate Your Olight M2R Pro Warrior
Olight has a love affair with switches…and the M2R Pro is no exception.
So, there's a switch on the side and the tail. Here's what each of them do.
Side Switch; One short (side) press activates the light. Press and HOLD to advance the mode. It'll sequence low to high (continuously) as long as you're holding the press. Once it's on a mode, a short press turns it off.
For moonlight; Press and HOLD the switch from OFF
For turbo; Double-click, either from OFF, or while ON from any other mode
For strobe; Triple-click, from OFF or ON
(Tactical) Tail Switch; The tail switch offers two different configurations. By default with configuration 1. A half-press activates medium-2. You can get constant medium by doing a slightly "firmer" press, then releasing. You don't need to hold it….just press it a bit further IN, than you would for momentary light.
The next tail function is turbo. If you want momentary turbo, press the switch all the way (and hold), then release each time. For constant
turbo, quickly and FIRMLY press the switch as far as you can and release. If it doesn't stay on, try it again, and do it a bit quicker.
In Configuration 2, the half-press activates turbo, and the FULL press activates strobe. To change back and forth between the configurations (or simply make #2 the one you want)… press the tail all the way, and HOLD… then (with your other hand) press the side switch. Release both. It should now be changed. To restore config 1, repeat the action again.
Lock Out
To lockout the M2R (so it doesn't activate in a pocket) press and HOLD the side switch while it's OFF. Moonlight will appear…then disappear. It's now locked, and all you'll get if you press the SS, is a "red" indicator light. Press and hold again to reset.
USB Charging
The M2R Pro comes with a USB charging plate, which magnetically attaches to the tailcap, which in turn illuminates a small light on the cable. "Red" while charging. The manual boasts a current of 2A during the charge. On a recent line check, with the battery about 60% charged, it stayed consistently just BELOW 1A! Not terrible, but not as fast as promised.
Battery Voltage Indicator
In the center of the side switch is the voltage indicator. When the light on any mode other than "moonlight" the indicator will glow. Green when above 75% voltage. Orange, when between 30 – 75%. Red, when below 30%. At 10%, it blinks red.
The Big Beamshots
Olight M2R Pro Warrior; Reviewers Notes
When talking about a flashlight like the M2R Pro, it's hard not to describe it by using predictable adjectives. Of course it's bright, and durable, and dependable, and has a useful amount of features without creating much of a learning curve.
Only good things can be said about the accessories, including the holster which should survive as long as the flashlight does. As long as I'm on the subject though, let me comment on the included battery. Yes, it's great that it's there, but the only reason for making the M2R a 21700 light, is for additional runtime. Anyway, the Olight battery is longer than most 21700's. This means if you have any other 21700's around, chances are they WON'T work in the M2R! And, there's an additional "uh oh"…. the Olight battery won't fit in the slots of most smart chargers! I tried it in a few that I own, and eventually found a couple that DOES accept it. One of them is the XTAR VC8. So clearly, Olight WANTS you to ONLY use their battery, and to ONLY charge it in the light, using their proprietary charging cap.
The other thing to be aware of (which might seem like a no-brainer) is since the light is lengthy, it won't hold its own (with the magnetic base) unless its placed either upright or upside down.
Everything aside though, I'm still recommending it because the aforementioned issues are relatively small overall.
Recommendation
Amazon Prime is a great way to get yourself an Olight M2R Pro Warrior. Click here to make it happen!
Please follow Lightsngear and like us: