Olight is back on the warrior trail! Previously, we had the Warrior M2R. Now, as the series expands, there's the Olight M2T Warrior… which I'm going to talk about today.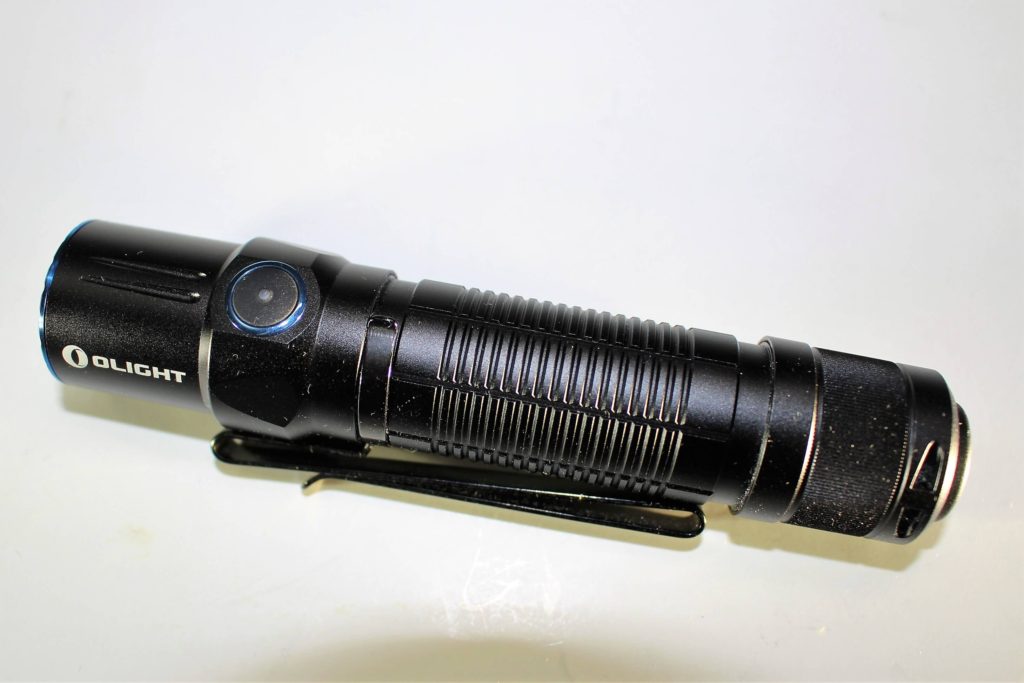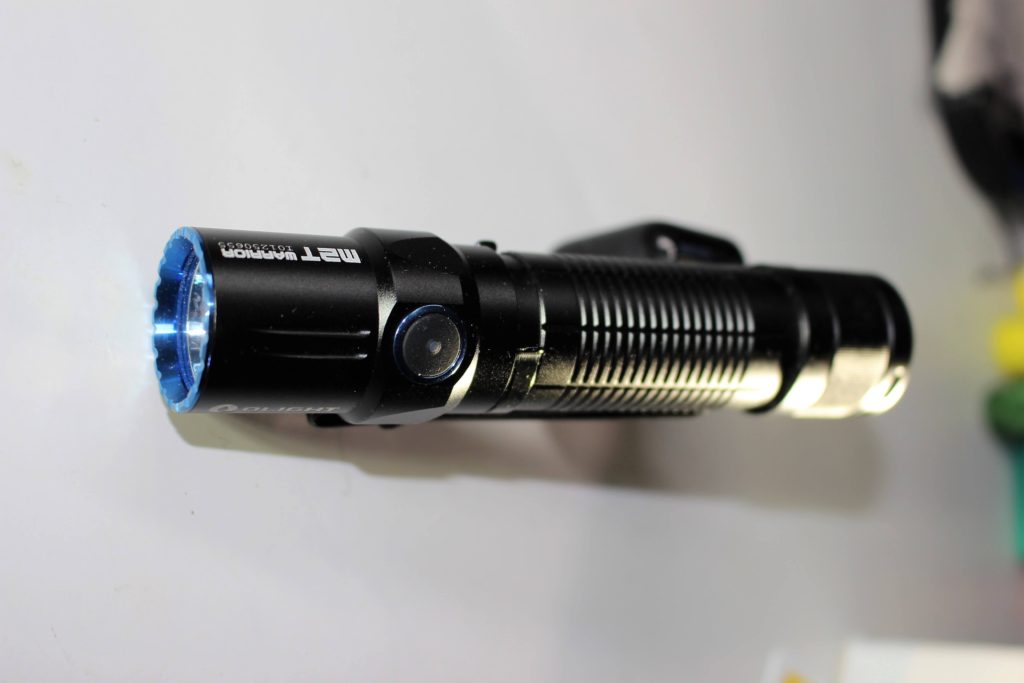 New Packaging…Again!
Olight has been changing their packaging for the last two or three releases, and with the M2T, I think they've found one that's very user friendly.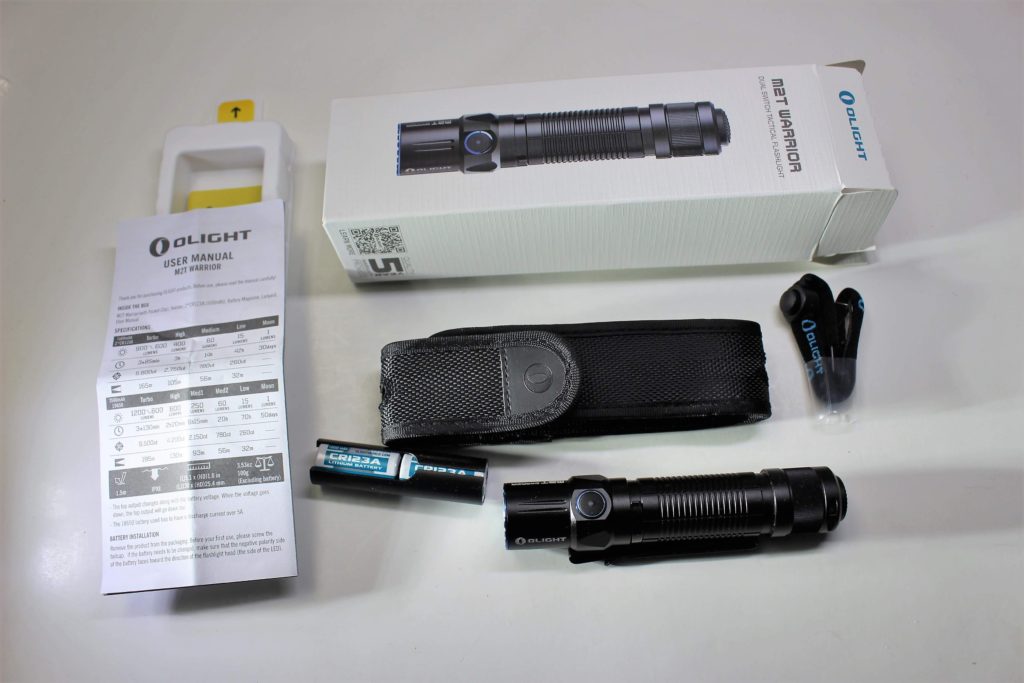 The flashlight is securely embedded in a plastic mold, within a slim, low-profile box. The accessories include a Velcro holster, a lanyard, a user manual, two CR123 disposable batteries and a battery magazine to keep them secure inside the light.
Let's Talk Specs
LED; XHP35 HD
Length; 5.1″
Weight; 145 grams incl., an Olight 18650 battery
Beam Distance; 195 meters
Impact Resistant; 1.5 meters
Waterproof; IPX-8
Battery; Modes; Output; Runtime — Oh My!
The M2T can run on two battery types. Either 2 – CR123's (which are provided) or an 18650. The manual doesn't say whether rechargeable 16340's are on option… but they are. Additionally, two 18350's can also be used…WITHOUT the battery holder.
Modes are as follows;
Using 2 CR123's
Moonlight; 1 (30 days)
Low; 15 (42 hrs)
Medium; 60 (14 hrs)
High; 400 (3 hrs)
Turbo; 900/600 (3 mins/85 mins)
Using 1 18650 (recommended)
Moonlight; 1 (50 days)
Low; 15 (70 hrs)
Medium 2; 60 (20 hrs)
Medium 1; 250 (6.25 hrs)
High; 600 (2.25 hrs)
Turbo; 1200/600 (3 mins/2 hrs)
Please note above, that Turbo mode is only good for 3 minutes at a time, before automatically stepping down.
Please also note that ANY combination of two batteries, whether they be disposable or rechargeable, still produces the same THREE (regular) mode sequence as described under the "2 CR123" heading above.
Operating the Olight M2T Warrior
There are two separate switches, and both operate independently of the other.
The tail-switch
For the most part, this is for tactical use only. For bright as hell, momentary light… just tap the switch. It's very sensitive, so even the slightest pressure will produce light.
You can also get constant (bright as hell) light from the tail as well. This requires a quick, and much heavier press of the tail button. Push it in hard and release quickly to get constant Turbo.
Momentary (tactical) Strobe is also accessible from the tail. For that, you'll push on it hard and hold it. Strobe will appear, and is only good for as long as you provide heavy pressure to the switch.
The side-switch
This does everything the tail-switch does, but not tactically.
For regular light, click it once. To advance the modes, press and hold. You'll notice when using an 18650 battery, that there's an extra medium mode. Moonlight and Turbo are NOT part of the regular cycle. So by holding the switch, it'll go; low, medium, high — with CR123 cells, and low, medium2, medium1, high — with an 18650.
Moonlight is ONLY accessible from the OFF position, by holding the switch for about 2 seconds. Mode memory will recall moonlight, if the light is turned off from that mode. But once you cycle to the other modes, moonlight will disappear.
Constant turbo is accessible either from ON or OFF. Just double-click the switch, and there it is!
Constant Strobe is also reachable from ON or OFF. Here, a TRIPLE-click is required. A single-click thereafter, turns the light off.
Locking it Out!
Preventing accidental activation is easy. From OFF, hold the side-switch. Moonlight will appear, and disappear. It's not locked! To UNLOCK it, either press and hold the same switch again, or loosen and tighten the tail-cap. Both methods will restore it to normal use.
The Beam Gallery
The Final Analysis
Olight has done a nice job with the Warrior series thus far. The previous model is just as good in many ways.
For the M2T, they've removed the magnetic base, and replaced it with a highly textured forward clicky switch. Grip on the new button is exceptional, and won't slip even with wet fingers. The only issue for ME, is that it's no longer able to tail-stand 😥  I tend to set most of my lights on the base, and use them as a candle. Although I like what the switch DOES, having it NOT stand on end is an inconvenience.
Credit goes to the XHP35 LED, which produces a nice smooth beam, with a good center spot, and usable side-spill. It's NOT a thrower by any means, but still for the average use, the distance it DOES go is appreciated.
In the center of the side-switch, is a RED LED. The only two uses it has, it to blink if you attempt to activate the light while in "lock-out" mode, and to turn on constantly when the battery voltage dips. Although I haven't tried it using a two-battery configuration, what it will do with a single 18650, is to drop the output TWICE as voltage decreases. At the same time, the RED LED will illuminate and stay on throughout the process. Eventually, the light will just shut off.
So, Do You Think You Want One?
If you can live without the need to tail stand the Olight M2T Warrior, then I'd recommend it. It has nice features, a beautiful beam, and is comfortable to hold.
The M2T was provided by Olight. If you'd like to have one, please click here to visit the Amazon Prime product page.
Please let me know if have any questions about the Olight M2T.
Please follow Lightsngear and like us: