If you're on a budget, and quite frankly, who ISN'T these days… but you're seeking a quality flashlight, it might behoove you to check out the Wuben LT35.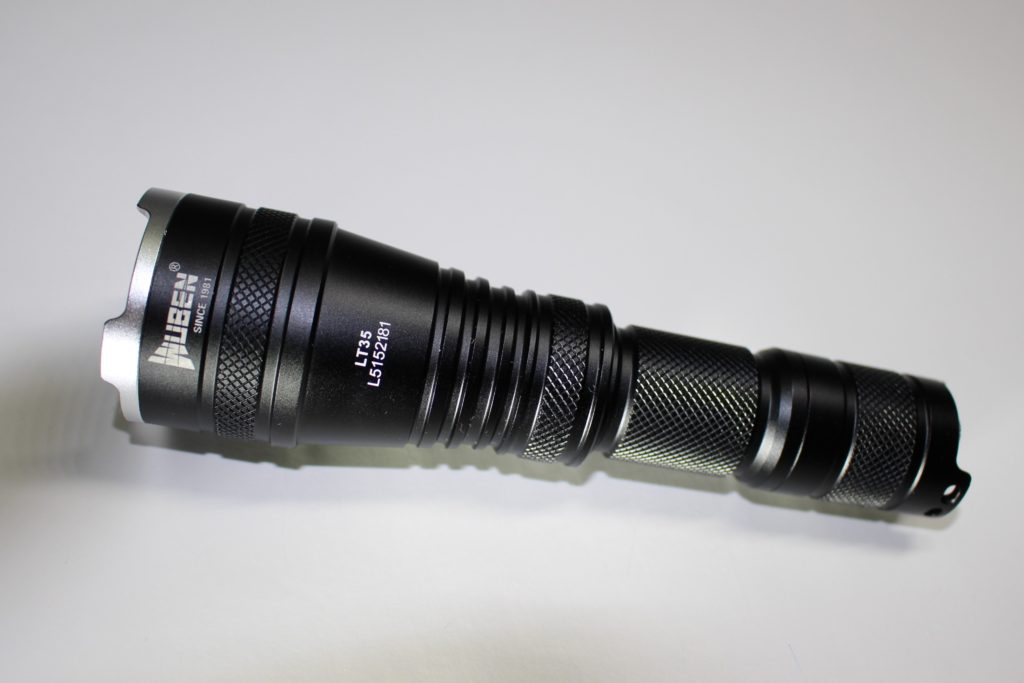 My only other exposure to Wuben, was with a key chain light they released last year. But when I heard they released a full-size USB rechargeable light… that also focuses, I thought "cool, let's check it out". 
Decent Little Package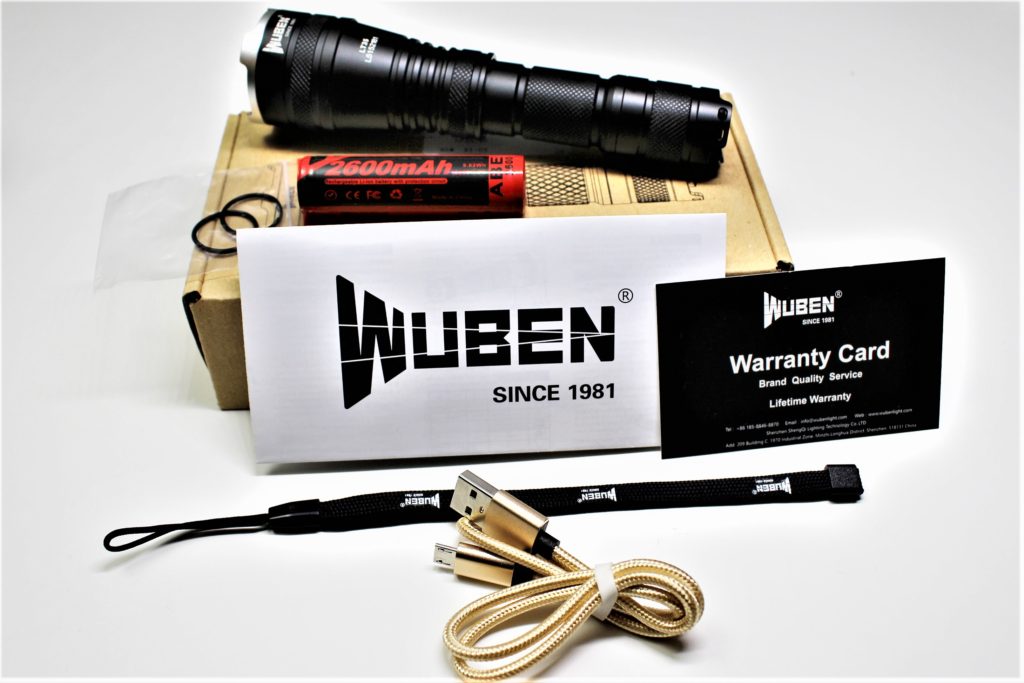 So I think from the accompanying photo, you can see what you get with the LT35 kit.
The Flashlight!

A lanyard

A user manual

Spare o-rings

Warranty card

USB charging cable

18650 rechargeable battery
Wuben LT35 Stats 
So first of all, you have the length… of 5.7″ But wait…. the LT35 EXTENDS by 0.6″ because it's also a focusing (or zooming) head flashlight. 
Its weight is 5.96oz …. including its own battery.
It has a beam length of 320 meters (359 yards). It's also waterproof to IPX-8 (submersible) and impact resistant to 1 meter (3.2 ft). 
Features
The LED is a CREE XP-L2

Its body is aerospace grade aluminum, with a toughened hard oxidized coating

Features a built-in USB charging circuit with charging indicator

Fully regulated voltage circuit to keep output steady 

Has a low voltage warning indicator

The beam focuses from wide to narrow, extending throw distance
Modes and Output 
There are four regular modes and SOS.
Eco; 4 lumens – 219 hrs

Low; 72 lumens – 15 hrs

Medium; 360 lumens – 3 hrs

High; 1200 lumens – 1.8 hrs
The flashlight runs either on the included 18650, or another one of your choice. The capacity of their battery is only 2600mAh. Slightly longer runtime is eminent if you use a higher capacity cell. They don't mention the working voltage, or talk about any other types of batteries. I tried using two 16340's, and within a few seconds it began to "flash"… so I aborted the test! I feared, that at 3.7v volts each, it might be too much power for the light, and I didn't wish to "blow" the LED! 
Operating the Wuben LT35
Very simple. Insert the battery positive end up and click the rear switch. Once it's on, each half-press advances the modes. The sequence is low to high, followed by SOS. The default is LOW, so that's where it will be each time it's switched on. "Eco" can ONLY be reached by turning it on, and cycling through the other four modes, and if you switch it off while on Eco, "low" is where it will switch on to, next time. 
To focus the beam from wide to spot (or anywhere in between) grab the mid-section of the light with both hands, and twist. If it's in the wide setting, turn counter-clockwise. Clockwise, if it's already zoomed. Focusing one-handed isn't easy! (although not impossible)
Time to Charge
As battery power depletes, and the light has maybe a half-hour or so before it shuts off, it will "blink" a few times every FIVE minutes. Charge the battery as soon as you can. 
To charge, insert the USB cable into the rear of the light (next to the power switch). A small indicator will light up in red. It turns to green when the charge is finished. 
Better Quality Than Most
From the images I've included, you can see where I've done a beamshot comparison of the LT35, versus what what I classify as a "generic" focusing flashlight. These are the types that I reference in this recent post. Also notice the difference in beam tint color! 
The Wuben uses a more up to date LED than you'll find in most generic lights. Obviously I'm making this statement as we close out 2017. In the coming year or two, there are bound to be further advancements in LED technology. So it's quite possible that even the generic products, will see an eventual upgrade in quality. 
In addition, the LT35 has better circuitry, including voltage regulation, and of course the ability to charge internally. Standard features from more expensive lights, such as impact resistance and being fully waterproof, make the Wuben an excellent value. The only standard feature it's missing, is mode memory. 
The fact that the Wuben focuses with a "twist" instead of a (standard) push-pull operation is both good and bad. The push-pull method is usually easy to accomplish with one hand, but as the tension weakens, the head often shunts back and forth when you don't want it to. Twisting, keeps it where you set it at. This is most appreciated especially when kept in a pocket. 
Recommendation
Personally, I'm NOT a big fan of focusing flashlights. For all practical purposes, I think they're more of a gimmick. In addition, the most respected flashlight manufacturers DO NOT make them! But, having said that, if you LIKE focusing flashlights, and you're in the market for one, I would CERTAINLY recommend the Wuben LT35, over one of those "other" focusing lights!! 
By the way, I think the 1200 lumen claim is close, but might be a bit less. First clue? Maximum output for an XP-L2 is 1175 lumens! Plus,  MOST focusing-head lights LOSE output within the optics as the beam is squeezed into a funnel of light. 
So, to satisfy the craving you NOW have for the Wuben LT35
— click here! 
Please follow Lightsngear and like us: