Soonfire has had some decent products in its catalog. This time around it's another tactical USB flashlight. So let me shed some light (with no intended puns) on the Soonfire MX66.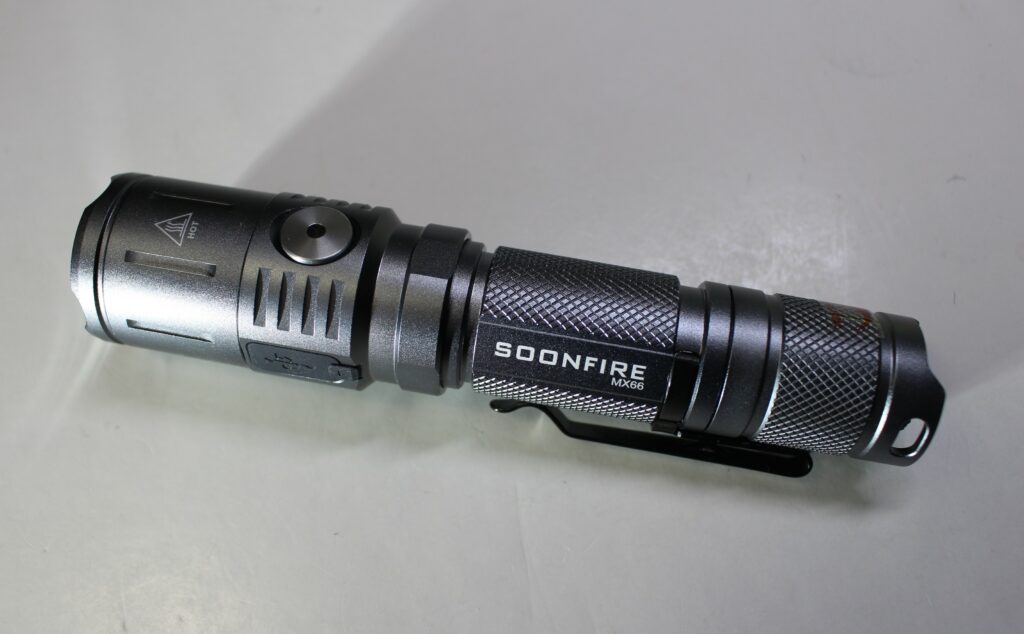 Capable Accessories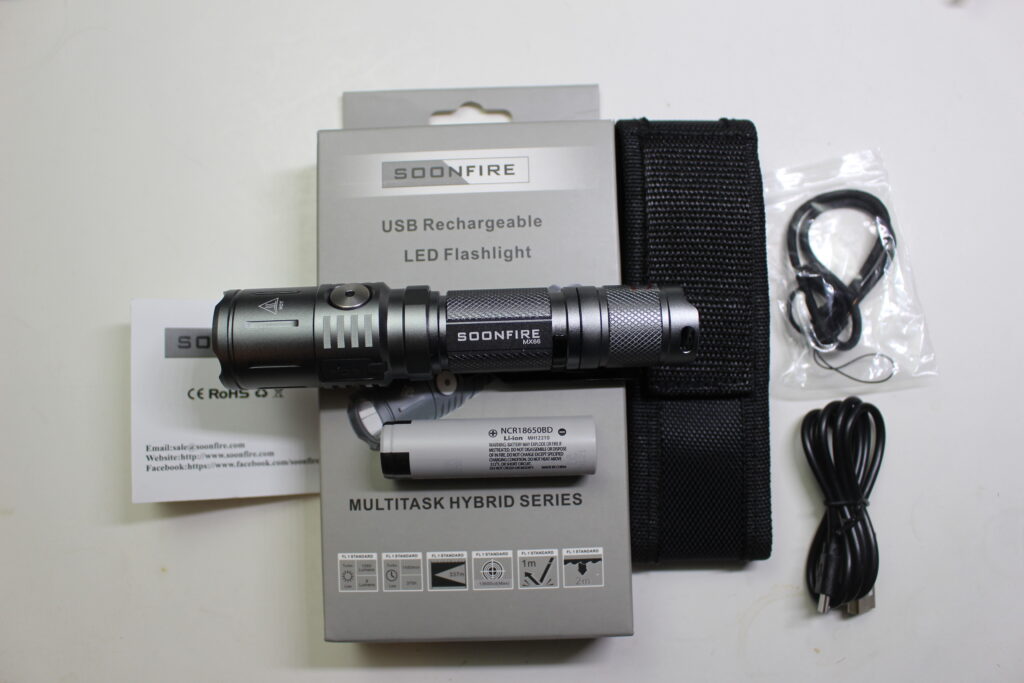 Soonfire has been known to supply a pretty decent package. With the MX66, you get a user manual, replacement O-rings and USB cover, USB cable, a lanyard, a belt holster, and an unprotected 2500mAh flat-top 18650 battery. A pocket clip is pre-attached.
Specifications
Length; 5.5″
Weight; 6.07 ounces
Max Output; 1060 lumens
LED; Cree XP-L
Reflector; smooth
Beam Distance; 360 meters
Waterproof; IPX-8
Max working voltage; 8.4
Features
USB Charging
Battery voltage indicator
"ITS" Smart Temperature Control System
Mode memory
Tail-stand capability
Batteries, Modes and Output
Since the voltage covers to 8.4 you have a bit of battery flexibility. Of course it comes with the 18650, so that's preferred, and is the only way to charge via USB. Other than that, you can use either TWO, CR123, or 16340 or even 18350. Be aware that the best fit in the tube is a FLAT TOP cell (since that's the type you're supplied).
The modes are;
Utra-low; 8 lumens (300 hours)
Low; 60 lumens (30 hours)
Medium; 350 lumens (6 hours)
High; 650 lumens (3 hours)
Turbo; 1060 lumens (3 min; auto stepdown)
Strobe
SOS
Operating Your Soonfire MX66
With the battery inserted positive end first, click the tail switch to activate. Press the side switch to change the modes from lowest to highest. Nothing is hidden except the emergency modes. Click the tail to turn it off. Mode memory will recall the last mode for next time. On demand Turbo is available anytime by double-clicking the side switch. For the LOWEST mode anytime, do a TRIPLE-click.
The MX66 is tactical, so you can always get momentary light with a soft press of the tail. Just remember the LAST mode you used will be what you get!
For Strobe, (turn it on) then press and hold the side button. A second regular press activates SOS. If after that you continue single pressing, it'll cycle to turbo, then back to strobe and SOS. Best Practice;While in strobe, press and hold to return to the last regular mode it was on.
Battery Indicator
Each time you turn the little sucker on, the indicator on the switch alerts you to battery strength. It's constant BLUE as long as cell voltage is strong. It will "flash" BLUE if voltage is probably around 3.7  You'll see a solid RED when it drops further, and a "flashing" RED when it becomes critical. At that point output will be minimal anyway.
USB Charging
Works like a charm! And here's what you do.
With a 18650 installed, connect the USB cable, and click the TAIL switch. The light will confirm this is right by the indicator flashing RED. It'll turn sold BLUE when finished.
Beam Images
Soonfire MX66; The Conclusion
The MX66 is a capable flashlight. It's built well with a tough body and comes with nice accessories. Even though it's not terribly small it still shimmies its way into a pants pocket quite nicely.
Switching is smooth and responsive, and tactical operation is predictable. The modes are well spaced, and the smooth reflector produces a well defined center spot.
One thing that bears mentioning, is that all the documentation I've seen up until now, refers to this light as "MX65″ but as you can clearly see on the light I received…it says MX"66". It probably makes no difference.
Recommendation
Amazon Prime can put an MX66 into your hands pretty quick! Just click here and you'll have that chance.
Please follow Lightsngear and like us: