I've tested out a few Soonfire flashlights in the past, and have found them to be of reasonable quality. So, when they asked to take a look at the new Soonfire DS35, I thought…why not?!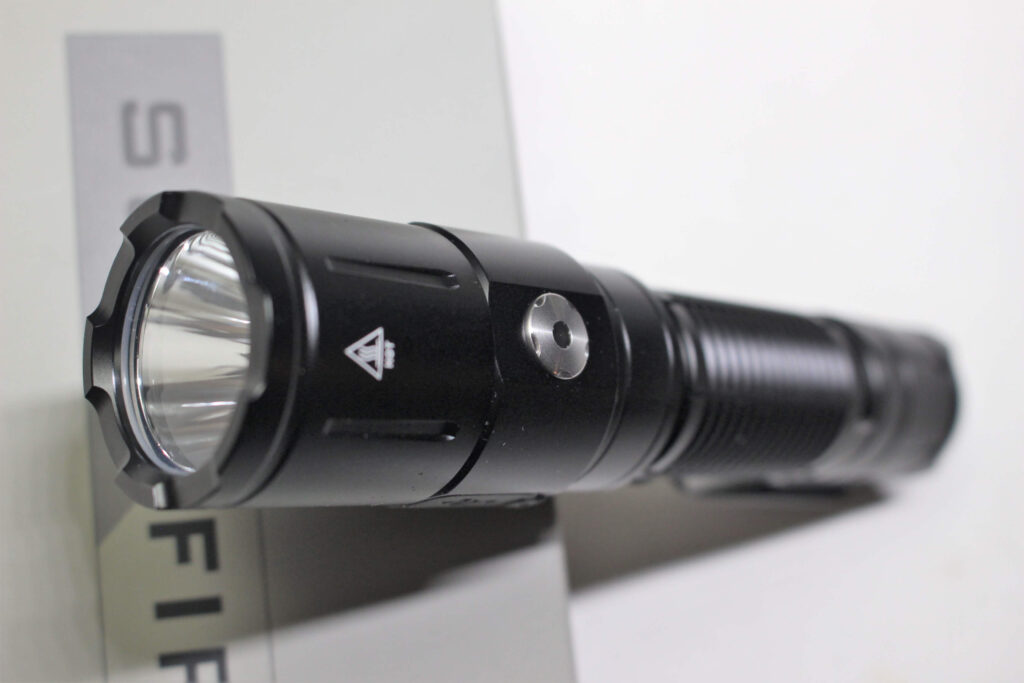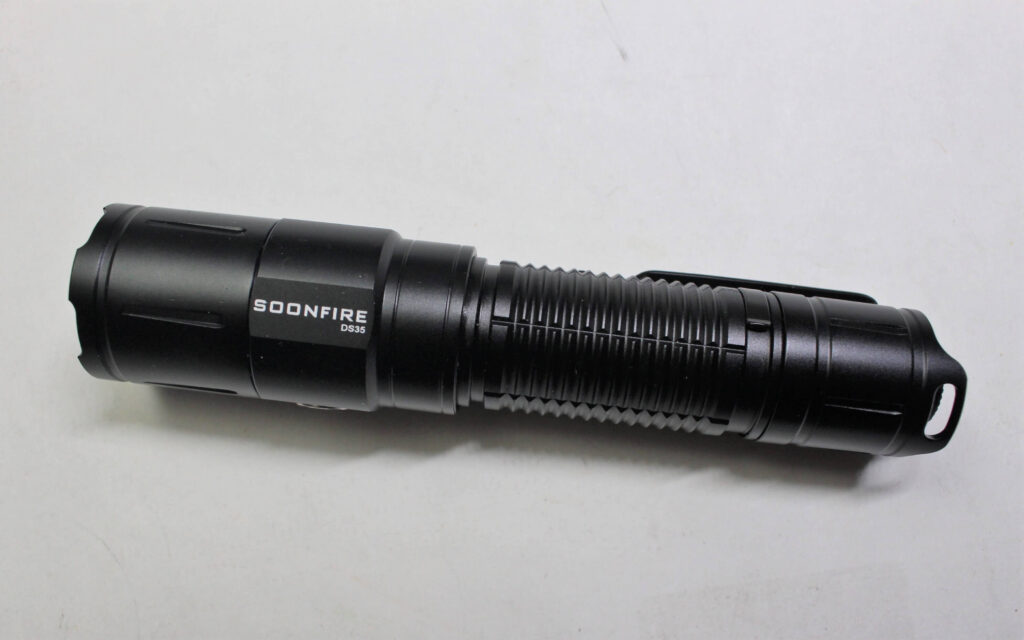 Standard Package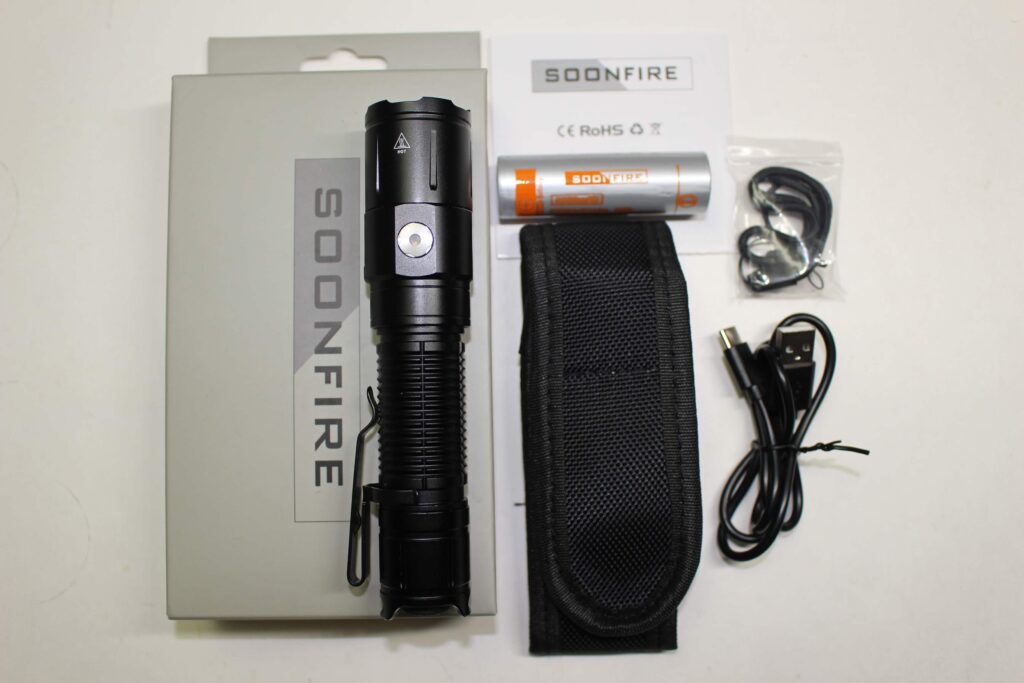 Soonfire offers a standard presentation and accessories. In the box is the flashlight, a holster, a USB-C charging cable, a manual, and a packet containing spare o-rings and a lanyard. INSIDE the light, is a 21700 rechargeable battery. A pocket clip is attached.
Parameters 
Length; 5.6″
Weight; 6.15 oz
Beam Distance; 360 meters
Smooth Reflector
Impact Resistant; 1.5 meters
Waterproof; IPX-8 (2 meters submerged)
Maximum operating voltage, 8.4
Features
Mode Memory
USB rechargeable
LED charging/battery indicator
"ITS" Smart Temp Control System
Tactical Operation
Dual-switch design
Thermal (overheat) Protection
5 Lighting Modes + emergency flashing
Momentary Operation
Modes & Output
The first of the five regular modes, is Firefly, at 8 lumens. Next is Low, at 60 lumens, followed by Medium, 350 lumens. Then High at 650, and finally Turbo, at 1060 lumens. Turbo lowers automatically to high after two minutes.
Flashing modes consist of Strobe and SOS.
Batteries
You already know the DS35 supplies a 21700 battery. But if for whatever reason you have a need to use other types of batteries, you can.
It will also accept 1 – 18650, or 2 – (disposable) CR123's, or 2 – (rechargeable) 16340's. For any of those combinations, a clear adapter tube is required to ensure proper connection, and prevent rattle.
If you want to be REALLY adventurous, it'll also accept, 2 – (IMR) 18350 3.7v lithium batteries. With those, you won't need the extra tube.
Easy Operation
Since the DS35 is tactical, it has both a tail, and side switch.
Clicking the tail switch is required to turn it on. The side switch changes the modes. For as long as it's on, the side switch is illuminated. With a strong battery, it glows a solid blue. A weakening battery is indicated by a "flashing" blue, and if it drains any further, it'll flash in "red". Click the tail again when you're ready to turn it off.
The modes advance from lowest to highest by pressing the side switch. None of the initial modes are hidden. The sequence covers firefly to turbo. Speaking of turbo, a double-press of the side switch will activate it at any time. Whenever it's turned off by the tail, mode memory will ensure it returns to the last mode used, when switched on again. It's tactical so lightly pressing the tail (while off) will give you momentary light.
For Emergencies
For strobe, (while it's already on) press & hold the side switch. A short press from strobe gets you SOS. Another short press returns to the previous regular mode.
Internal Charging
The Soonfire DS35 needs to be turned on for the charging mechanism to engage.
Connect the USB cable. If the light is off, nothing will happen. In that case, click the tail switch. If the side switch indicator is flashing red, you're good to go. The indicator will turn solid blue when charging is finished.
Soonfire DS35 Beam Gallery
Considering Every Angle
The Soonfire DS35 is a decent flashlight. You can see from the photos it has pretty good beam distance. What you CAN'T see, is that the undisclosed LED is very "cool" in temperature, so when used indoors it has a very "bluish" tint. Personally I prefer more neutral to warm tints indoors.
The mode switch glows whenever the light is on, which is good! Trying to "feel for it" in the dark isn't easy.
Operationally speaking, it's good. If you like tactical flashlights…it'll work well for you. The mode switch is completely silent when pressing it. The jump in output from medium to high, is quite significant. Turbo is noticeably brighter than high…which is good. As noted, turbo isn't held for long, and the automatic stepdown from turbo is VERY sharp! On many lights it's gradual. But on the Soonfire, it just plain drops!
Having instant access to turbo is good, but I wish it also could do that for firefly.
It comes with a pocket clip, but in my opinion its too long, and interferes when you try to remove the tail cap. IN THEORY however, because its USB rechargeable, they don't INTEND the cap to be removed. If you're like me though, and you enjoy interchanging batteries, you can either, A) remove the clip, or B) take the battery out by unscrewing the head.
Prime's Got It!
Does the Soonfire DS35 appeal to you? If so, click this link, to get it from Amazon Prime.
Please follow Lightsngear and like us: