WUBEN'S flashlight footprint is getting bigger! And now they're finding their way on to keychains too! Without delay, let me show you the new WUBEN G2 Keychain light.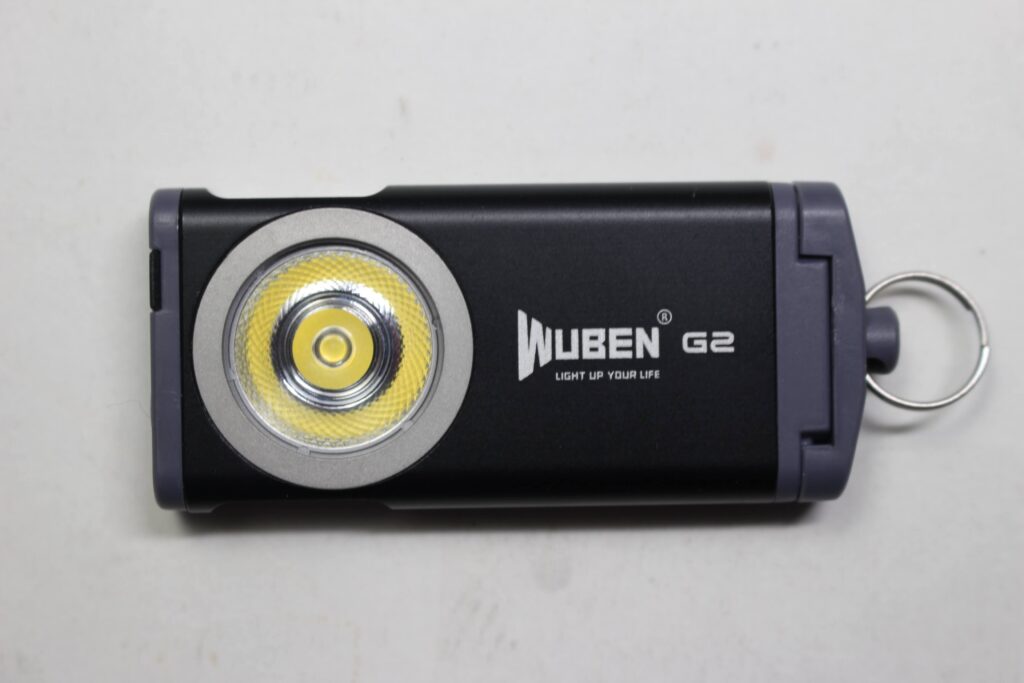 In a little plastic box, is the mighty G2. It's accompanied by a USB-C charging cable, a removable belt clip, user manual, and a removable keychain clip, which you can see attached in the photo above and below.
Compact Packaging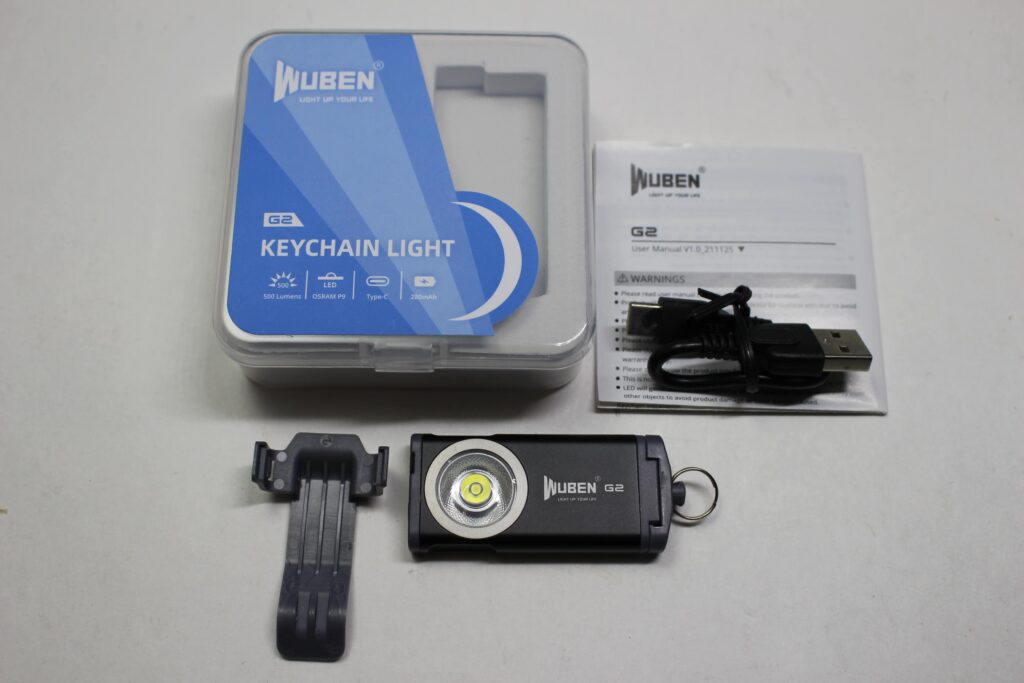 Parameters
Height (Length); 2.3″
Width; 1.06″
Depth; 0.36″
Weight; 0.99 oz (internal battery)
LED; Osram P9
Beam Distance; 46 meters
Impact Resistant; 1.5 meters
WUBEN G2 Features
Max Output; 500 lumens
USB rechargeable
Internal Lithium Battery (280 mAh)
Battery Indicator
Mode Memory
Magnetic Base
Removable Pocket Clip
Removable Keychain Clip
Modes and Output
The G2 has 4 regular lighting modes, plus Turbo. There are no emergency modes.
Moonlight; 1 lumen – 70 hours
Low; 15 lumens – 6 hours
Medium; 65 lumens – 1.5 hours
High; 200 lumens – 35 mins
Turbo; 500 ~ 200 lumens – 5 mins ~ 30 min
Operating Your WUBEN G2 Is Very Simple!
The power/mode switch is on top, right next to the USB port.
From each activation, the tiny battery indicator will come on for a few seconds to indicate battery power. If it's solid BLUE, the charge is at or above 90%. If it FLASHES blue, it's below 90%. If it comes on in RED, it's at 40% or under. It'll need charging if it FLASHES in RED.
Even when changing modes you'll see the battery status.
Press and HOLD the switch to turn it on. If the activation mode is sufficient, just use as is, and press power again to turn it off. To change the mode, press and HOLD again. Modes will continue to advance from MOONLIGHT to HIGH as long as you continue a holding press.
Turbo is hidden, and can only be activated by a DOUBLE CLICK of the switch. You can do that from OFF, or from any mode.
A single click from any mode will turn it off. A HOLDING click from Turbo, will return it to MOONLIGHT.
The Keychain Attachment
By default, the chain clip is attached. It sits on the magnetized base.
To remove it, you TWIST the attachment and pull it off. This reveals the magnet and allows it to be attached to a metallic surface. Reattaching it, is the same action in reverse.
Charging Your WUBEN G2
Ahhh, so simple!
Connect the "C" cable and the indicator should light up in RED. It charges pretty quick and will turn BLUE when finished.
Beam Pics
How Convenient is the WUBEN G2?
Very!
With the pocket clip, of course it'll attach almost anywhere. The big (floody) LED beam will act almost as a headlight in that scenario. Clipped to the breast pocket of a t-shirt would be ideal. This is far more accessible (and hands-free) lighting than your cell phone could EVER provide!!
When dangling from your keychain, you'll get quick, instant light when you need it.
G2 Pros
General operation of the WUBEN G2 is great. The little switch button is very responsive and easy to find in the dark
Mode memory
The magnetic base offers hands-free lighting for places like under the hood of your car!
Strong LED beam
USB charging is fairly quick and can also be used WHILE it's charging
Battery indicator gives a quick glimpse of power
Instant access to Turbo
Tail-stand capability
G2 Cons
No instant access to Moonlight
Users with extremely large hands (and fingers) might have difficulty with the tiny switch
Options
The "coolness" of the WUBEN G2 extends to its appearance.
It's available in 3 different colors. I reviewed black, but you also get green and blue 😀
Recommendation
If  the WUBEN G2 is the RIGHT LIGHT FOR YOU — then FOLLOW THIS LINK to Wubenlight.com!
Please follow Lightsngear and like us: