The engineers at Acebeam are reaching new heights! Introducing the first EDC flashlight for people who like to fidget a lot 😉  This is the Acebeam Rider RX.
It's an attractive, pocket-size (comes in several colors) flashlight. The Rider RX features a USB rechargeable (AA-size) lithium battery, and can also operate on STANDARD batteries as well.
In the first paragraph, I said it's a good light for people who need to "fidget" with someone. Keep reading to find out what I mean.
Small Package, Nice Accessories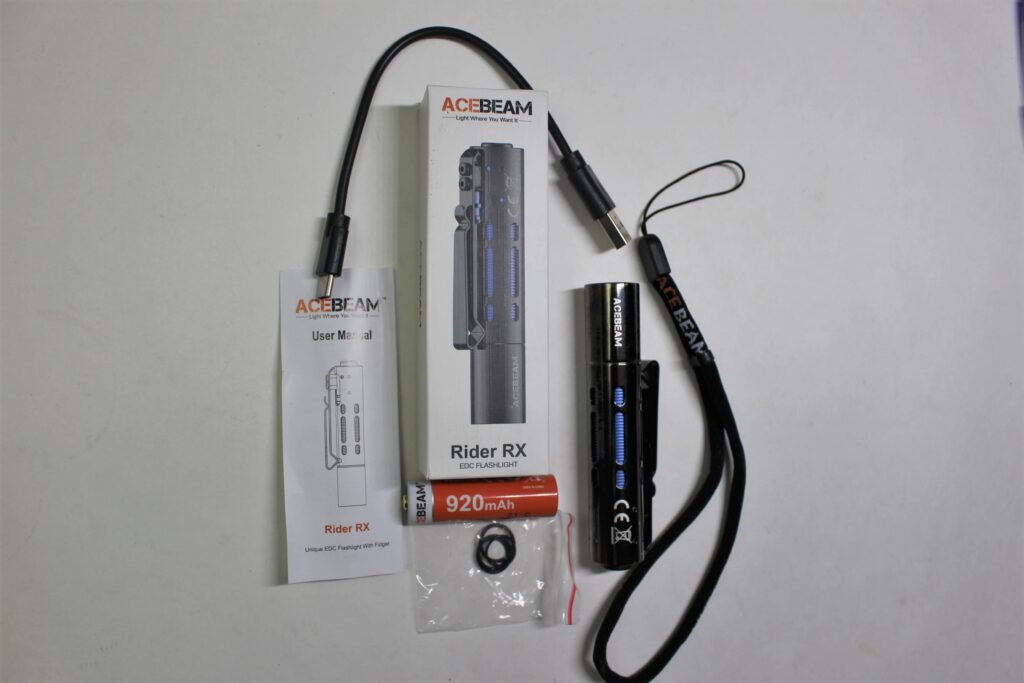 The small Rider RX box, includes a user manual, a wrist strap, a USB-C charging cable, a 14500 lithium battery, and some spare o-rings.
Acebeam Rider RX Features
4 constant lighting modes plus SOS signaling
USB charging (w/included battery)
Mode memory
Tactical operation
Highly efficient constant current circuit (NO PWM)
Optical, scratch resistant lens
Durable, stainless steel, scratch resistant body
Removable –dual position– pocket clip
Tail-stand capability
Specifications
Utilizes a Nichia 219F (neutral temp) LED
Length; 3.7″
Weight; 2.78 oz (w/battery)
Beam Distance; 95 meters
Waterproof to 2 meters
Impact resistant t0 1 meter
Battery, Modes and Output
As I talked about already, the Acebeam Rider RX comes with its own USB-C rechargeable, 14500 lithium battery.
If  the battery runs down unexpectedly after having used it for awhile, you can also power it with an alkaline or (rechargeable) NiMH AA battery. Please make sure to read the bulleted section below, very carefully, since the "brightness" is greatly reduced when powering it with a regular battery.
Lithium-ion
High; 650 lumens for 2 mins – then 450 for 6 mins – then 330 for 55 mins
Medium; 280 lumens for 60 mins
Low; 70 lumens for 3 hours
Ultra-low; 7 lumens for 53 hours
SOS; 450 lumens for 60 mins
NiMH & Alkaline
High; 200 – 1 minute – then 150 for 6 mins – then 85 for 2 hrs. [35 mins for alkaline]
Medium; 80 – 2 hrs 10 mins [52 mins alkaline]
Low; 5 – 30 hrs [24 hrs alkaline]
Ultra-low; 0.5 – 9 days [7 days alkaline]
SOS; 150 – 60 mins [30 mins alkaline]
Battery Charging & the "Fidget" Factor
So, the Acebeam Rider RX has a very curious marketing tag; "it provides entertainment especially for fidgeting fun".
Sounds a bit different, right? Well, it is.
In reality, it's the process of swapping out (or charging) the battery, that also DOUBLES as a "fidgeting" device. Acebeam also markets this as a tool for anxiety! Wow!
Shared secret here, I (your humble reviewer) also suffers from moments of anxiety! Without sharing too much, I have pills for that. But does the Rider RX assist in relieving me of those uncomfortable moments, thus eliminating prescribed medication? The jury is still out!
So here's the deal!
There's an arrow near the tail. To remove the battery (or fidget) push the bottom of the clip towards you (if in right hand) or to the left (if in left hand) then PULL (or push UP) on the clip. The end result is the protrusion of the head from the body, and the tail switch recessed INTO the body. (see representing image)
If you're charging, connect the USB to the battery. There's an indicator on the top of the battery, so it should be red when charging. You'll see GREEN when it's finished.
How to Use the Acebeam Rider RX
The switch is on the tail, and can actually be used in a tactical fashion. What I mean is, when you press it lightly…you'll get momentary light for the current mode. To lock the mode – press it firmly for the "click". If you're using it tactically, and release it, then half-press it again within a few seconds, it will advance to the next mode.
If you leave it off between half-presses, mode memory will return it to the same mode each time.
For a constant beam just click the tail. The modes will advance if you continue clicking it repeatedly.
To activate SOS, soft-press the switch in repetition about 9 times (at least 2 full cycles). Once you see it flashing, you can keep holding or click to keep it on.
Beam Pics
Acebeam Rider RX; Useful? or Useless?
Whether or not you think there's merit to what the Rider RX can do, you HAVE to admit — it's unique!
The Positives
Very nice beam pattern & color temp
Switch is easy to operate
Can use standard & rechargeable batteries
Strong sturdy clip
Momentary light
Charge indicator on the included battery
The Negatives
No direct mode access
No battery voltage indicator
Yes, I Wish It Had That
I suppose it's too much to assume that EVERY flashlight should have EVERY feature you find useful.
Although the Rider is a well-round light, I really appreciate being able to get to the lowest and/or highest mode on demand.
BUT OVERALL, it has some nice qualities, and I DO recommend it 🙂
Get It Today!
The Acebeam Rider RX is available in a variety of colors from Amazon Prime.
Please follow Lightsngear and like us: