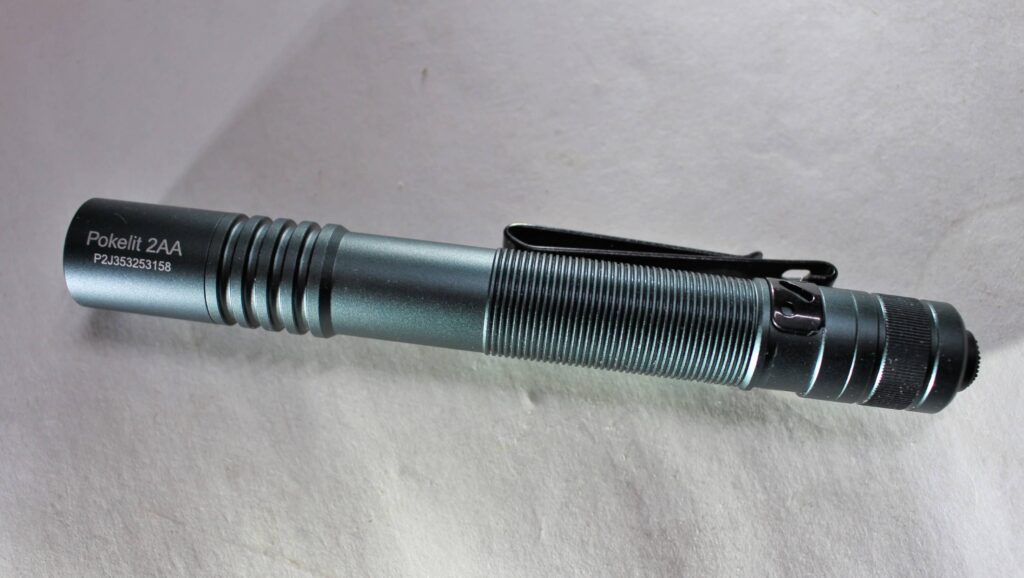 To fill a gap within the AA battery flashlight market, Acebeam has introduced the Pokelit 2AA.
A Google search for LED flashlights will normally result in a massive amount of products using lithium batteries. For performance and convenience, lithium can't be beat. But sometimes, the need is there for something that can accept standard batteries. The Pokelit 2AA is it.
Presentation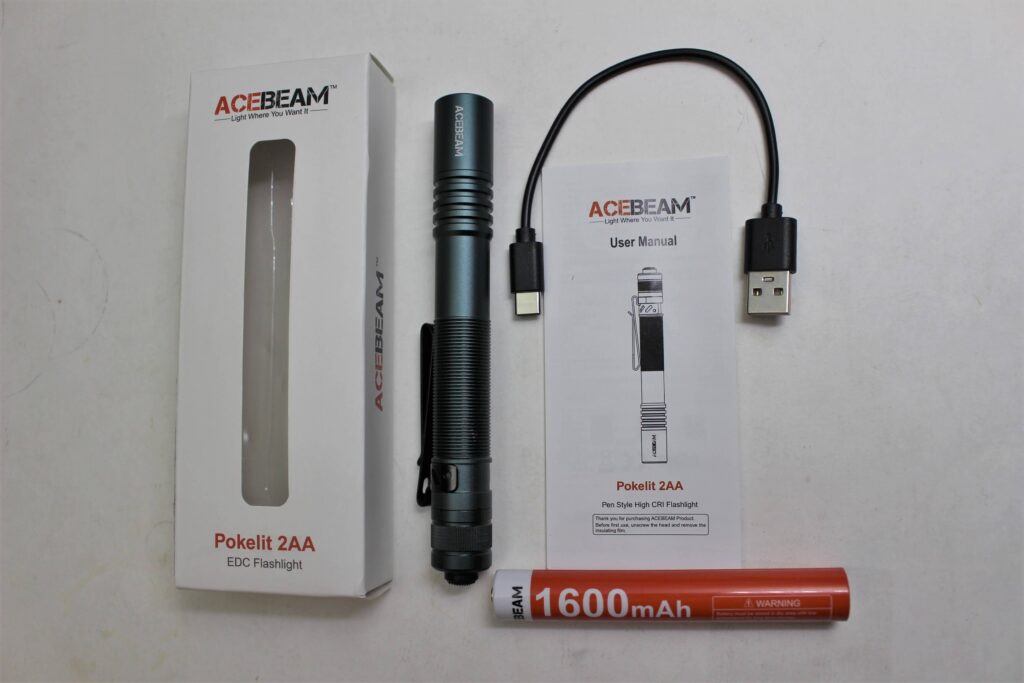 In the type of standard packing Acebeam is known for, you get the Pokelit, a user manual, a USB-C charger, and a 14100 lithium battery.
In case you're saying, "hey wait" – …"doesn't it use standard AA batteries?" Yes it does. They ARE an option, in case for whatever reason you choose NOT to use the supplied battery, or are using it in a situation where a USB charging port might not be available.
Specifications
Length; 5.6″
Weight; (w/lithium battery) 3.02 oz
LED; Nichia 519A High CRI
Max Output; 600 lumens
Impact Resistant to 1 meter
Waterproof to 2 meters
Beam Distance; 101 meters
Features
Reversible pocket clip
Momentary (tactical) operation
USB-C Rechargeable Battery – included
Batteries
The Acebeam Pokelit 2AA is flexible. No that doesn't mean it'll bend — that means it has battery options.
It comes with a special 14100 rechargeable lithium battery, which runs the length of the tube. Another option is to use either 2 alkaline AA's, or 2 (rechargeable) NiMH at 1.2 volts each.
PLEASE NOTE; IT CANNOT USE 14500 LITHIUM BATTERIES! 
Output and Runtime
Please note from the image below, that output varies depending on battery type. Obviously the maximum output of 600 lumens is only possible with the lithium battery.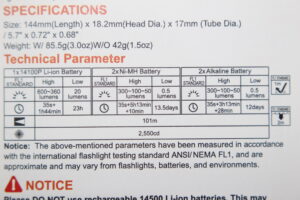 There are only 2 modes; low and high.
The runtime varies as well, and the output (supposedly) does an automatic drop soon after activtion on both battery types. It's explained in the chart, but is also a tad confusing.
How to Operate Your Acebeam Pokelit 2AA
You can get momentary light by pressing the tail button half way. For constant light press it until it clicks.
It always comes on at low. If you WANT low, you can fully press the switch until it clicks.
If you need HIGH right away, you can press the switch half way (momentary) then release it, and press it again. The 2nd press will be HIGH. You can either use that tactically or click it, to lock it in.
Outdoor Beam Pics
Battery Charging
The USB-C charging port is prominant at the top of the lithium battery. On its head is a charging indicator. Connect it wherever possible to begin charging. The indicator will light up in RED. It'll turn GREEN when it's full.
Here's What You Need to Know
Flashlights that operate on lithium batteries are seldom over 5″long. Most are closer to 4″. When two AA batteries are needed, the length increases to about 6″. The Pokelit is just shy of 6″ so make sure your pockets are "deep" enough! If it helps to know…the clip is reversible.
With only 2 modes, you don't have many decisions to make. Selecting HIGH mode is easy before you've turned the light on. Just lightly press the tail twice, then click to lock it in.
The difference on high between both battery types isn't all that striking. What IS more noticeable is the difference on LOW mode between the two. If you prefer a "lower-low" you might find yourself using NiMH a little more often.
The beam is good at close range if you like a bright center spot…and a smooth, yet dimmer spill.
It's supposed to do an automatic stepdown from high, after less than a minute. But I've timed it for several minutes, and DID NOT see any lower output!
If You Like AA Lights….
I would say if the simplistic operation of the Acebeam Pokelit 2AA appeals to you, then follow this link to its page on Amazon Prime!
Please follow Lightsngear and like us: