I'm here today to talk about the Acebeam E70 Mini. It's a cousin of the original E70…but in a "mini" form-factor.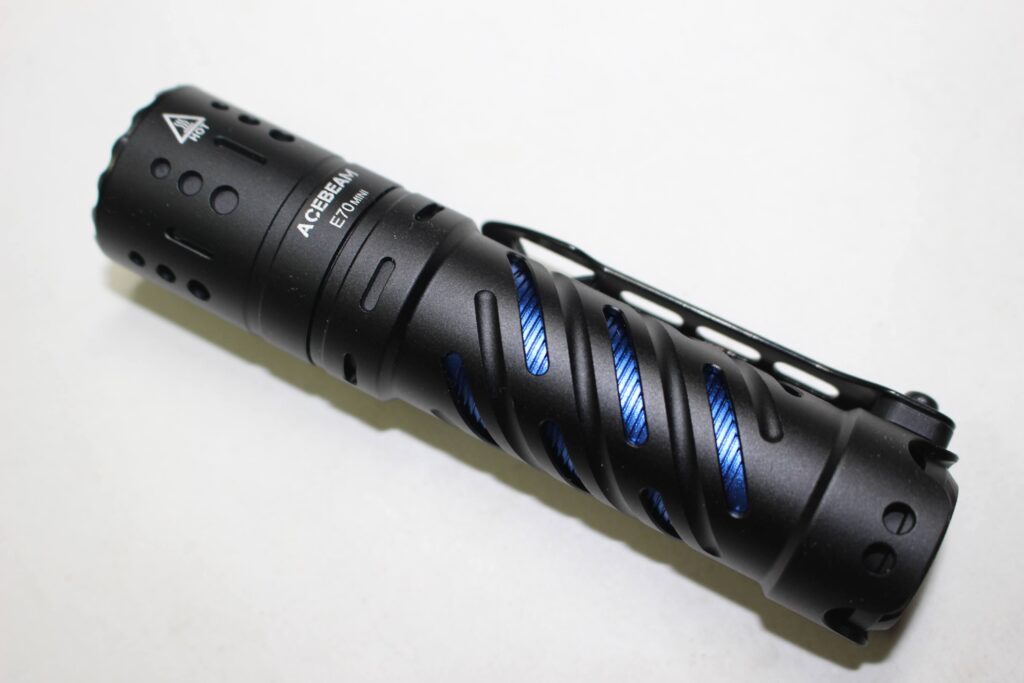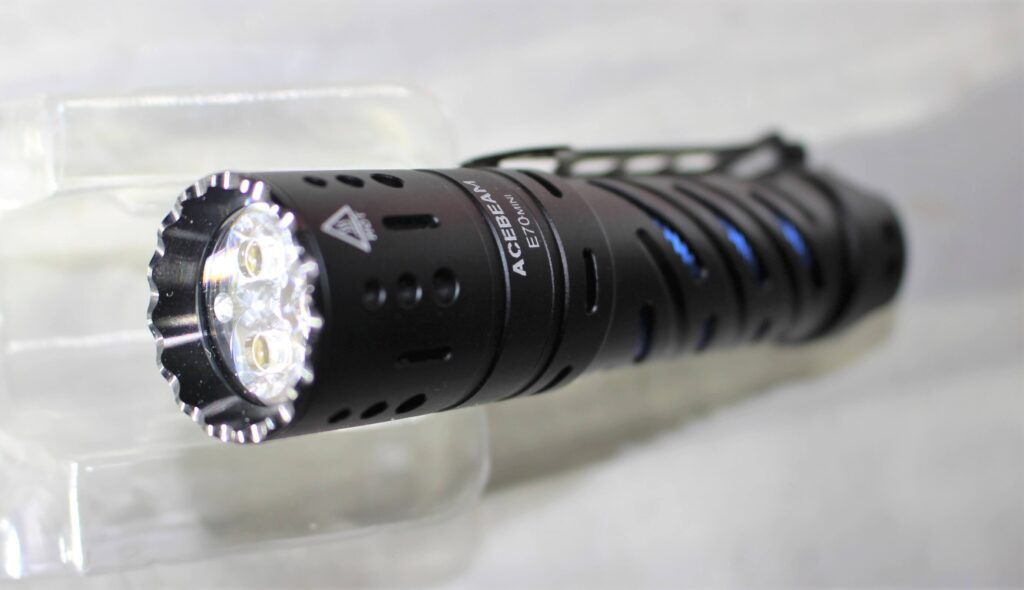 Smaller Package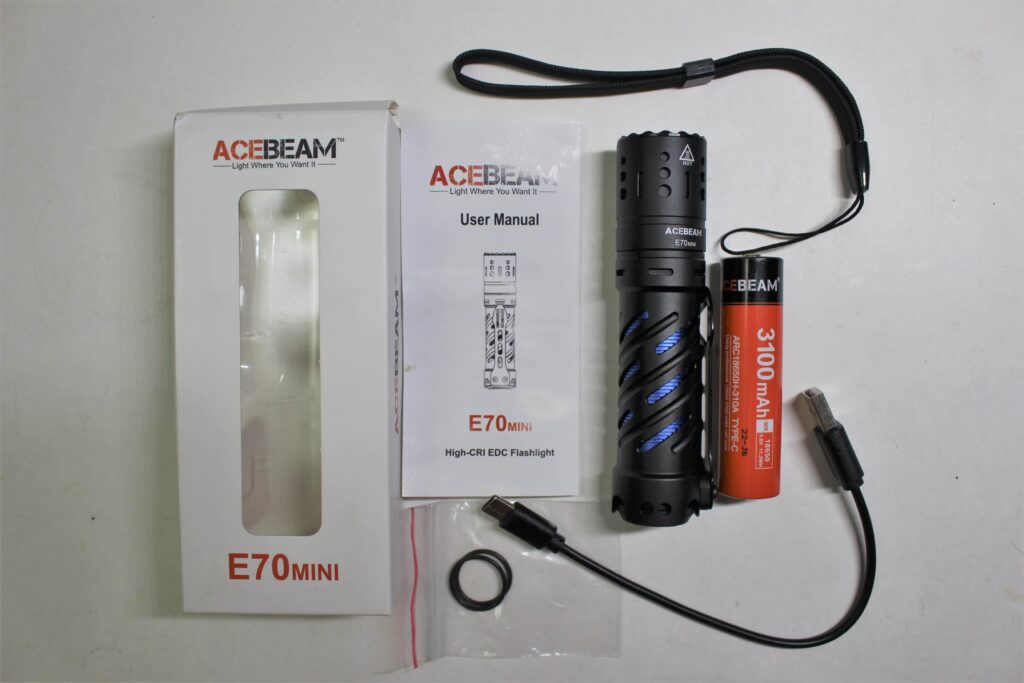 The E70 Mini comes in familiar Acebeam packaging. It includes a manual, a charging cable, a lanyard, spare o-rings, and a 3100mAh 18650 lithium battery.
Specifications  
Length; 4.3″
Weight; 4.31 oz (w/battery)
Battery; 1 x 18650 lithium (included)
LED's; 3 x Nichia 519A High CRI-90
Beam Distance; (turbo) 153 meters
Impact Resistant; 1 meter
Waterproof; 2 meters
Features and Benefits
Mode Memory;
Each time the light is turned off, it'll always return to the same level when turned on again
Sturdy Pocket Clip;
Once attached to a pocket or bug-out bag, the E70 isn't going anywhere!
(3) High CRI-90 LED's;
CRI stands for "color rendering index" and a CRI of 90 or higher means the emitted light looks more natural
Aero-grade Aluminum body, with a TypeIII Hard Anodized finish
Tough as nails and virtually indestructible
Tail-switch Operation;
The power switch in on the base of the light which is a natural position when using your thumb to activate
Four lighting regular lighting modes (+ 3 hidden);
More choices for selecting the right amount of light when you need it
Crenelated Strike Bezel;
The outside edge of the head is "chiseled" in case the light needs to be used as an emergency weapon
USB Rechargeable Battery;
The included 18650 battery has a built-in USB-C charging port
Lighting Modes, Output & Runtime
* Ultra-low; 12 lumens (100 hrs)
Low; 60 lumens (19 hrs)
Medium-1; 170 lumens (7 hrs)
Medium-2; 380 lumens (3 hrs)
High; 900~600 lumens (2 mins~115 mins)
* Turbo; 2000~600 lumens (90 sec~2 hrs)
* Strobe*; 1000 lumens (2 hrs)
*  these modes are hidden from the regular lighting sequence
How To Operate the Acebeam E70 Mini
If simple to use lights is your thing, the E70 Mini has your back.
The tail-switch is the command center!
A double-click is needed to turn it on, then a holding press advances through the modes. The regular sequence is low>med1>med2>high.
For ultra-low, it's a holding press from OFF.
For turbo, it's a double-click from any mode.
For strobe, it's a TRIPLE-click from any mode.
A holding press from the last two modes, will return it to the previous mode it was in.
Like I said…very simple.
Beam Shot Pics
USB Charging
The Acebeam battery they include is USB-C rechargeable.
Once connected, a red indicator on the positive end will appear. It'll change to green when charging is finished. Naturally you can charge the battery in a stand-alone charger if you prefer.
Low Voltage Warning
To alert you that the battery is getting low, the Acebeam E70 Mini employs a simple system of less output.
When the voltage drops to near 20% you'll simply see less output from all modes. It shuts down completely when voltage drops below 2.7
It's All Good
I literally haven't anything negative to say about the E70 Mini.
It's a good size to hold comfortably
The switch is convenient and very responsive
The clip won't let you down
Turbo output is bright as hell for a 18650 flashlight
It's attractively styled
The only thing I'll note about turbo mode, is that it gets VERY HOT, pretty quickly! And contrary to Acebeam's measurements, I got about 90 seconds of turbo mode before the output started dropping.
A note on beam distance.
As you can see from the couple of photos I attached, long-range output is less on the E70 due to the 3 LED configuration.
Even on turbo, the beam will be more efficient if the target is less than 100 feet away.
My Personal Recommendation
If you like 18650-based lights, I think the Acebeam E70 Mini will be a pleasure to own.
You can get one with Amazon Prime, by clicking here!
Please follow Lightsngear and like us: