With a strong catalog of flashlights, Acebeam produces a quality product at a reasonable price. In this review, I'll be talking about the Acebeam TK18. It was released in three different LED versions. This review is for the "cool white" Samsung LED version, which also happens to be the brightest.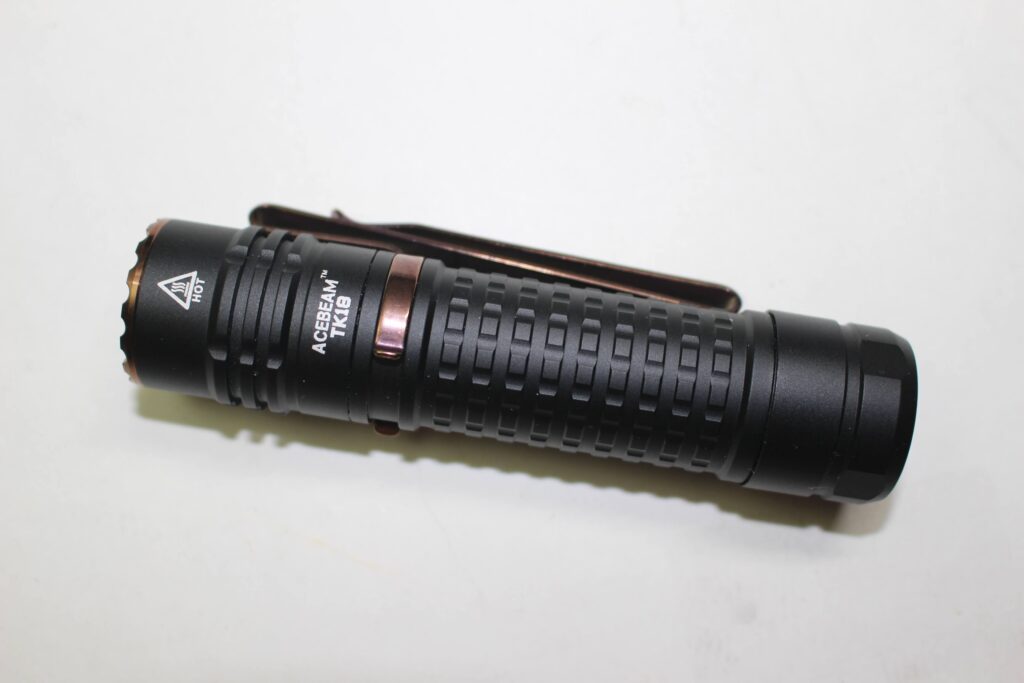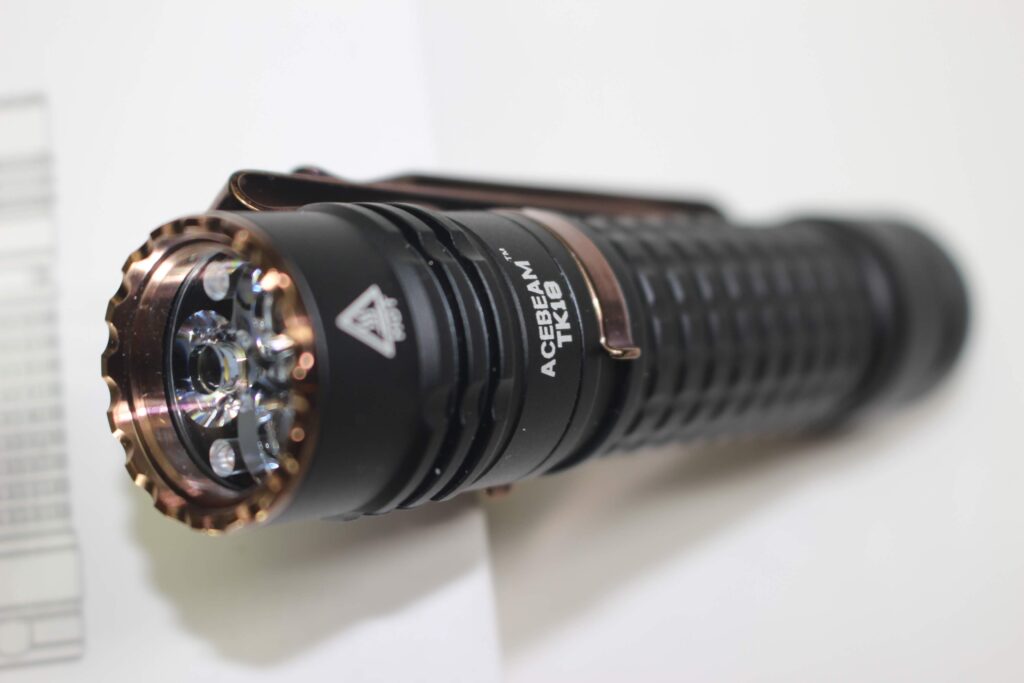 Complete Package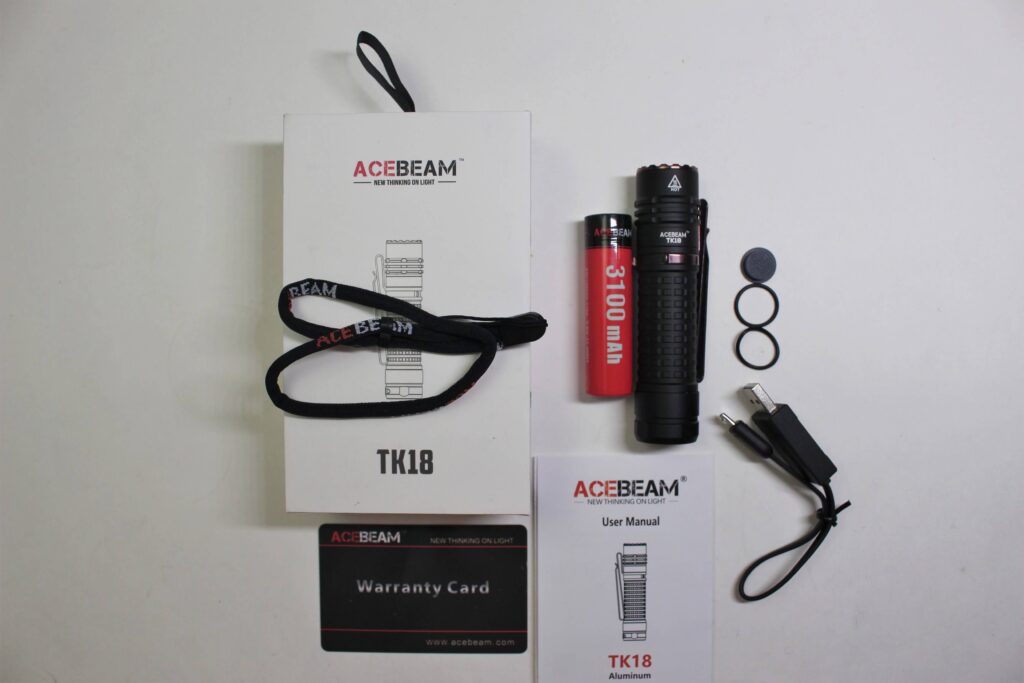 In nice protective packaging, the TK18 is accompanied by;
a (USB rechargeable) 3100mAh protected 18650 battery
a standard USB charging cable
an accessory packet with a lanyard, 2 spare o-rings, and a spare switch cap
user manual
warranty card
Specifications
Length; 4.1″
Weight (w/battery); 3.83 oz
Battery; 1-18650 (included) or 2-CR123
Beam Distance; 156 meters
Max Output; 3000 lumens
Impact Resistant; 1 meter
Waterproof; 2 meters
Features
(3) Samsung LH351D LED's (cool white/reviewed model)
Two operating modes; Power & Eco (Eco is the default)
Mode Memory
Direct access to ultra-low, turbo, and strobe
Aerospace Grade aluminum body w/a TypeIII anodized finish
Low Battery warning
Electronic Lock-out
Highly efficient Constant Current circuit
Modes, Output, and Runtime
The output and runtime vary for each different LED type. The other versions offer either three Osram LED's or three Nichia 219C LED's, which will produce a much "warmer" beam tint. For this review, the info below is for the Samsung LED's as noted.
Power Mode
Turbo; 3000 lumens (60 minutes)
High; 1000 lumens (90 minutes)
Medium; 200 lumens (7 hours)
Low; 80 lumens (22 hours)
Ultra-low; 3 lumens (12 days)
Strobe; 1100 lumens
Eco Mode 
Turbo; 1450 lumens (90 mins)
High; 630 lumens (100 mins)
Medium; 200 lumens (6 hrs)
Low; 80 lumens (17? hrs)
Ultra-low; 3 lumens (9? days)
Strobe; 1100 lumens
Operating the Acebeam TK18
The rear switch is textured and has an audible click. It's a simple click on/click off. Naturally pressing and holding changes the modes.
Low, medium and high is the sequence.
Ultra-low can only be activated from a holding press while "off". While on or off, you can get Turbo from a double-click, and Strobe from a triple-click. A double-click from Turbo, returns it to the last mode used. A single click turns it off. A double-click from Strobe, activates Turbo.
Switching Operating Mode/Lock-Out
As mentioned earlier, there are two operating modes, Power and Eco. There's also a lock-out feature to prevent unexpected activation. Unfortunately, to change the mode, you need to lock it out first! Say what?
Since the manual is a tad unclear, I'll try to explain this so it makes sense.
By default, the TK18 is set at Eco. To switch it to Power mode, start with the light off. Now, activate the "lock-out" function by pressing and holding the switch for five seconds. It'll switch on in ultra-low, then blink three times. It's now locked. With it off…click the switch rapidly TEN TIMES. It should respond with a low/high flash. It should now be in Power mode. The problem is if it didn't switch it, you might not realize it…unless you have a photographic memory to recall how bright Turbo was before you shut it off!
If you've forgotten by this point, activating lock-out is as easy as keeping the switch pressed for five seconds and waiting for the blinks.
Beam Gallery
USB Charging 
Please note it's the Acebeam battery that has the USB port. So to charge it without putting it in an external charger, remove it from the light and connect the standard cable to it that it comes with. You'll notice there's a tiny light on the positive end of the battery. It's green as long as the battery has a decent charge. When the cable is connected it's RED, and will turn green when finished.
Acebeam TK18 Closing Arguments
There are several reasons why I'm recommending the Acebeam TK18.
For one, it's a great size for the pocket.
Even though I'm not usually a "rear-switch kind of guy" the button is nice. It's not tactical, so it doesn't require the pressure that tac switches usually need.
What I wish it DID have is a battery voltage indicator. By that I mean when you press the switch in such a way that it blinks out the voltage. The only indication it gives to a low battery is when you switch it on, and it blinks three times. And you won't get much or anything from Turbo either.
Recommended battery is the high discharge 18650 it comes with. If you use a different one from time to time, it should be at least 20A, to ensure reliable Turbo output. Alternate battery source is two CR123's. You CAN also use two 16340 rechargeable cells….but, it effectively looses ultra-low mode. It'll work on it, but it's just as bright as "low".
One last thing. I guess it's okay that it gives the option of lower output with Eco mode. BUT, going through the hassle of switching it, is almost not worth it. I'm leaving mine on Pro. So I would suggest picking a mode, and sticking with it!
The PRIME Choice!
So do you want an Acebeam TK18 or what?
Amazon Prime will surely spring into action if you click this link and then click to buy!
Thanks for reading the review, and please let me know if you have any questions or comments 🙂 
Please follow Lightsngear and like us: