Will your post-Covid 19 activities include more time spent outside? With seasonal changes on the way, perhaps you're looking to embark on an adventure. A little camping, hiking or fishing may sound really good about now! This means you'll probably need a new flashlight as well. So without further delay, I'll give you information on how to choose the best LED flashlight for your needs.
As this might seem a little daunting, let me shine some light on what you'll need to know before beginning your flashlight search.
The Big Box Dilemma
If you haven't looked at flashlights lately, or even worse, are still using a single mode incandescent light, then keep reading!
If you're like most folks,  you'll probably start your search at Walmart or Home Depot. If so, here are the challenges you'll find.
At the big box store, you won't get much of a choice. What you WILL see are lights that are maybe six to eight inches long, and use disposable batteries. You might say "okay, what's wrong with that"? Well, you have to think about HOW you want to use your flashlight. Will it be a major source of light? In other words, will you use it like a "night light" or for reasons that might keep it operating for extended periods? If so, then you'll want to use RECHARGEABLE batteries. As a rule, box stores don't sell lights that operate that way. They prefer that you keep having to come back and buy disposable alkaline batteries. Boo, hiss! No good! And let me tell you, in an LED flashlight…batteries are used up FAST!!!
How To Choose The Best LED flashlight When Searching The Amazon Jungle
When you search "LED flashlight" on Amazon, the results are overwhelming.
Big, small, short, tall, and all claiming to be "super bright" (which is a useless term). Most of the time the descriptions are nothing more than marketing gibberish, unless you're ONLY looking at high quality, brand name lights.
My advise is to steer clear of ultra-cheap, generic lights. These typically have a "focusing" (also known as aspheric or "zooming") lens (made of plastic) and pretend to be of much higher quality than they are. They also usually make outrageously exaggerated claims with regards to their output. They're cheap though. Normally $15 or less.
In a nutshell, the brands to look for are the following; Nitecore, Olight, Lumintop, Astrolux, Acebeam, Sofirn, Fenix, Thrunite, Wuben, and a few select others.
Understanding the main components of a flashlight is useful for knowing how to choose the best LED flashlight. So let's get into it!
Main Components
The Battery
As I eluded to earlier, rechargeable batteries are the way to go and most of them are lithium-based. Many good quality brands include the battery in the package. This is a good deal because any lithium battery larger than "AA" size will run you around $20 a piece. Buying extra batteries is always a good idea, but keep in mind if the light you chose ISN'T USB rechargeable, you'll need to get an external charger as well.
The LED
There are many different "types" of LED's, and if you're unfamiliar with the differences check out this post for some guidance.
When researching flashlights, or reading reviews, looking at "beamshots" can be helpful. This is because SOME lights feature a highly focused beam which is designed for "throw". If you don't want a narrow (moon-like) beam that pinpoints your target, then you'll want a light with a wider, "floodier" beam. There are dozens of lights where the beam is a combination of the two. Paying close attention to the advertised "beam distance" can sometimes be useful in determining how focused the beam is. Flashlights that feature more than two LED's are GUARANTEED to have a beam geared toward "flood" instead of throw.
The Switch
How do you prefer to operate a flashlight? Do you want "tactical" operation? Do you envision holding it like a cop on TV, with your thumb poised over the tail of the light? Or do you fancy the old school method of clicking it on and off from a button close to the head? You'll want the answer to the question before you go searching.
There are many lights that offer BOTH types of switches. A tail-switch will turn it on/off,  and a SIDE mounted switch to change the modes once it's on. All tactical lights will have a tail-switch. If tactical isn't your thing, then you might want a single side-switch. With those types of lights, ONE button turns it on/off, AND changes the modes. You have to learn HOW to operate the switch to perform both tasks separately.
On some lights, there's a choice as to how the modes are operated. You can either advance them in a standard "stepping" fashion, or change it to a smooth "ramp" (like a dimmer switch).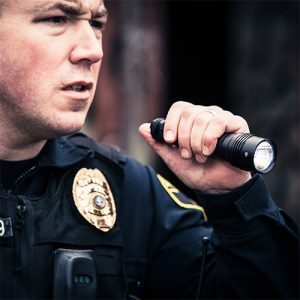 Basic Modes
In most circumstances, there will be a minimum of four modes to choose from;
Two emergency modes will often be present as well;
In many instances, "ultra-low/moonlight" will be added to the "basic" lineup. This particular mode is VERY useful for certain situations.
Standard Features
Here's a look at the features you'll see on most flashlights. Some might be more desirable than others.
Aerospace grade Aluminum-alloy Body
Toughened (AR coated) Scratch Resistant Glass Lens
Mode Memory; recalls the last mode used each time it's switched on
Impact Resistant; from 1 – 3 meters
Waterproof; depth depends on IPX rating
Electronic Lock-out; to prevent accidental activation of the switch while in a pocket
Instant Mode Access; this is where the lowest and highest mode can be accessed "on demand". In most cases, you don't even need to turn the light ON first. Strobe is usually included in this option as well (which is good for self defense)
Thermal Regulation; monitors internal temperature of the light to prevent LED damage
Constant Current Circuit; keeps output as bright as possible even while battery weakens
Low Battery Indicator; most lights will have a method by which to alert you when the battery voltage is getting low
You might be thinking, "what does it need THAT for" with regards to some of those features. But as trivia as some may sound, they're ALL useful! Now if you STILL think it's all fluff and insist that a basic, no frills flashlight is really all you need, then buy one of those generic lights I mentioned earlier. Except from three lighting modes, they have NONE of the features listed above! They also aren't reliable.
USB Charging
There are dozens of lights on the market that feature USB charging capabilities. Obviously this is worth paying a bit more for! Charging a flashlight on the fly, in the car, or with a power bank can be very useful. And if you don't own an external charger, that will save you the fifteen to twenty-five dollars it costs to buy one.
All Things Considered
Knowing how to choose the best LED flashlight doesn't have to be daunting. Yes, Google search results can be overwhelming. But like with anything, if you have a basic understanding of what to expect, you shouldn't have any unpleasant surprises.
Please follow Lightsngear and like us: