Although "Wuben" might sound like something comical, as if someone was mispronouncing "Ruben" it's a quality name when it comes to flashlights! At the Wuben site you can check out a very extensive product line. But right here, right now, I'm about to show you the Wuben TO46R, with its three Nichia 219C (high CRI) LED's.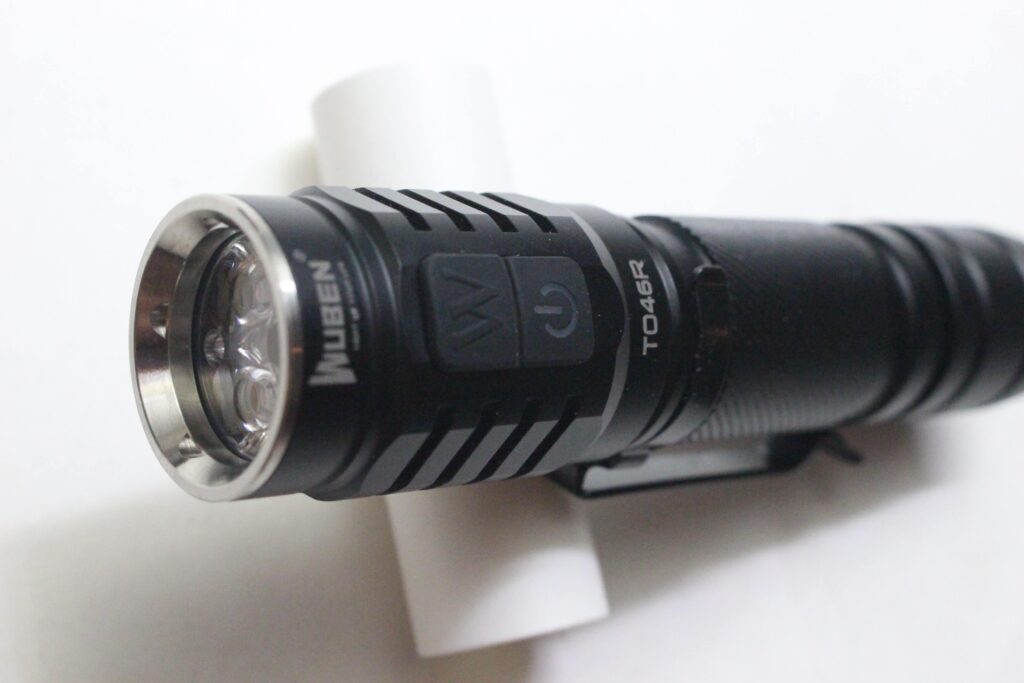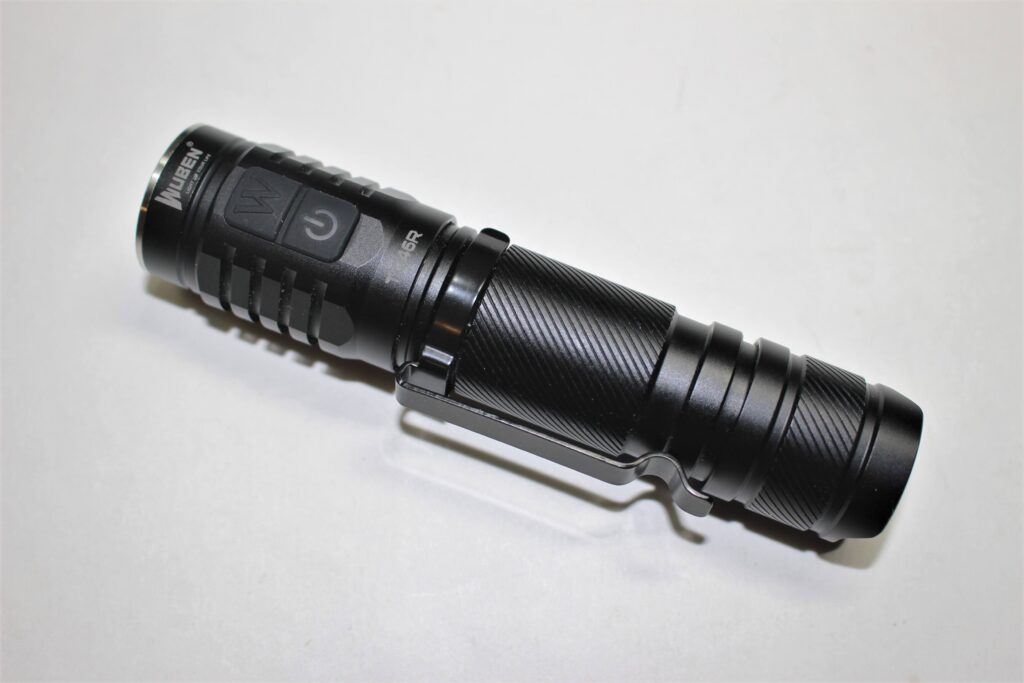 Wuben TO46R Package & Accessories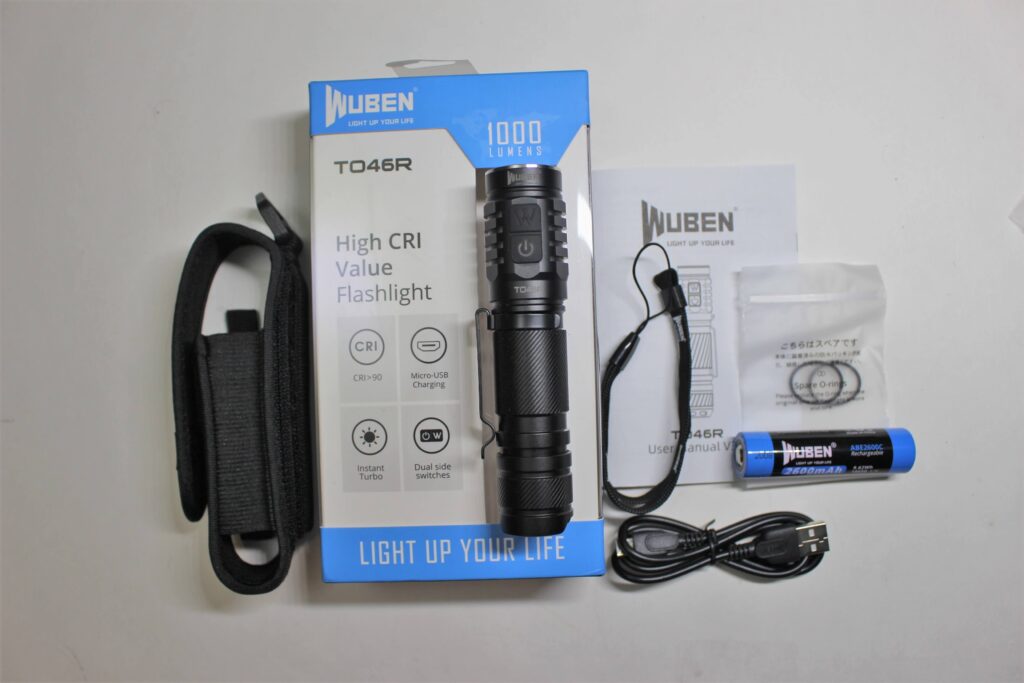 In its standard sized box the flashlight is accompanied by a 18650 battery, a standard USB charging cable, spare o-rings, a lanyard, a belt holster, a user manual, and a pocket clip is attached. Pretty impressive 😀
Specifications
Length; 4.72″
Weight (w/battery); 4.52 oz
LED's; 3x Nichia 219
Max Output; 1000 lumens
Max Beam Distance; 115 meters
Waterproof; IP68 (submersible at 2 meters)
Features
USB Charging
Mode Memory
Dual-(side) switch operation
Military grade aluminum body
Instant access to Turbo & Strobe mode
Electronic Lockout
Low Voltage Indicator
Battery, Output and Runtime
The TO46R comes with a quality 18650 battery, so there's no particular need to use other battery types.
There are five constant output levels (plus two emergency modes);
Eco; 5 lumens (123 hours)
Low; 30 lumens (34 hours)
Medium; 150 lumens (6.5 hours)
High; 500 lumens (3 hours)
Turbo; 1000/400 lumens (4 mins/110 mins)
Strobe/SOS; 1000 lumens
Operating the Wuben TO46R
The two switches on the head control power and output.
Press power (lower button) to switch on. The indicator within the switch will illuminate for five seconds. A steady blue will indicate voltage between 30 & 100%. If it comes on in red, charge the battery.
Press the button above (mode) to advance output. The button is very responsive and the faster you click it, the faster the modes will change. Click 'power' to shut it off. Mode memory will retain the mode it's in when turned off.
Turbo and Strobe are available on demand.
For instant turbo you need to press and hold the power switch while it's OFF. It's tactical – so releasing it turns it off.
For instant (tactical) strobe, press and hold the mode switch. Release it to turn it off.
SOS is a little different. With the light already on, press and hold 'mode' to activate strobe — then keep holding. SOS will activate after a few seconds. You can then release the switch and SOS will be "locked in"….until you turn it off.
Electronic Lockout
To activate the lockout feature, press and hold BOTH switches until it blinks once. It's now locked. Repeat a second time to unlock. With equal pressure from your thumb you might be able to do this with one hand.
Charge It 
You can use the onboard USB port to charge the battery if you wish. Once the cable is connected the power switch will flash (in blue) … as long as the battery isn't drained too far. If it's less than 30%, it'll flash in red. A solid blue indicates the charge is complete.
Time For Some Beam Pics!
To Sum Up the Wuben TO46R
The high CRI (Nichia) LED's produce a nice warm tint. The manual says it steps down from turbo after four minutes. I left it on turbo for ten minutes and saw no visible drop in output. During this time its body temperature never got more than "warm", so it was still very comfortable to hold on to.
Switching is very fast — or it CAN be if you press the mode button fast enough. The only issue I have with the switches, is they're a bit hard to locate in the dark. The illumination beneath the power switch is only there to serve as a voltage indicator.
The features offered by the light are good. But I wish it had on demand access to "eco" mode, as well as to strobe and turbo. To me if you're offering the highest mode at the press of a button, why not the lowest as well?
It's a good light though. I like it. Easy to use and has a great beam. And taking everything into account, the positives outweigh the minor negatives.
Recommendation
To put a Wuben TO46R into your own pocket, visit this personal purchase link https://bit.ly/3v9K7K7 and enter code C10BR to save 10%!
SPRING 2022 UPDATE; Wuben has announced the discontinuation of this model. You can either visit the above link (where availability might be limited) or CLICK HERE for the Wuben page on Amazon and select a different product. 
Please follow Lightsngear and like us: