My previous experience with Wuben has been somewhat limited, but the quality I saw was reasonably good. This brings me to today's review, which covers the Wuben T70. This flashlight screams "high performance"… and with a CREE XHP 70.2 LED, it delivers!!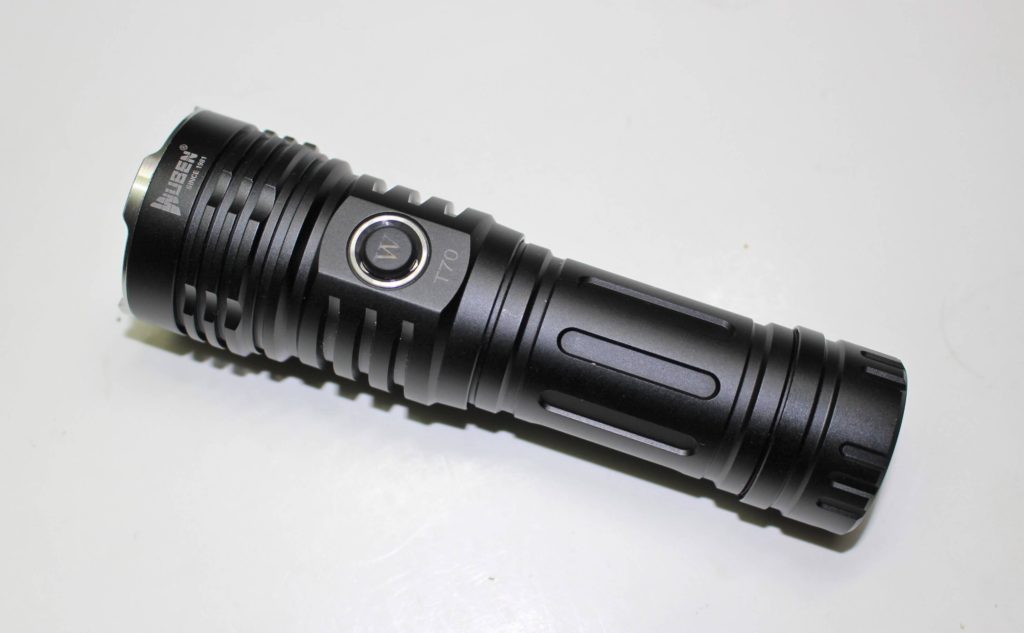 Similar Packaging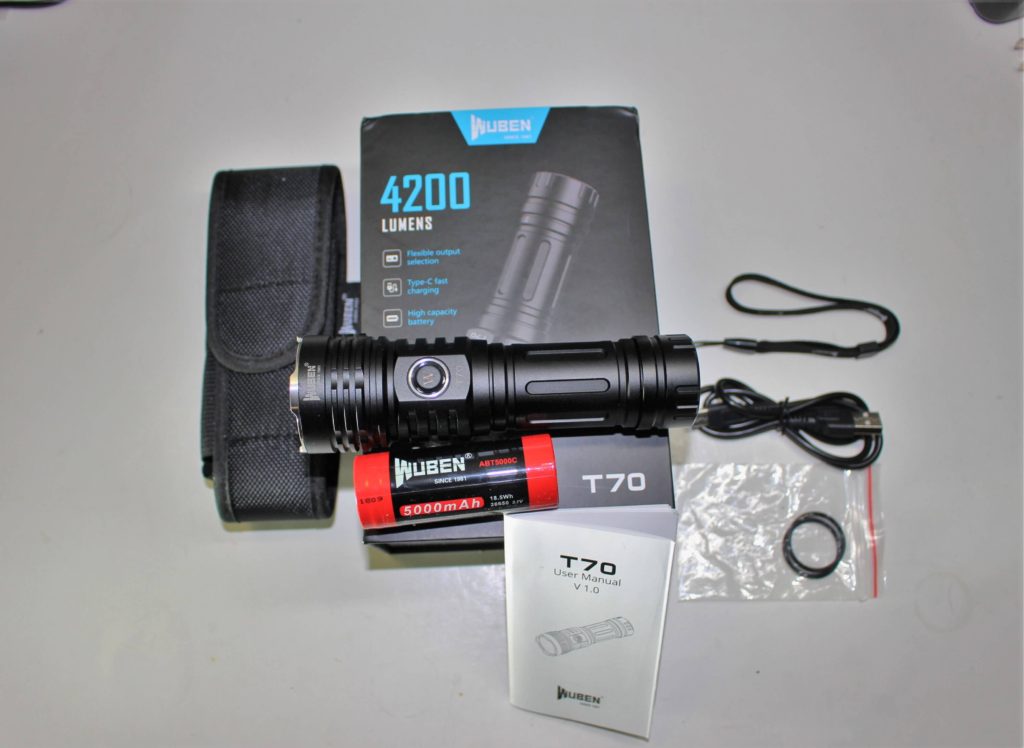 With a box that looked similar to those used by Olight, my T70 arrived with a good supply of extras. These include; a lanyard, a belt holster, a USB charging cable, two spare O-rings, a multi-language user manual, AND a 5000mAh 26650 battery  🙂
Specifications 
Length; 5.4″
Width (head) 1.6″
Weight; 9.04 oz
LED; Cree XHP 70.2
Battery; (1) 26650 rechargeable lithium
Reflector; smooth
Lens; Toughened Ultra Clear Glass
Beam distance; 250 meters
Waterproof; IP68 (submersible 2 meters)
Body; Aircraft Grade Aluminum Alloy
Impact resistant; 1.5 meters
Features
Two separate operating modes
Lockout mode
Mode memory
Charging indicator
Low battery indicator
Four lighting modes, plus strobe & SOS
Modes & Output 
The T70 has four regular modes:
Low;
Medium;
High;
Turbo.
Plus two emergency modes: Strobe & SOS.
The output levels are as follows:
Low – 40 lumens;
Medium – 400 lumens;
High – 1300 lumens;
Turbo – 4200 lumens
Strobe – 1400 lumens;
SOS – 100 lumens
How to Operate Your Wuben T70
The T70's world, revolves around the head-mounted switch. There's a "W" in the center of it, which illuminates to indicate battery power, and charging status. Each time it's switched on, the button illuminates. If battery power is between 80 & 100%, the button shows a solid BLUE for five seconds. If the battery is under 80%, but more than 30, the button FLASHES in BLUE. If power is 15 – 30%, the button is RED. If less than 15, it's a FLASHING RED.
Basically, one short press turns it on, and each press thereafter, advances the mode. The sequence is the standard lowest to highest. A holding press turns it off.
For strobe and SOS… perform a double-click when either off or on. Strobe is first. Double-click again for SOS. A single click thereafter, returns to the last regular mode.
You can also reach Turbo on demand, by performing a HOLDING press when the light is off. If you release the switch right away, it acts as "tactical turbo". For constant Turbo, you'll need to continue holding for about 3 seconds.
Behold the Ramping Mode
The T70 has TWO operating modes! The other one is a "ramping" mode. This allows the user to customize the output. To enter ramping mode, switch it on, and click the switch three times. It'll do a double-blink to confirm the setting. At this point, press and HOLD the switch and watch the output rise. It'll blink when "turbo" is reached, then begin its decent back to low. Releasing the button will pause the ramp. Each additional press will continue going in the SAME direction. SOME ramping lights will toggle back and forth (up & down) at will. The T70 will not toggle.
Lock-Out
To prevent the Wuben T70 from switching-on accidentally, you can lock-out the light. While it's off, click the switch three times. It'll blink to confirm. Now, each time you press the button, all you get is the illuminated "W". To un-lock, click again three times.
Turning it On!
Internal Charging 
The included USB charging cable (and the port on the light) is a "C" connector which can be inserted either way 😉 Hopefully this is a sign of things to come!
So once it's connected, the "W" lights up in accordance to the voltage of the battery.
For battery power:
under 15%, it flashes in RED
between 16 & 40%, it's a solid RED
from 41 to 90%, it flashes in BLUE
from 90 to 100%… it's a solid BLUE
In My Opinion
The Wuben T70 took me by surprise! Of course I knew the basics of it before I got it, but with some things, seeing is definitely believing!
Wuben isn't exactly a household name when it comes to LED flashlights. But that's what seems to be happening lately, smaller, lesser-known companies are producing products with the same level of quality, which we've previously only seen in the well established brands. Another great example of this, is Sofirn, which sprang out of nowhere, and has introduced us to some very good quality lights.
But I digress. The T70 with its XHP 70.2 LED is incredibly bright, and I love how the orange peel reflector widens the beam. The two operating modes is a nice plus, and switching from one to the other is quick and simple! The only possible downside in using the ramping mode is that it doesn't go in both directions during a single ramp.
The inclusion of the 26650 battery is very much appreciated. Meanwhile, its internal charging does nicely at rejuvenating the battery. The changing colors of the switch while charging may not be entirely necessary, but it's nice to have a quick visual regarding its status. Charging current was also impressive… exceeding 1000mA when I connected the battery in a depleted state. 

Due to the more powerful battery, runtime is relatively good, even on Turbo, where Wuben has tested a not too shabby two hours!
Bottom Line
There's really nothing NOT to like about the Wuben T70. It's a great all purpose light, and has the power to be useful even in challenging conditions. At 5″, it's a good length, and the holster allows for EDC carry.
I was furnished the T70 by Banggood.com, so I suggest if it looks appealing to you, then please visit their site and take a look at the T70 product page.
Please leave any questions or comments you might have about the Wuben T70 in the comment section below.
Please follow Lightsngear and like us: