Since I haven't tested any Fenix flashlights in awhile, I was more than curious when I spotted the new E16… since it's extra small and pretty darn bright! So let's look deep into the Fenix E16 and see what we come out with.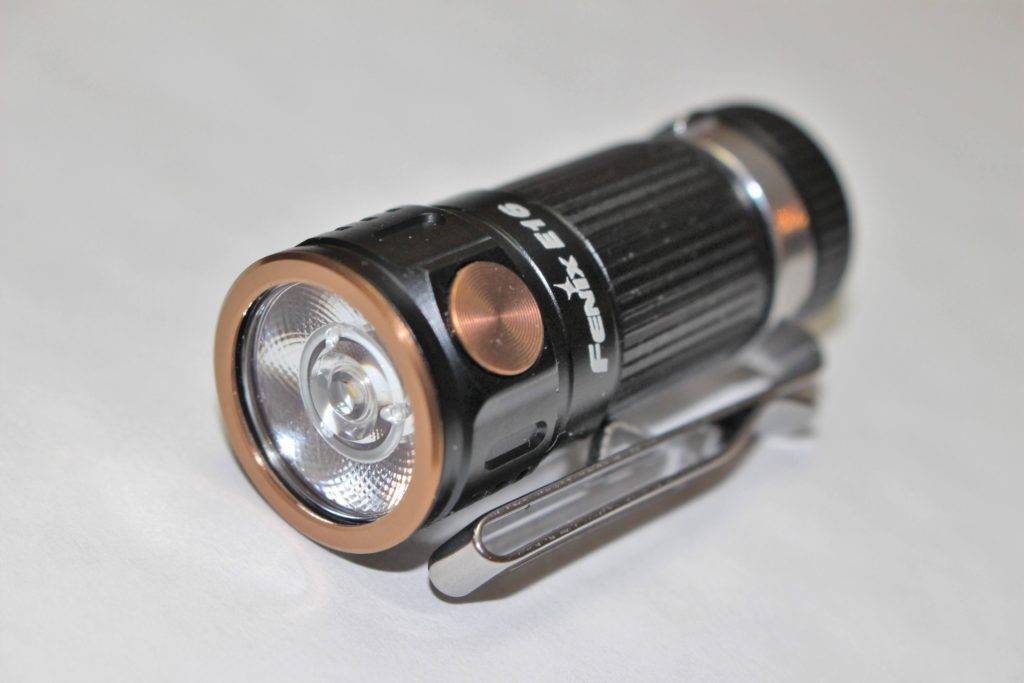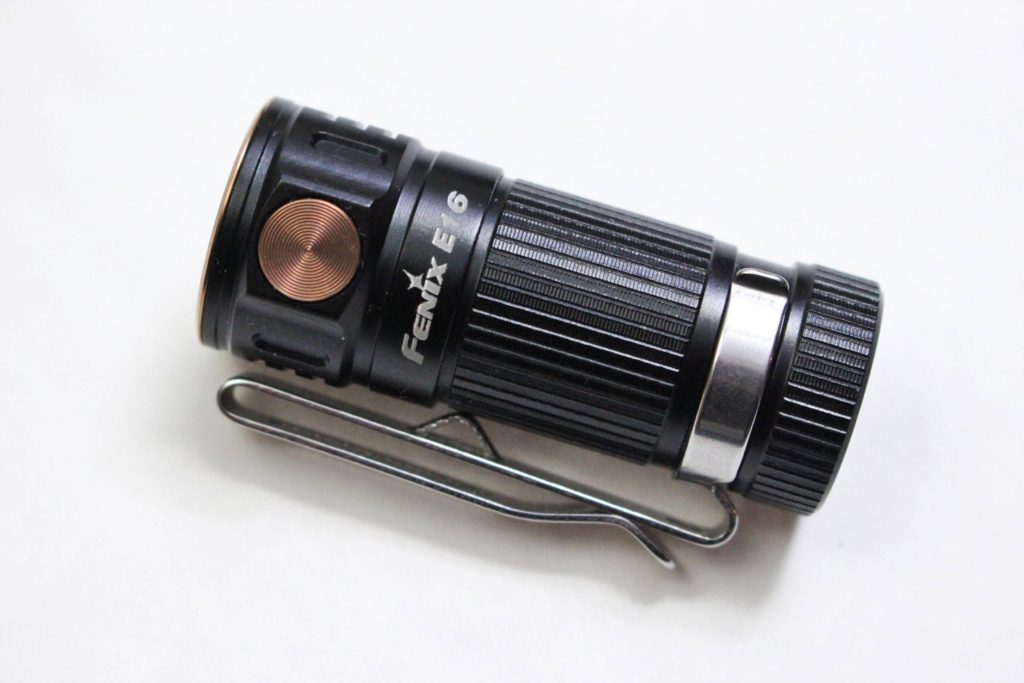 Small Package (for a small light!)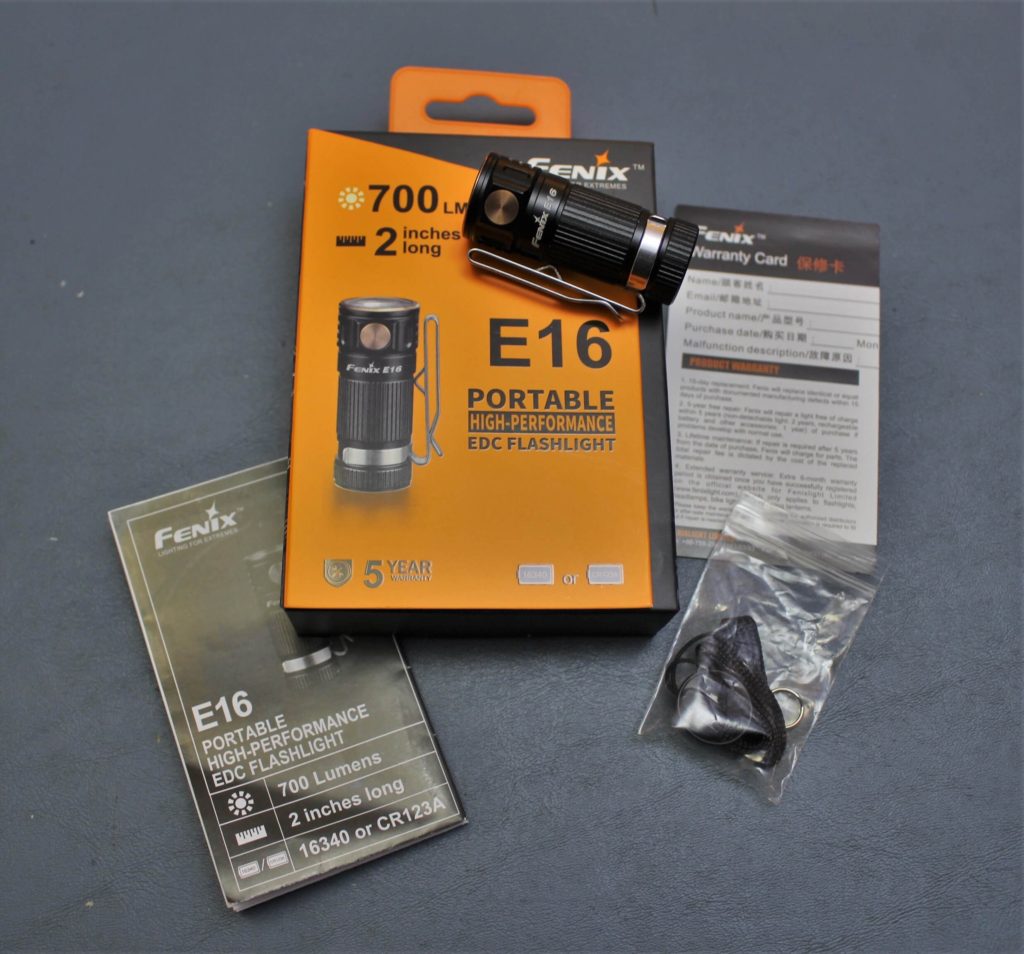 The E16's little package consists of spare O-rings, a lanyard, a key-ring adaptor, and a user manual. A removable pocket clip is attached.
Specifications
Length; 2 inches
Weight; 1.40 ounces WITH the battery!
Impact resistant to 1 meter
Beam distance; 142 meters
Waterproof to IP68 — submersible to 2 meters
E16 Features 
Uses a neutral-white CREE XP-L HI LED for better color rendition
Low Voltage warning
Digitally regulated for constant brightness
Lock-out mode
Mode memory
Impact resistant to 1 meter
Waterproof to IP68 — submersible to 2 meters
Premium TypeIII hard anodized finish
Magnetic tail
Overheat protection
Toughened, coated optical lens
Four constant lighting modes plus strobe
Battery Configuration
Since the E16 is so small, only one battery can be used. This is either a disposable CR123, or a rechargeable 16340 (RCR123). A 16340 is recommended since it provides the highest output. These details are outlined below.
Modes, Output and Runtime 
Low; 3 lumens (70 hours or 110 w/CR123)
Medium; 30 (12 hours or 25 w/CR123)
High; 150 (2 hours or 2 hr 50 min w/CR123)
Turbo; 700 [300 w/CR123] (65 min or 115 min w/CR123)
Strobe lumens; 700 & 300 respectively
Operating the Fenix E16
Operating the Fenix E16 is super simple! 
From OFF, a holding press of the side switch is required to turn it on. Press again to advance the mode. The sequence is low-medium-high-turbo*. A holding press turns it off. Mode memory remembers the last mode. If you want strobe, you need to press and HOLD for 1.5 seconds. You can do this while it's OFF or ON. Since the same holding press is required to turn it on, it'll actually activate for a second in the mode it was in previously, before going to strobe. 
* Turbo mode is only possible with a well-charged 16340 battery
Lock it Out
To lock out the switch, either turn the clip so it covers it, or to do it electronically, double-press the switch while OFF. It'll blink twice to confirm the lock. Until it's unlocked, it'll blink twice each time it's pressed. Just press it twice again to unlock. 
Checking the Beam
Summarizing the Fenix E16
This is a neat little flashlight! It's literally possible to put it anywhere! The magnetic tail is convenient, and clipping it to a hat or cap turns it into a headlamp  😀 
The selection of modes is good and the warm tint does nicely for outdoor color rendition. 
What desperately needs to get mentioned is the use of turbo. It's mighty bright, and of course you need a 16340 to attain it… BUT… the battery needs to be at nearly 4 volts to support it. So my advice if you want turbo output, is to make sure the battery is at 3/4 charge or better, and to use it sparingly. It also begins to get quite warm on turbo… in less than a minute. 
So, with everything I've covered, I'm recommending the Fenix E16 as a good general purpose flashlight. Bear in mind that although it's one of the handiest EDC lights you could carry… it has limitations regarding the highest output. For that very reason, something larger and more powerful is what you'd want for extended outdoor use. Naturally it's your call, but that's my feeling on the subject.
Recommendation
Now it's up to you! Does the Fenix E16 fit your description of the perfect (extra small) EDC flashlight? If so, then click here to visit its Amazon product page. 
Please follow Lightsngear and like us: