Innovation in switch design has been something Klarus has been heavily involved in. The flashlight I'm reviewing today is another example of that. This is the Klarus 360×3
.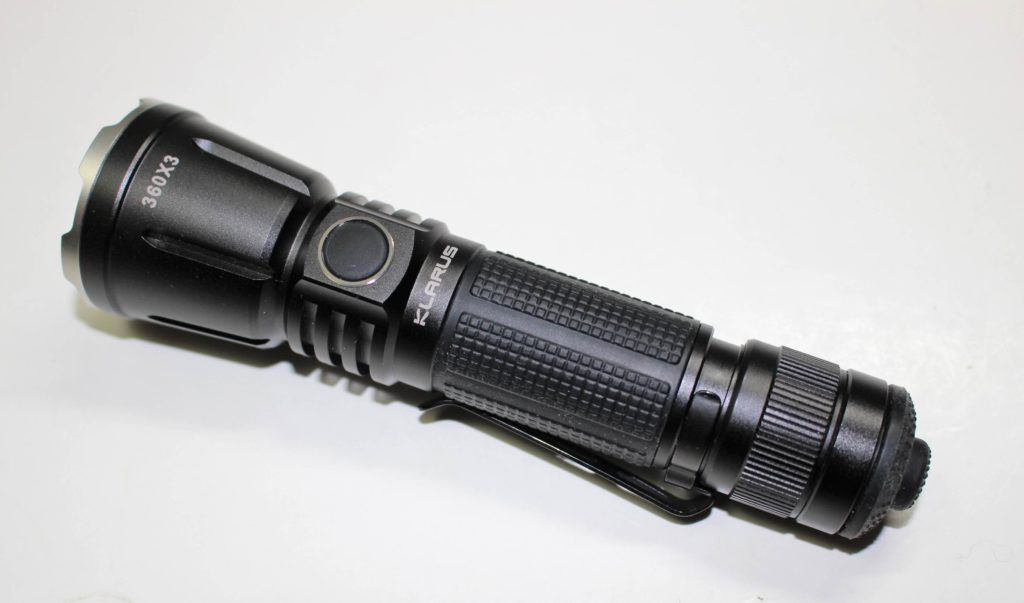 The Whole Package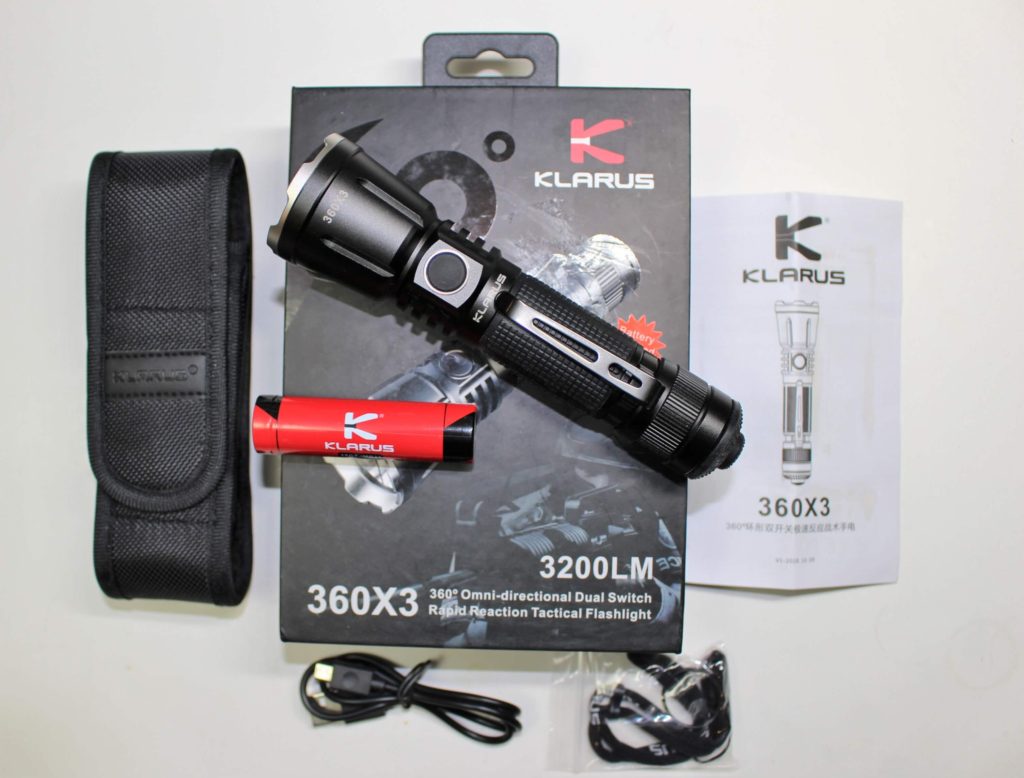 As with most Klarus lights the accessories are usually pretty good. Here, we have a belt holster, a USB charging cable, a wrist lanyard, spare O-rings, a user manual, and a 3100mAh 18650 rechargeable battery. A pocket clip is already attached…but removable.
Specifications 
Length; 5.9″
Weight (w/battery); 6.83 ounces
LED; XHP70.2
Body material; hard anodized T-6061 aerospace aluminum alloy 
Beam distance; 283 meters
Impact resistant; 1 meter
Waterproof; IPX-8 (submersible to 2 meters)
Working voltage to 8.4
Features
Two distinctive operating modes
Internal USB charging
Mode memory
Tempered, scratch resistant glass lens
Orange peel reflector
Instant access to selected modes
Unique three button switching system
Battery voltage indicator
Output, Batteries, and Runtime
The four regular modes on the Klarus 360×3 are low, medium, high, turbo. Strobe and SOS are the two typical emergency modes. Output for these modes are 15, 100, 400, and 3200 lumens respectively. Strobe is 3200 and SOS, 100.
Runtime on Turbo is estimated at 45 minutes. "High" should get you about 4 hours. Medium, 16, and low about 82 hours.
As previously stated, the light comes with a 18650 battery, which is the recommended power source. Like with most other flashlights using the same configuration, it'll also run on either two CR123's, two 16340's, or two 18350's. Keep in mind the internal charging system will only work when using the 18650.
Operating the Klarus 360×3
There are two operating modes, tactical and outdoor. I believe tactical is the default. We'll get to changing them in a bit.
Klarus has been outfitting their lights with three switches for awhile now. The 360×3 also has three, but the configuration of them is completely different than the previous models. The switches are identified as "primary", "mode", and "side". So, as two of them are typical switch-types you've seen many times before… the "mode" switch is very A-typical!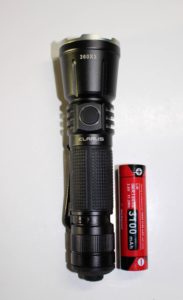 As you can see from the photo, it's round, and runs the circumference of the "primary" switch. The idea, is that by pressing anywhere on the ring, you'll have instant access to light.
Here's what to expect from each switch, per setting.
In Tactical Setting;
Primary
Turbo mode: a soft press produces tactical light. Clicking it locks it in.
Mode — when off
Strobe: for tactical (momentary) press and release. For constant, hold for 3 seconds.
Mode — when on (from another switch)
Regular mode selection; low, high, turbo.
Side — from off
Short click to activate. Short click to advance modes. Sequence is turbo to low, which repeats. A holding press turns it off.
A holding press activates "low". Holding press turns off.
Double-click for Strobe. Double-click again for SOS. Standard click returns to regular mode.
In Outdoor Setting; 
Primary
Turbo mode: a soft press produces tactical light. Clicking it locks it in.
Mode — when off  
Momentary low. A holding press locks it in.
When locked on low, perform quick presses to advance through to all modes. The sequence is low to turbo. A holding press switches off.
Mode — when on (from another switch)
Each press cycles through the modes — low to turbo.
Side — from off
Exactly the same as when to Tactical.
Battery Voltage Indicator
The switch indicator ring lets you know the basic charge of the battery each time the light is turned on. From about 70 to 100% charge, it's green. From 40 to 70% it'll be orange. If under 40% it'll be red. If severely low, it'll FLASH in red.
This process only works when using a 18650 battery.
USB Charging 
As with any other USB rechargeable flashlight, an 18650 battery can be charged using either the included USB cable, or one of your own choice. It's a standard USB…not a USB-C.
Once connected, the indicator "ring" surrounding the side switch will glow in red… and turn green when finished.
Beam Gallery
Klarus 360×3; Plus and Minus
When I first saw this light, I said… "so what's it called"? Surely the name CAN'T be 360×3!? Okay, I was wrong. It's certainly the strangest model name for a light I've ever seen. The reasoning for it though is based on the switch design.
Unique, is how I describe the "ringed" mode switch, and the fact that it works from whatever part of it is pressed. What I have found though, is sometimes a single press of the ring causes it to skip through a mode or two. The thing is, the ring needs a fair amount of pressure put on it to work. I imagine someone with arthritic fingers, wouldn't be able to operate it this way. The other buttons operate as expected, but only the side switch doesn't require a little extra pressure.
The beam from the high quality XHP70 LED, is almost beautiful! It has a nice ratio of spot and flood, but is also very smooth. The only element of disappointment with regards to the beam, is that "high" is almost dim, when compared to "turbo". It would've made more sense if "high" were 800 lumens, instead of 400. As you can see from the photos, high mode doesn't look overly impressive at distances of 100 feet or more. At least when compared to turbo.
A strictly personal dislike about the Klarus 360×3, is BECAUSE it's 100% tactical… it can't tail stand which is a feature I use on every light I own.
Size of the light, while relevant to performance, is good, but is a tad large for pocket carry. It's comfortable to hold, and the barrel's knurling assures a good grip. The switches are in enough positions to make almost any user feel confident carrying it. My previous comment however about users who suffer from painful tendons, still stands.
Recommendation
In general, while weighing the positives and negatives of the Klarus 360×3, I see no reason NOT to recommend it. It's a well-built, full featured flashlight.
To make the Klarus your own, click here to visit its Amazon product page.
Please follow Lightsngear and like us: