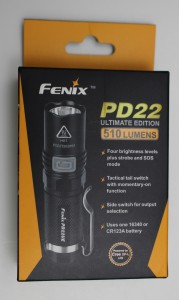 The previously popular PD22 has been given a makeover! So it's now my pleasure to introduce to you, the new Fenix PD22UE (Ultimate Edition).
Basic Stats
At a petite 3.5″ tall, the PD22UE is the ultimate in an everyday-carry flashlight
Its weight is only 1.6 ounces
Beam distance has been measured at 427 ft.
It's impact resistant to 1 meter, and submersible for up to 2 meters
It operates on either; (1) disposable CR123 or (1) rechargeable 16340 lithium battery
The memory circuit remembers the last mode used
Sturdy construction with scratch resistant glass and a premium Type III hard anodized, anti-abrasive finish
The Package
Nicely packaged in a rather small retail-ready box, is the PD22UE, an instruction manual, warranty card, accessory bag (containing a lanyard and spare o-ring), a belt sheath, and surprise… a white diffuser!
LED, Lumens, and Runtime
Using one of the newer LED's, the XP-L V5, the PD22UE has a very wide beam with a soft, creme-white tint. This is not to imply that it doesn't have a good center 'hot-spot'. It does. But the spill is quite wide, and will illuminate a large area around you with ease.
The lighting levels are; low, medium, high, turbo. Plus strobe and SOS.
The top lumens have been rated at 510. This is only achieved when using a rechargeable 16340 battery. Here are the lumens as rated by Fenix.
16340 battery
low – 6
medium – 60
high – 200
turbo – 510
CR123 battery
low – 6
medium – 50
hight – 200
turbo – 400
Runtime on this light isn't fabulous, but it's not terrible either.
With a 16340 on turbo mode, it'll conk out after about 45 minutes. High, will get you about 110 minutes.
If those runtimes seem anemic, keep in mind you're only using one small battery… of which has limited capacity, and is pushed HARD to produce a lot of light for an extended period. A few years ago, it wasn't possible to get 500 lumens from a single battery of this size.
Using a CR123, will get you about 75 minutes on turbo and about 2 hrs and 20 minutes on high.
On the opposite end, the 22ue will blaze continuously for up to 100 hours if only used on low.
The included diffuser is useful in any mode, and although the light has difficulty tail-standing in the traditional way (due to the rear switch), it WILL stand upside down with the diffuser attached!
Two Switches
Give the rear switch a soft press. This is allow the light to operate tactically.
A firm press will give you constant light. Once in your lighting mode, press the side-switch to advance the mode.
For strobe, (from any mode) press and HOLD the side-switch. If you prefer SOS, keep pressing it and strobe will change to SOS. This is the only way to access SOS. Another press from any flashing mode will return it to the original lighting mode.
Seeing is Believing!
Please click each image for a full-size view
From a User's Perspective
The new and improved Fenix PD22UE is a good addition to anyone's arsenal of tools. Whether it's for emergency lighting, or to accompany a camping or hiking expedition, it'll prove itself very useful.
The clip on this light is really good. It's on the very end, which means the tail cap won't stick out from your pocket. "Deep-pocket carry" is preferred by many.
The soft side-switch can be pressed quickly in succession, meaning mode changing can be quick. And the flashing modes can be reached from any mode.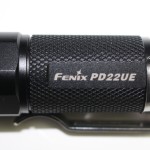 Battery Recommendations
16340 batteries are ONLY available online. Take my advice though and stay away from those with inflated capacities! They're not made to supply more than 750 mAh, so if they claim more than that… it's completely false.
Unfortunately with the passage of time, the PD22UE has found its way into flashlight history. But, there are still plenty of Fenix flashlights to choose from! THIS LINK will offer you several great choices.
Please follow Lightsngear and like us: