Having not seen many Orcatorch flashlights to date, I'm about to review the Orcatorch T20, which is their multi purpose tactical light. At this writing, it's not exactly the newest light on the block… having been released some months ago.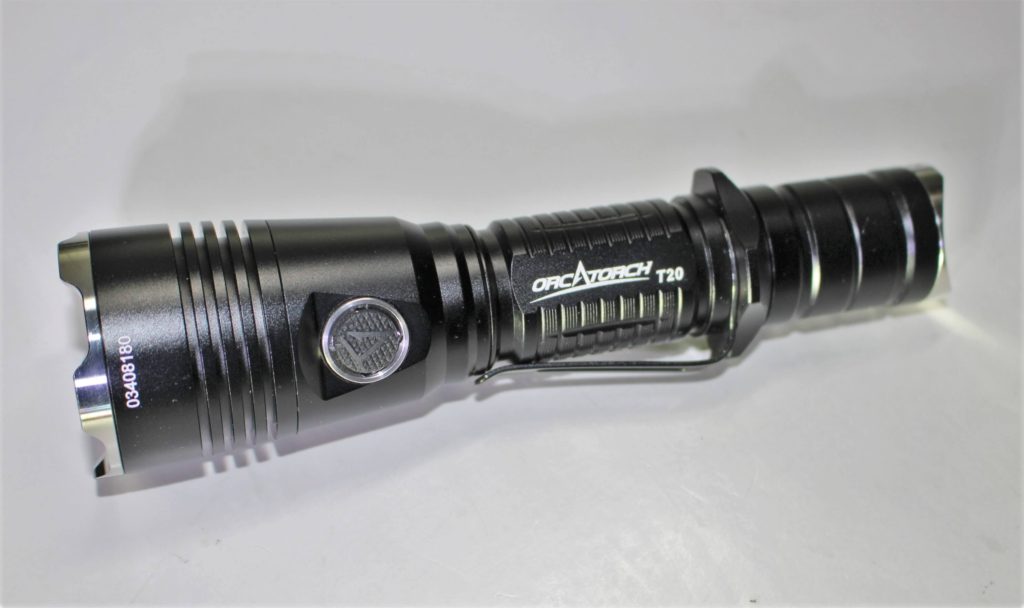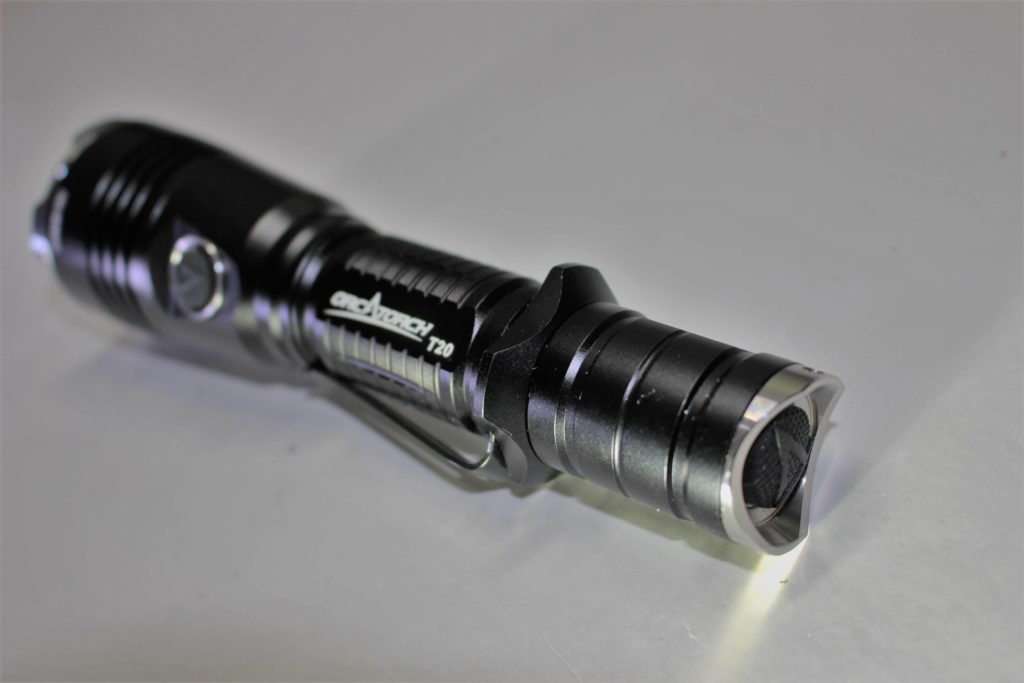 The BIG T20 case!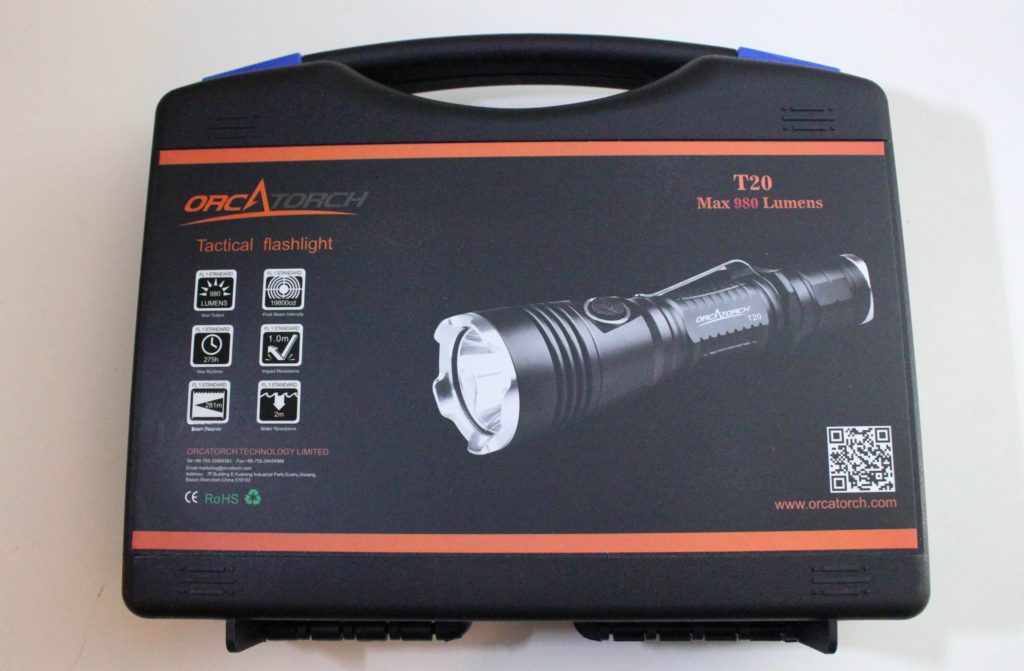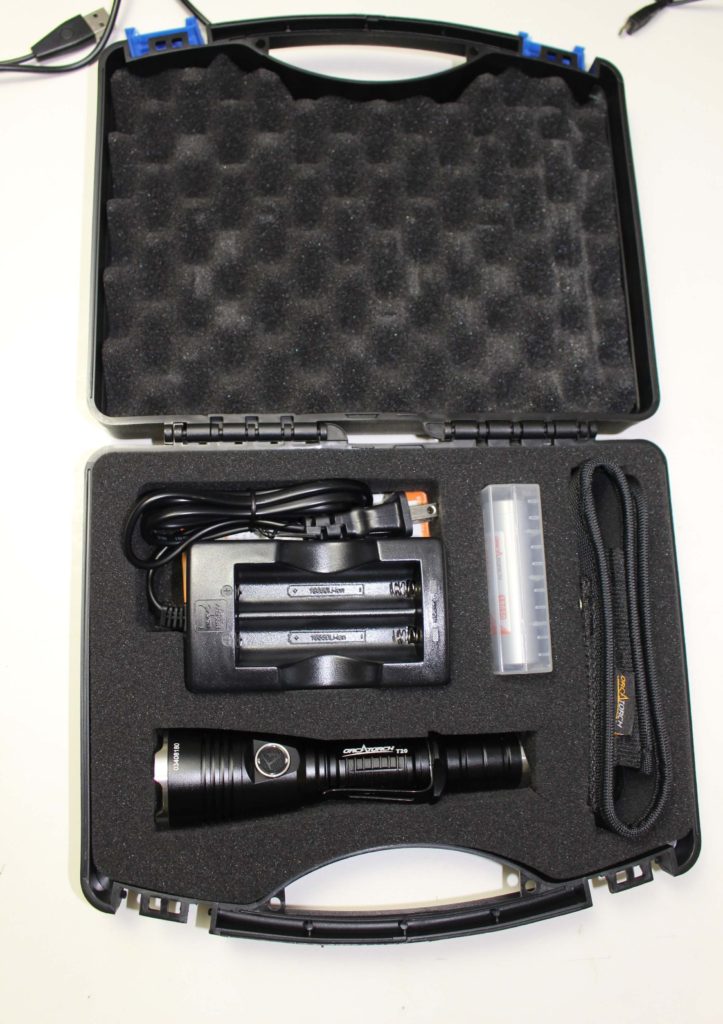 Orcatorch has assembled quite a package here. The items come in a VERY substantial case, with a large carved out handle, and two heavy duty plastic snapping enclosures.
Inside, aside from the T20, is a plethora of accessories. A user manual; a warranty card; a belt sheath; a lanyard; two spare o-rings; two 2600mAh Orcatorch 18650 batteries; and one two-slot charger. A pocket clip and a tactical ring are already on the light.
Parameters
Length; 5.9″
Head width; 1.5″
Weight; 8 oz (w/battery)
Beam distance; 281 meters
Impact resistant; 1 meter
Waterproof; IPX-8 (2 meters submersible)
Working voltage; 8.4 maximum
T20 Features 
LED; Cree XM-L2 (U2)
Max output; 980 lumens
Constant current circuit for maintaining output
Stainless steel attack head
Toughened glass lens w/anti reflective coating
Alloy aluminum reflector
Tough T6061 aluminum body w/TypeIII hard anodized finish
Mode memory
Dual switches for tactical use
Tail-stand capability
Over-heat protection
Over-discharge protection
Batteries, Output, and Runtime 
Recommended Battery
(1) – 18650 (two are included)
Or….
(2) – CR123's; (2) – 16340's; (2) – 18350's
Modes and Runtime
Low; 2 lumens (275 hours)
Medium; 50 lumens (22 hours)
High; 350 lumens (3 hours)
Turbo; 980 lumens (10 min at a clip)
Strobe/SOS; 980 lumens
How to Operate the Orcatorch T20
Fully press the rear switch to engage it. Press the side switch to change modes…from lowest to highest. Press the rear to turn it off. Mode memory will recall the last mode upon the next "turn-on".
For tactical light (at whatever mode it was turned off in) lightly press (and hold) the tail switch. Release to cancel.
To engage strobe, the light must be on. Press and hold the side switch. To switch to SOS, click the switch once. Another click returns to the last constant mode used. There's no way to return to the last regular mode (from Strobe) unless you either click to SOS, or turn it OFF via the tail, and turn it on again.
While on Turbo, the T20 only remains constant for ten minutes… at which time it downshifts to "high" to avoid getting too hot. Of course you can shift BACK to Turbo instantly if you need to maintain the output.
The BIG Pictures
Yea or Nay on the Orcatorch T20?
With a few comments to add, it's a thumbs up.
There are certainly much smaller flashlights available that are just as bright. In the case of the T20 though, I think maybe its size helps it to handle heat a little better. Even when leaving it on in Turbo, up to the stepdown phase, the body only becomes marginally warm.
Tactical operation I'm sure will be a plus for some. The tailcap switch performs well, and is VERY "tight". An extremely FIRM click is required when engaging it. The side (mode) switch is like any other. It doesn't do anything fancy, such as light up, or indicate battery voltage, but changing modes is very quick and easy. Because of the rear switch, there are no functions that can be activated from an OFF position. You cannot choose that low or turbo initiate on demand, unless the T20 is turned OFF in one of those modes.
The T20 "case" is quite impressive, as are the free batteries and charger, which are of reasonable quality I might add. I usually scoff at flashlights that come with storage boxes or carrying cases… and it's usually the cheaper brands that do. The reason being that the contents are normally busy being used! There's not usually a reason to keep them "tucked away". If you were travelling with the light, it takes up less luggage space to simply pack the items separately.
Its beam is bright, and offers decent throw, due to the smooth reflector and focused beam pattern.
Recommendation
I would recommend that if you'd like to give the Orcatorch T20 a try, that you visit their product page on Amazon.
Please follow Lightsngear and like us: