Some time ago, I reviewed the Sofirn SP32, which at the time, was an introduction for me into Sofirn products. Since then, I've had a couple of others cross my desk, and today, am pleased to bring you an upgrade to the SP32. So without further delay, lets talk about the Sofirn SP32A, Version 2.0.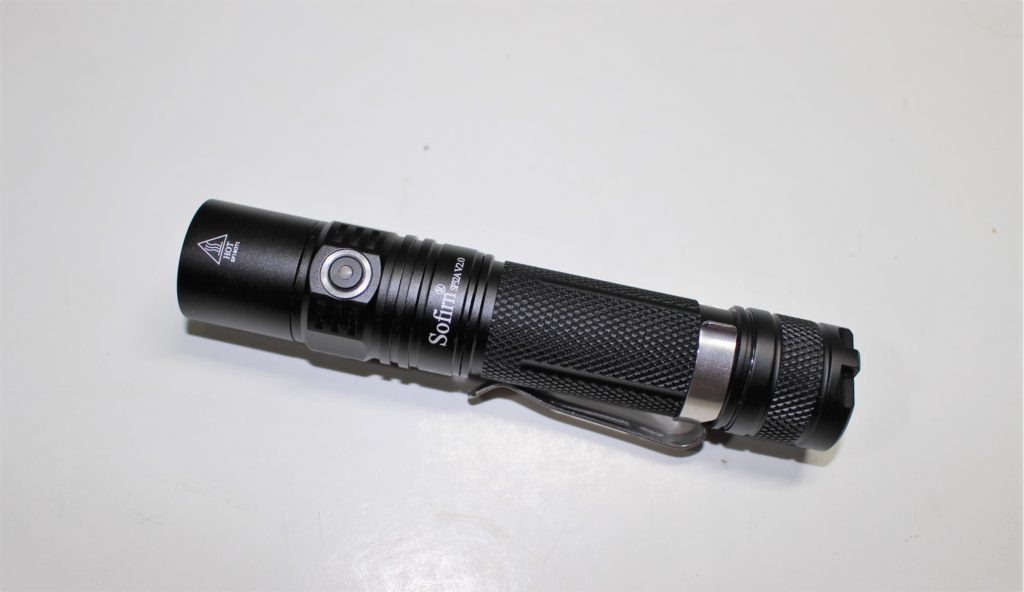 Sofirn's Standard Packaging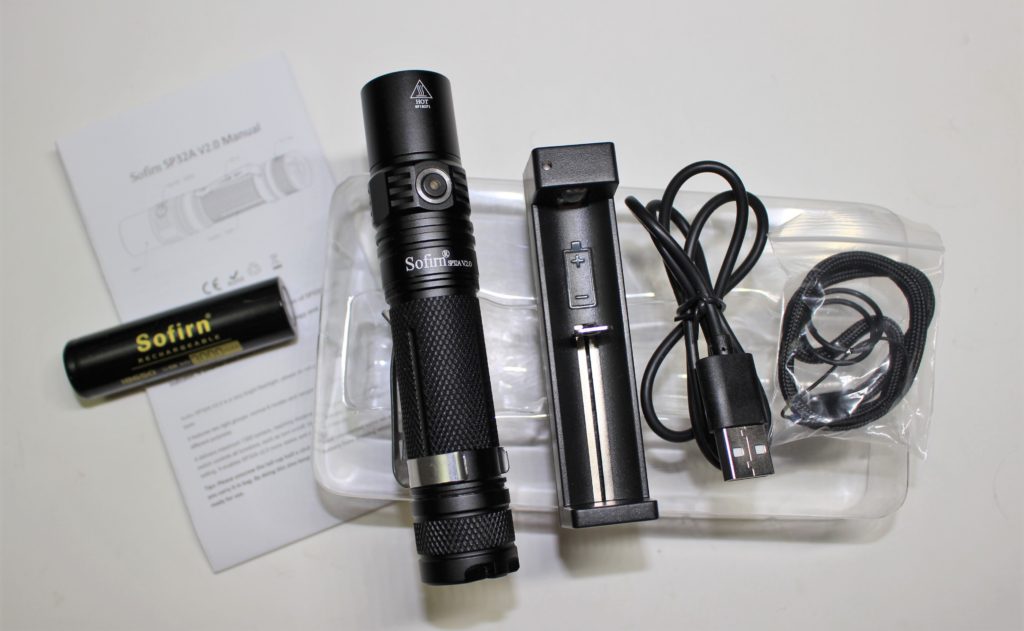 I'm guessing Sofirn's moderately low price is partly due to their standardized (nothing fancy) approach to product packaging. Their boxes, regardless of what's inside, are all the same, and have "LED flashlight" as the only identifier. It's for this reason that I'm picturing only the contents of the box.
Included with the flashlight is a user manual, a single-bay 18650 battery charger, a single 18650 battery (3000mAh) a USB charging cable, and a small package containing spare o-rings and a standard lanyard. The flashlight has a removable pocket clip factory attached.
SP32A Specs 
Weight; 4.02 ounces (w/included battery)
Length; 4.8″
LED; CREE XP-L2
Working Voltage; 2.8 – 6.6
Beam Distance on Turbo; 153 meters
Material; Aircraft-Grade 6061 aluminum-alloy, with a TYPEIII hard-anodized, anti-abrasive coating
Impact Resistant to 1 meter
Waterproof to 2 meters underwater
Features
Toughened AR-coated all-glass lens
Mode Memory
Two separate operating groups
ATR; Advanced Temperature Regulation
Automatic Stepdown (from Turbo)
Battery Voltage Indicator
Batteries, Modes and Output 
The main battery source is a rechargeable 18650, which is included. Their battery this time is 3000mAh, and is pretty good quality. If you want other options, you can use two disposable CR123's. Other rechargeable batteries are off limits due to the 6.6 cutoff for the running voltage.
The modes for the light (in Group 1) are as follows;
Eco; 5 lumens
Low; 50
Medium; 160
High; 500
Turbo; 1300
Strobe; 1300
Runtime under Eco is measured at 260 hours. Under "high" it's listed as 3 hrs 35mins. Runtime under Turbo is deceiving because it notes it as 2 hrs 30 mins, but when ON Turbo, it steps down to "high" after 3 minutes! So theoretically, Turbo mode is 3 minutes.
Just like the previous SP32, Group 2 has no modes, but is instead a "ramp" which encompasses the entire range of the light, 5 lumens to 1300.
General Operation
The side switch does it all.
For Group 1, just give it a short press. Each continuing press advances the mode from lowest to highest. Press and HOLD, to turn it off. For Turbo on-demand, DOUBLE-PRESS the switch during any mode.
For Strobe, press the switch THREE times fast. This will work whether it's ON or OFF. One quick press during Strobe (if previously ON) returns it to the last mode.
For Group 2, press and hold the switch. It'll ramp until the highest output has been reached. For Strobe, it's the same as it is in Group 1. If you pause less than two seconds during the ramp, it will REVERSE direction on the ramp. If you wait more than two seconds, it'll continue ramping in the same direction it was going previously. It blinks again at the end of the ramp…both high and low. Instant Turbo is still accessible via the double-click in Group 2  😀
To change groups, have the SP32A turned OFF. Press and HOLD the switch until the light "blinks" three times.
Low Voltage Indicator
Each time the Sofirn SP32A is turned on, the colored indicator in the middle of the switch glows for five seconds. It's GREEN when the battery is good, and RED when voltage reaches around 3.4 volts. If it flashes red, rapidly when first switched on… then it's close to being depleted.
When the light is on, and battery voltage drops to near 3.4, the "red" indicator begins to flash. Output will also drop in stages. Flashing will continue until the battery can no longer sustain itself.
The Battery Charger
The included charger isn't a bad little unit. It starts with a pretty good current as the red indicator glows. It's green when it's finished.
Checking Out the Beam
Sofirn SP32A, V2.0; The Final Analysis
There is, in all honesty, nothing NOT to like about the Sofirn SP32A. When taking the accessories, the modes, the overall output, and the TWO operating groups into account, I can't see anything to complain about!
It's built with the same quality as other brand name flashlights, and due to its small size, fits anywhere!
The Two Versions
What I HAVEN'T mentioned yet, is there are TWO versions of the SP32A. As noted above, THIS is version 2.0. The first one was simply SP32A. The main difference here, is the illuminated switch. The first version doesn't have that. But, the 32A included a halfway-point flash when ramping, which version 2.0 doesn't have. Other than that, they're practically identical. At the time of this review, the original SP32A does not appear available on Amazon. I HAVE however included a link to Banggood.com, where it's still available.
Recommendation
Adding the Sofirn SP32A, V2.0 to your collection is only a few seconds away, when you click THIS LINK.
If you'd like to look at a selection of Sofirn lights, CLICK HERE.
Please follow Lightsngear and like us: