This is different! This is the Olight Arkfeld Eternal 3. In addition to being easier to carry (due to its shape) it features a bright green laser pointer, and 1000 lumens of standard (LED) output!
So let's do it!
The Box and Everything Else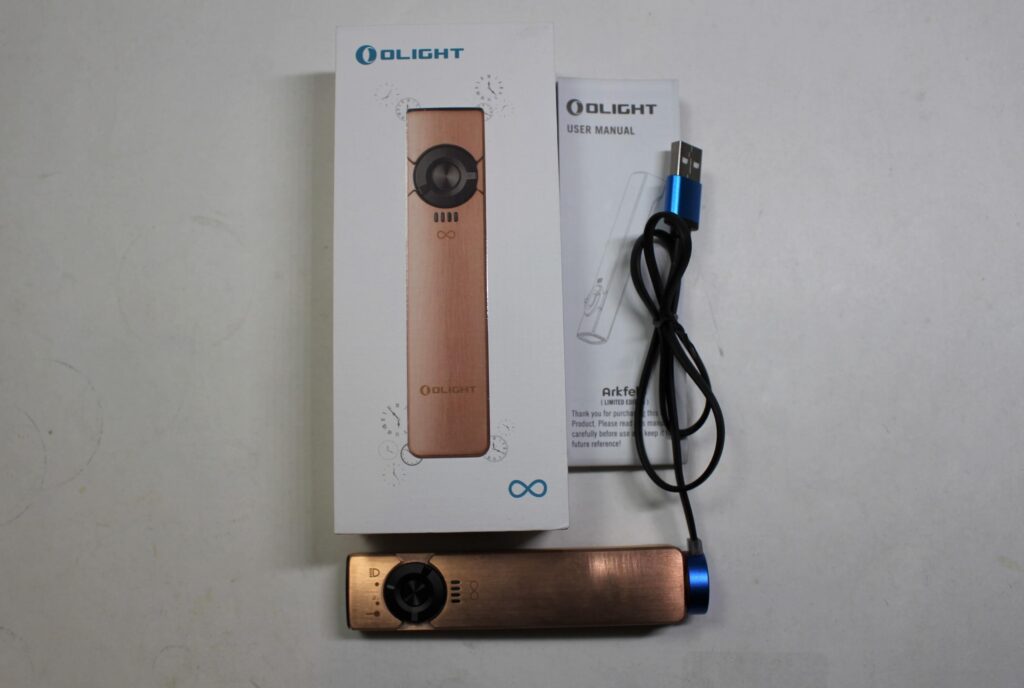 Olight always features a classy presentation!
Inside the box is the Arkfeld – secured in a vacuum sealed pack. The user manual and charging cable are found when removing other sections of the box's interior.
The battery is internal, and cannot be removed or replaced.
A Coat of Many Colors
As shown in the image, the Arkfeld has several colors to choose from. The "orange" which I'm reviewing, is the latest, and is also referred to as "Arkfeld Cu". There's also a titanium version!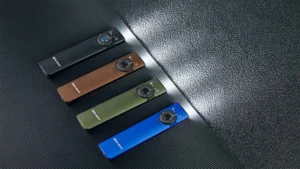 Specifications
Length; 4.3″
Height; 0.59″
Width; 0.98″
Weight; 7.03 0z (not a typo! it's heavy) Other colors are 3.07 oz
LED; high performance (Available in Neutral White and Cool White)
Battery; Built-in 1050mAh Lithium Polymer (not removable)
Maximum output; 1000 lumens
Beam Distance; 331 ft
Waterproof; IPX7 – submersible to 1 meter for 30 mins
Impact Resistant; 1 meter
Arkfeld Features 
Mode Memory
Instant access to "moon" and "turbo"
Laser Pointer (operates independantly)
Patended mode (dial) switch toggles between standard beam and laser pointer
Magnetic charging base
Visual power (voltage) indicator
Slim design (w/pocket clip) for easy carrying
Output and Runtime
There are 6 modes.
Moonlight, low, medium, high, turbo, and strobe.
Moon, turbo and strobe are not featured in the standard sequence, but can be accessed on demand.
Moon; 1 lumen for 8 days
Low; 15 lumens for 41 hrs
Medium; 60 lumens for 11.5 hrs
High; 300 lumens for 2 hrs
Turbo; 4 mins, then drops to 30% power for 100 mins
Olight Arkfeld Operation
The multifunctional dial/button is where all commands to the Arkfeld go.
The markings on the dial are very clear.
Move the dial to the LEFT to select the laser beam, then press the button. Each button press will turn it on and off.
Turn the dial to the RIGHT for the LED light.
In its simplist form, press it once to turn on, and again to turn off.
A HOLDING press (once ON) cycles through, low, medium and high.
A HOLDING press while it's OFF, activates "moonlight".
A DOUBLE press when either ON or OFF activates "turbo".
A TRIPLE press when either ON or OFF activates "strobe".
Mode memory will ensure it returns to the same mode each time. (hidden modes aren't memorized)
Voltage Indicator/USB Charging
Each time the light is turned on… and off…the voltage bars below the dial illuminate for 3 seconds to show approximate power.
Obviously 4 means a full charge (or over 75%)
3 indicates 50%-75%
2 means 25%-50%
1 is up to 25%
Any time you feel the battery needs charging, just "snap" the charging plate to the base of the light, and connect the USB end. The little indicator on the cord will light up "red" and then turn "green" when finished.
Beam Shots
Basic Stuff About the 

Olight Arkfeld Eternal 3
This is definitely one of the "cooler" flashlight to come about in recent memory. The shape makes it a bit easier to carry (flush) inside a pocket, or attached inside a bag or accessory case.
The laser pointer is another "cool" feature. It's bright, and has a long beam distance. But I'm not sure of the need other than to entertain or confuse the basic brain cells of a small animal…or very young child! I say "small animal" because if confronted by a cheetah or bear, I doubt they'd find it entertaining!!
Please remember that THIS review is for the copper (orange) color version. Is there a difference? YES, but only in weight.
As noted in the specs above, the copper version is HEAVY! At 7 ounces, this thing has serious weight! You COULD almost say that it doubles as a paper weight!
Some traditionalists might balk at the internal battery, since this is the first Olight product I've seen not to use a replaceable battery. Generally speaking, the internal cell should be good for enough charges to keep the Arkfeld useful for a few years.
The other thing to keep in mind about the copper version, is that exposure to oxygen allows the finish to oxidize (or tarnish). My testing light had already started to get black areas on it after only one week of "light" use.
All is not lost though.
Because oxygen is the invisible enemy, you can keep the Arkfeld Eternal 3 looking "fresh" by depriving it of air! When not in use for lengthy periods (or daily if you like) keeping it bound up in plastic wrap, or something else to keep oxygen OUT, will prevent it from oxidizing too soon.
Recommendation
An Olight Atkfeld Eternal 3, in glorious ORANGE is a wonderful gift!
To make someone feel really special, CLICK HERE to buy the Arkfeld Eternal 3 at the Olight store!
There's also a bundle deal to consider as well; CLICK HERE to check it out!
AND – don't forget to enter my exclusive COUPON CODE, RBW4, at checkout!! 
Please follow Lightsngear and like us: