As quality becomes more "the rule" in budget flashlights these days, brands like Soonfire are stepping up to show us what they can do. So with today's new review, I'm taking a look at the Soonfire DS31, which includes several quality features, and USB charging 🙂
Good Accessories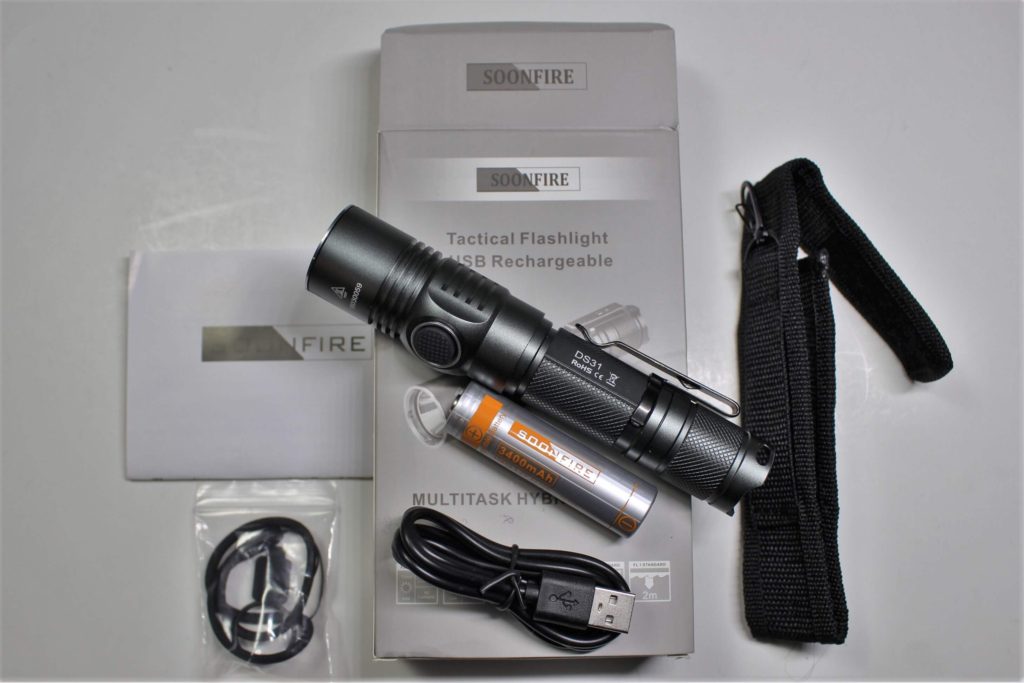 Considering its lower price, Soonfire puts together a pretty nice package. So, along with the flashlight, you get a micro USB charging cable, a pack of spare pieces; O-rings a switch cover, and a lanyard… plus a belt holster and a 3400mAh Soonfire 18650 battery!
Specifications 
Weight; 6.34oz (w/battery)
Length; 5.8″
LED; Cree XP-L (smooth reflector)
Beam distance; 376 meters
Battery; (1) – 3.7v 18650 [included] or (2) – 3v CR123 lithium batteries
Body; Military-Grade Aluminum, hard anodized TypeIII finish
 

Features
Tactical operation w/momentary-on function
Smart ITS control monitors internal flashlight temperature
USB charging
Mode memory
Illuminated side/mode switch
Low battery voltage indicator
Toughened ultra-clear glass lens
Impact resistant to 1 meter
Waterproof to IPX-8
Modes, Output and Runtime 
The DS31 has five regular modes, and two flashing modes.
Lower-Low; 8 lumens @140 hours
Low; 60 lumens @29 hours
Medium; 200 lumens @8.5 hours
High; 500 lumens @2hrs, 55 mins
Turbo; 1060 lumens @70 mins
Strobe
SOS
Operating the Soonfire DS31
As with any 100% tactical flashlight, gently push the rear switch for momentary (tactical) light. Click the switch for constant light. Once on, a blue indicator beneath the switch remains constant. Press the side switch to change modes from lowest to highest. The flashing modes are hidden. Once off, mode memory remembers the last mode for the next use.
There's also a timed step-down when operating on turbo. If it's still running after 8 minutes, it'll automatically shift down to "high", to prevent the light from getting too hot.
Instant Access to Turbo
Double-click the mode switch (from any regular mode) to activate turbo. A single click from turbo returns to the lowest low.
Accessing strobe and SOS
While on, a holding press of the mode switch activates strobe. A second click activates SOS. Now from here, you can either turn it off by firmly clicking the tail switch, or go to "high" by pressing the mode switch a third time. Continuing clicks of the mode switch, cycle through strobe, SOS and high. Now if you want to go BACK to the LAST regular setting you were on BEFORE entering strobe, press and HOLD the switch during either of those three modes.
Low Battery Voltage
As the battery voltage drops, output should remain pretty constant. For a visual warning, the mode switch indicator will begin flashing in blue. If you ignore it, it'll change to red and continue flashing until the battery calls it quits.
Charging the Battery 
The Soonfire DS31 is no different than any other USB rechargeable light… in terms of how to charge internally.
Once the micro cable is attached, you need to CLICK the tail switch. The mode switch LED will respond by lighting up in a flashing red. This will continue until the charge is complete, when it turns a solid blue. You are now good to go!
Anyone with any sense will know this only pertains to an 18650 battery. DO NOT try this if you're using a two-battery configuration!!
The BIG Beamshots
When All is Said and Done
The Soonfire DS31 is a decent flashlight, with quality features and components. The inclusion of the USB charging circuit is appreciated, and the fact they include one of their own 18650 branded batteries, is another plus.
Although working voltage isn't mentioned anywhere, Soonfire says two CR123 batteries are acceptable. With that, I can only assume that two 16340 cells would also work. However unless you're completely against using 18650 batteries, there's no real necessity in using the other types… unless you happen to be at a remote location without USB connectivity.
Mode selection is quick and easy, and being 100% tactical, adds an extra layer of professionalism. Speaking of modes, they're well spaced, and the lowest low is just dim enough for up close lighting in pitch dark situations.
The Soonfire DS31 was furnished for review by the Soonfire-store on Amazon. If adding it to your collection, or gifting it to someone who'd appreciate a cool flashlight, is a possibility, then click here!!
Please follow Lightsngear and like us: