As of late, there has been a new "batch" of upstart manufacturers with flashlight models that rival the more established brands. Today's new light, the BlitzWolf BW-ET1, although certainly not one I've had much experience with previously, is about to join those ranks.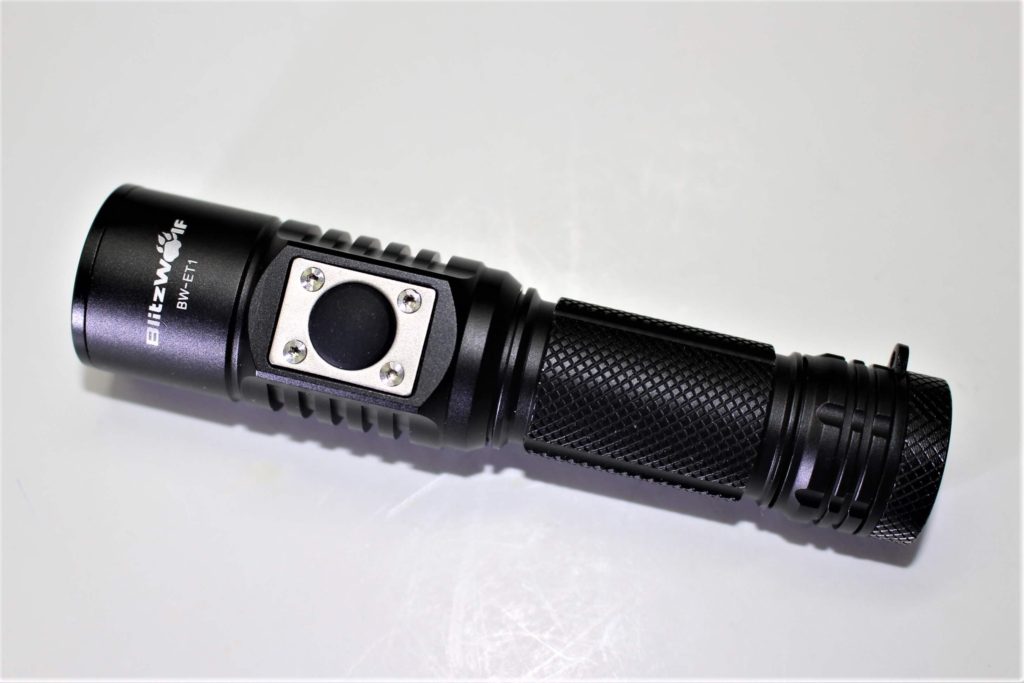 Neat & Tidy Package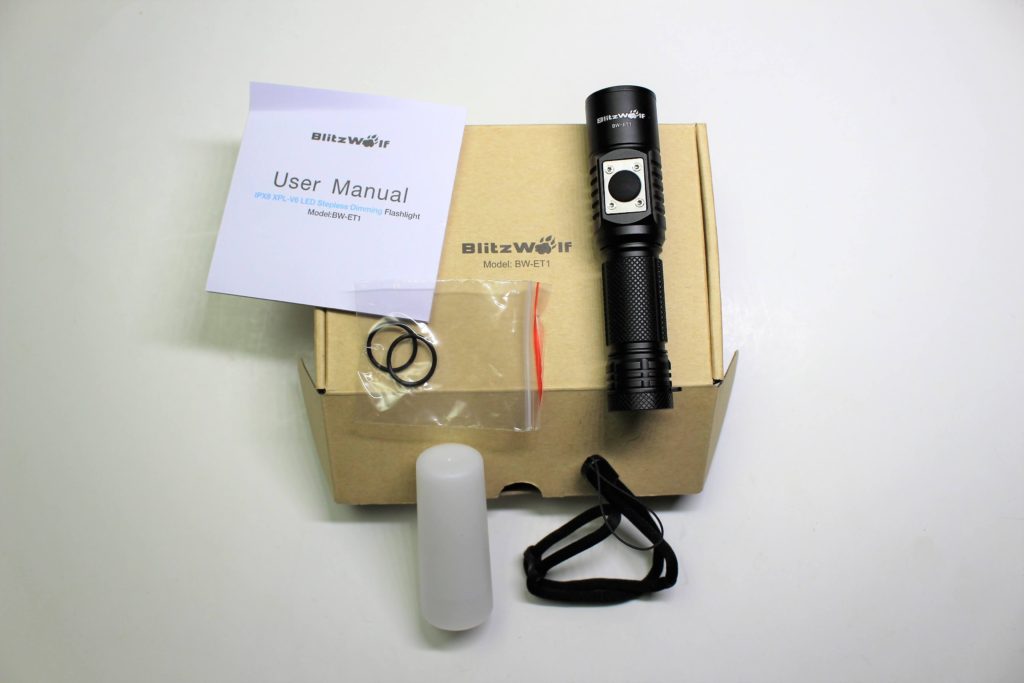 In a compact non-descript box made from recycled materials, contains the BlitzWolf flashlight. Accompanying it, is a lens diffuser (which they identify as a "soft light baton") in addition to two spare O-rings, a wrist lanyard, along with a user manual and warranty card.
Specifications 
Length; 4.2″
Weight (with battery); 83.4 grams
Battery; 1 – (standard) AA, or, 1 (rechargeable) NiMH, or, 1 (rechargeable – lithium) *14500. With optional expansion tube; 2 – (standard) AA's, or, 2 (rechargeable) NiMH. * only usable as a single battery configuration
LED; Cree XP-L V6 w/smooth reflector
Maximum working voltage; 4.2
Tint; Warm White/5000k
Beam Distance; 150 meters
Lens; Ultra-clear mineral glass with AR coating
Body material; Aerospace grade aluminum alloy; hard anodized finish
Waterproof to 2 meters (IPX-8)
Magnetic tailcap
Mode memory
Stepless Dimming and Output
One of the main "features" of the BlitzWolf BW-ET1, is that it has Stepless Dimming. This gives the user a customized level of light, whereby any output between the range of 2.5 and 600 lumens can be selected when using a 14500 lithium battery. With a AA, or NiMH battery, the output ranges from 0.2 to 182 lumens.
Also available as an optional accessory, is an extension tube which allows the use of TWO AA or NiMH batteries. This has NO effect on output, but is only intended to extend the run time. At the highest mode with a 14500, about ninety minutes of light can be expected. Using two of the other batteries, high mode will yield over seven HOURS of light! Bear in mind… that with THOSE batteries, you'll get less than 200 lumens of output. So, while it's longer light, it's also much DIMMER light.
PLEASE NOTE; The use of TWO 14500 lithium batteries is not permitted!!
Fun (or frustrating?) to Operate 
One large, definitely not hard to miss rubberized button, is screwed down in four places, on the top-half of the light.
A quick press triggers activation. Once on, press and hold the button while the light ramps from low to high. A series of "blinks" alert you to the three main stages of the ramp. If it's ramping down, one blink will indicate it's at the lowest point once it reaches it. If you begin ramping from low, TWO blinks will indicate the halfway point. If you continue, THREE blinks will tell you when the highest point is met. It does the same thing when ramping down from high. Whenever you pause the ramp, and then continue, it'll always begin again in the OPPOSITE direction. So if you're ramping up, (and you stop) but want to continue going up, you'll need to press the button twice, by going down for a moment, before heading up again. Make sense?
Instant Access Modes
Strobe and SOS are also part of the mode choices. For instant strobe, click the button THREE times. If you want SOS, you'll need to press and hold while strobe is flashing. A single press thereafter, turns it off.
Want the HIGHEST output anytime? Just DOUBLE click… either from OFF, or while it's on.
Now Check These Out!
Last But Not Least … My "Expert" Opinion
The BlitzWolf BW-ET1 is not an easy name to remember… but it IS a cool little flashlight.
My biggest complaint is the lack of a pocket clip. Whereby the diffuser might come in handy if you're someone who likes to read "by candlelight", I don't like flashlights flopping in a pocket, and rely on a clip to keep it snug. You can insert your own opinion on all that, here.
The ramping is a cool feature, but can get tiresome if you keep changing your mind on how much light you want. Having instant access to high, is much appreciated! And with mode memory, it'll return to that setting after being shut off.
One big positive… is the size of the switch. You'll have no problem finding it in the dark!  😀
Something to note when using a 14500 battery. The manual states that when voltage dips below 3.4, the highest output cannot be reached. This is because the driver assumes it's a AA battery!
Time will tell how reliable the light is. BlitzWolf is a multi-product company, and if you visit their website, you'll see tons of electronic gear. Obviously flashlights occupy only a small corner of their product line. This is what gives me pause to wonder how good they are after much use, since it's not where their full attention is focused.
To see how the BlitzWolf BW-ET1 will work for YOU, click here!
Please follow Lightsngear and like us: