Olight, like other competing flashlight manufacturers are always trying to innovate and take new directions. The Olight i5T, is a small, single AA battery pocket flashlight, and the first from them which is said to be "simple but special". Just HOW simple, and HOW special is it? Continue reading, and I'll do my best to spell it out.
"Simple" Packaging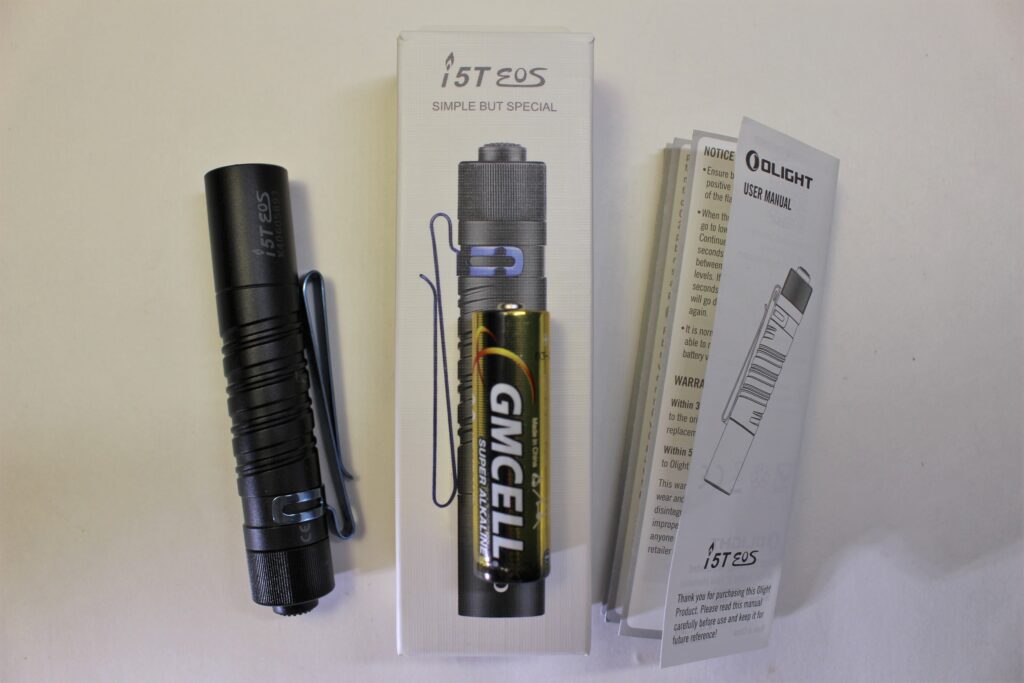 From the picture, you can see just how simple the i5T packaging is! There's a large bi-directional clip for convenient pocket use. A generic alkaline battery is already inside. The manual (in several languages) completes the accessories.
Features & Specifications
Reverse clicky (tactical) tail-switch
Aero-grade hard anodized aluminum body
AR coated (toughened) glass lens
Two operating modes
Impact Resistant; 1.5 meters
Beam Distance; 60 meters
Waterproof; IPX-8
Length; 3.7″
Weight; 2.48 ounces (w/AA battery)
Battery; Modes; Output; Runtime
The Olight i5T, runs on just ONE AA battery. This can be either alkaline or NiMH rechargeable. It can also run on a single 14500 lithium rechargeable battery…but with limitations, which is why Olight does not mention it anywhere. More on that coming up.
There are two modes, low and high.
Low; 15 lumens – for 20 hours
High; 300 lumens – for 3 minutes
Runtime;
After 3 mins on high, it lowers to 50%
50% output for 25 mins
50% lowers t0 10%, where it stays for 2 hours
Olight i5T Operation
"Simple" absolutely describes how the i5T works.
For momentary light, you can press the clicky "lightly" and have light for as long as you hold the switch. For constant light, press until it clicks.
"Low" is what always comes on first. So if you want "high", you either need to click it on (at low) then off, and on again so "high" is activated…or, give it a momentary press for low, then a second momentary for high. You can of course "lock" on to high as soon as you see it. A full click turns it off.
Nothing fancy here…no strobe or other flashing modes are available.
Special Note on Battery Acceptance
The i5T was made to operate on a AA battery, either alkaline or NiMH rechargeable. What Olight doesn't mention (for obvious reasons) is that it can also use a single 14500 (3.7v) lithium rechargeable. The caveat to the 14500 is that it provides only ONE mode. It's a REALLY bright mode however, and you can see an example of it below. I don't know exactly how MUCH brighter it is…in lumens, but I would estimate around 600. The other issue, is that it gets VERY HOT, VERY FAST!
My recommendation would be, if you want to use it with a 14500, ONLY do so for a minute or two at a time. Olight doesn't say what the running voltage is, so I wouldn't want to risk damaging the LED or the driver.
Checking it Out
Olight i5T – "WYSIWYG"
The i5T is a larger cousin to the previously released i3T.
This is a small, simple, easy to operate pocket flashlight. One thing Olight always excels in, are its clips, and being reversible allows it to go on your pocket in either direction.
Switching is easy but tail-standing isn't possible. As described earlier, it'll only stay on high for three minutes before lowering to half the output; about 150 lumens. Refer to the photos above which show the difference.
So finally, is the i5T "special"? In my definition of the word, no. It's a cool little light, but nothing particularly special.
Recommendation
SKYBEN on Amazon supplied the Olight i5T for review. Click here to visit the product page!
Please follow Lightsngear and like us: