Astrolux has paired once again with the popular Anduril firmware. The result is the Astrolux MF01 Mini with up to 5500 lumens! So lets get to it 😀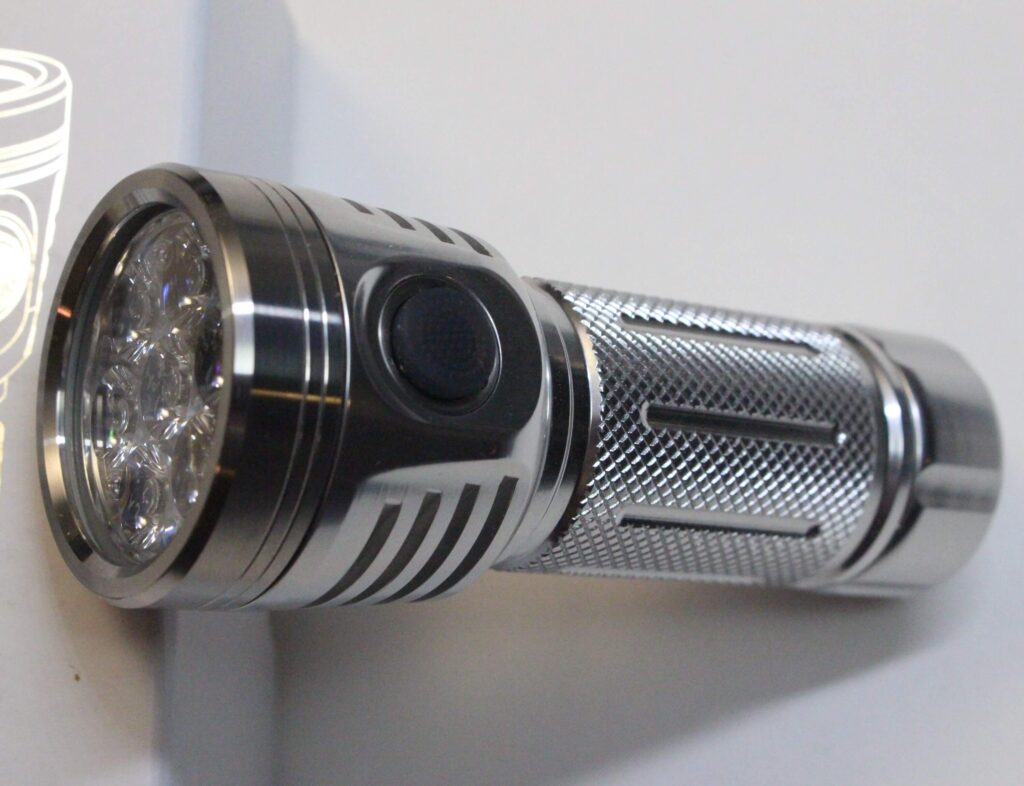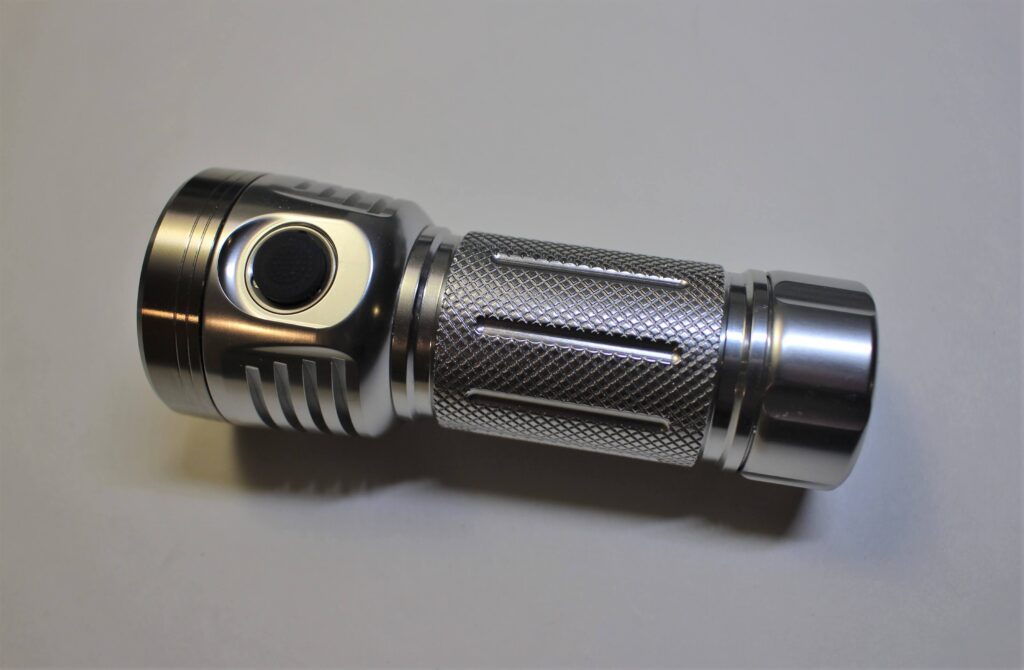 Package and Accessories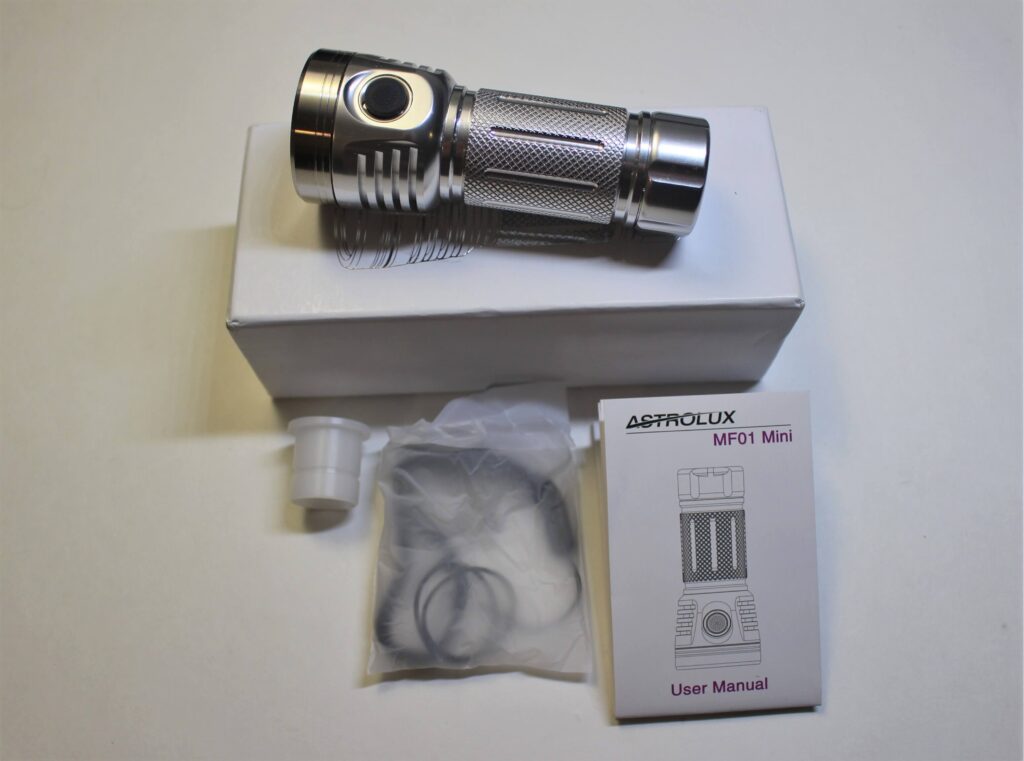 The MF01 Mini comes with a user manual, a set of spare o-rings and a lanyard, and TWO battery adapters (just one is shown here).
Specifications
Length; 4.3″
Tube circumference; 1.2″ Head; 1.7″
Weight; 6.84 ounces (without a battery)
LED; -7- Luminus SST-20 LED's
Max output; 5500 lumens
Beam distance; 1,361 feet (415 meters)
Impact resistant to 1.5 meters
Waterproof to IPX-7
Features 
Two (user selected) interfaces
Aerospace Grade Aluminum Alloy Body
TypeIII Hard Anodized finish
Auxiliary LED's to indicate changes in voltage
Type C, internal USB charging
Mode Memory
5 specialty flashing modes
4 "binky" utility modes
Electronic Lockout
Battery Acceptance
If you appreciate versatility when it comes to battery choices, then I'd say the Astrolux MF01 should please you.
With the inclusion of two battery adapters, you can operate the light on either, one 26650, or one 21700, or one 18650. The latter is not the best choice and I would only use it in an emergency. The recommended size is a 26650…based pretty much on runtime. None of the three types will provide higher output than the others, but certain battery brands or chemical compositions might be able to handle the highest output a little better.
When you first open the package, the 21700 battery adapter is already inside the tube. If that's the size you intend to use, leave it in there. If you'd sooner run it on a 26650, remove the adapter. The small "cap-like" adapter is for a 18650. Basically for THAT configuration, the larger adapter remains in the tube. The 18650 is placed into the large tube, and the smaller adapter is then placed over the end of the battery. Its only purpose is to keep the battery from jiggling inside the tube.
Basic MF01 Mini Operation 
By default, the Astrolux MF01 Mini is set to ramping.
A single click switches it on, and a holding press causes the output to increase. Release, then hold again and it'll ramp in reverse. If you stop more than three seconds, the ramp continues in the same direction.
Switching between interfaces is a snap! While it's on…click three times and a brief flash will confirm the change. At this point, a holding press will increase the output in preset levels. Just like in "ramping" if you release and hold again within three seconds, the levels will decrease. While in either interface, output goes in the opposite direction once the lowest (floor) or highest (ceiling) level has been reached. You must however release the switch, then hold again, for that to happen. A single click from ANY operation, turn the light off.
And as a reminder, memory mode will ensure it always returns to where it was, once it's shut off.
Configuring the "Floor" and "Ceiling"
Another "by default" setting limits how low and high the MF01 output can go. In ramping mode, the floor is already set to the lowest possible level. However the highest output is set at about 75% of its capability. If it's bright enough for you, don't change it. But if you're curious…and want to totally amaze your friends…you can change it.
Meanwhile, when in "step" mode, the default setting on low, is several lumens HIGHER than what it CAN be. The default setting for the highest output is the same as in ramping….about 75%. Each of these limits is relatively easy to change, and clicking FOUR times while ON, enters the configuration mode. Once there, it "cues" you to set the lowest and highest limit by clicking the appropriate number of times.
In "step" mode configuration, you get an additional choice! Here, you can set the NUMBER of output levels anywhere from, say, "2" all the way up to 150!! The DEFAULT is "7" levels. When I changed it to my own preference, I set it to "5". This for example would be the equivalent of having the levels as, moonlight-low-medium-high-turbo. But again, it can be changed to signify anything you want.
More User-Defined Settings
click on each image to view FULL-size 
Whenever the Astrolux MF01 Mini has power, and is in the OFF position, the switch itself is blue. Within the main cluster of LED's, you'll also see SIX little "blue" (auxiliary) LED's, plus a kaleidoscope effect of purple and green LED's, but only when you look at the lens at an angle. If you directly into the center of the lens, you'll only see the blue ones. You might be asking, do the multi colored LED's have a purpose? YES they do!
When you see the green LED's, that means battery voltage is high. When you can't see green, and notice more purple within the lens, the battery is within mid-range. If you allow the battery to dip to 3 volts and below, all you'll see are a few red LED's within the center.
To make a long story short…you can change these settings!
By clicking SEVEN times when the light is OFF, you have the option of having the illuminated switch (and the "aux" LED's) glow at two different levels… low or high. Or, you can set them to "flash" (as if it was on "beacon" mode). OR, the third setting is to have ALL of them OFF at all times.
All Those Flashing & Blinking Lights
Like every flashlight with the Anduril firmware, the MF01 has lots of little blinking lights, either for emergencies, or just for fun!
Among those that are more for amusement than anything else, include;
Party Strobe
Lightning Storm Mode (emulates a dog-fearing storm, but without the rumbles!)
Candle Mode (emits light that emulates a candle, which can be set to turn off automatically)
On a slightly more serious level, there's;
Bike Flasher (to use as a bike light)
Tactical Strobe
Those classified as "utility" modes, are;
Battery Check (displays battery voltage)
Sunset Mode (starts low, & dims gradually for an hour, before shutting off)
Beacon Mode
Temperature Check (displays the current temp in Celsius)
Muggle Mode
This is a unique feature designed as a "safeguard" in the event that either a child, or "non-flashaholic" adult wants to use the light. Once engaged, (by clicking six times while it's off) the user won't be able to do much but turn it on and off, and will experience a VERY limited output! Basically it ensures they won't seriously blind themselves (or someone else) or f**** up the settings you've spent quality time deciding on! More appropriate I think, would be to call it "newbie mode".
Internal Charging
To charge the battery inside the light, connect your favorite USB-C cable to the port, and the other end to a reliable USB power source. The side switch will be partially illuminated in red…and will turn green when the charge is complete.
Check Out That Beam!!!
The following pics were taken with the flashlight set on "step mode" in a 5-output configuration
My Thoughts About the Astrolux MF01 Mini
The Anduril firmware is what makes the MF01 so versatile. All the "bells & whistles" are what make it so unique!
It's short in length, but thick in width, so pocket-carry is limited to large pockets or bags. It has the lanyard, so attaching it to something is an option. If you don't disable the power switch illumination, it's much easier to turn on in the dark. Once it's ON however, you'll have to feel your way around for the button, to turn it off.
Battery runtime is very good, and checking the voltage (other than looking at the aux LED's) is super easy! To get a voltage "blink-out" just click the switch three times while the light is off.
There are SO MANY ways to personalize the MF01. Then again, there are no more, and no less settings than on any OTHER light that also has the same firmware. I would suggest keeping the original box and manual in a safe place…since you might want to refer to it on more than one occasion.
Final Recommendation
I would suggest heading over to Banggood.com if the Astrolux MF01 Mini looks cool enough to buy.
For a special price, enter coupon code BGMF01NEW at checkout 😉
Click here to see the complete MF01 user manual
Please follow Lightsngear and like us: