Today's flashlight under scrutiny is the Eagle Eye X2R.
The X2R is a simple flashlight with an easy to use interface. It's reminiscent of the style of LED lights that were common several years ago when the technology was still developing.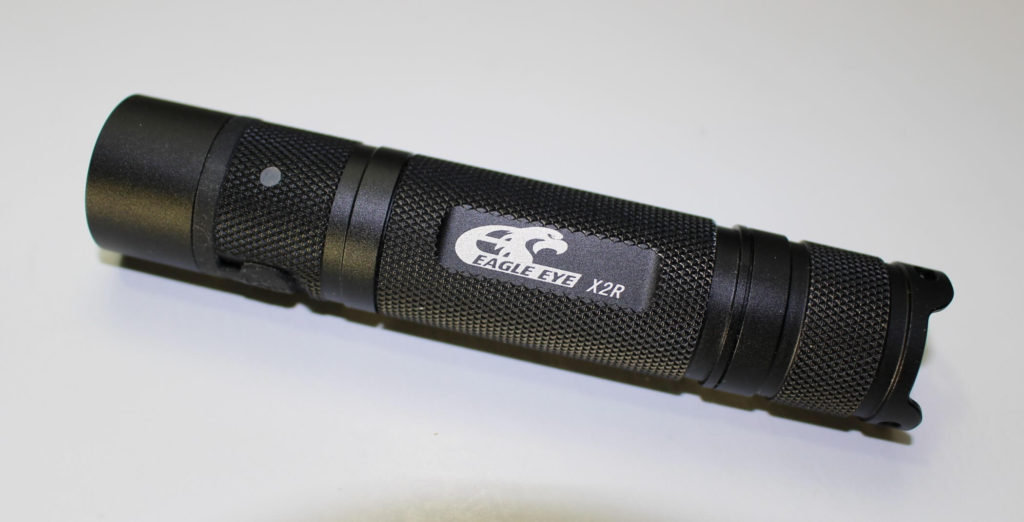 Simple Package
There isn't much fanfare here. The light comes padded in a small white box. There are no instructions or information about the product. It has an accessory pack however. This consists of a wrist lanyard, spare o-rings and a different color tail cap button, in case you don't like the black one that comes standard. There's no pocket clip.
Flashlight Information 
So here's what makes the Eagle Eye, the Eagle Eye X2R!
Weight (with battery); 107 grams
Length; 4.7″ (121 mm)
LED; Cree XM-L2 U2
Modes; 3 — low, medium, high
Highest output; 550 lumens
Internal charging circuit
Beam Distance; 100 meters
Battery; (1) 3.7v 18650
Working Voltage; 3.7 – 4.2
Mode Memory
Water Resistant (not submersible)
Toughened ultra-clear glass lens
Body Aluminum Alloy
Available in two tints; cool & warm-white
Easy Operation 
An 18650 battery is inserted into the tube, positive end up. The switch is on the tail.
One full press turns the light on. Each half-press thereafter cycles to the next mode. The sequence is low>medium>high. A second full press turns it off. There are NO flashing modes!
Mode memory will recall the last mode used upon activation.
Charging the Eagle Eye X2R Internally
You will need to supply your own micro USB cable.
Pull back the USB dust flap and insert the small end of the cable. After the other end is connected to a USB source, charging will begin. A small LED indicator to the right of the port will illuminate in red. At THIS point, the flashlight will TURN ON, and the indicator will turn blue. A "blue" indicator means charging has ceased!… so DON'T LEAVE IT LIKE THIS, it's NOT finished! Click the tail switch and TURN THE LIGHT OFF! Once you've done that, the indicator will go BACK TO RED, and charging will commence once again. The NEXT time it turns blue, charging will be finished.
The Beam Gallery
Closing Arguments
The Eagle Eye X2R is as simple a flashlight as I've used in some time. This isn't a bad thing, because it does what it promises. It's not for search and rescue, it's for walking your dog. It's not going to signal a 2-engine prop plane hovering overhead, it's going to illuminate your voyage to the bathroom in the wee hours!
As mentioned earlier, the X2R is available in two color temperatures. There's a cool-white version at 6000k and a warm-white version at 5000k. THIS IS THE WARM VERSION, and I have to say it's a very pleasant and soothing color. The beam is nicely diffused with a clearly defined hot-spot and good side-spill.
The three modes are well defined, and the tail switch works smoothly and effectively. It also tail-stands as expected.
It can ONLY use a single 18650 rechargeable battery, because the working voltage only accepts to 4.2 volts. DO NOT ATTEMPT TO OPERATE THE LIGHT WITH TWO CR123 BATTERIES! If you do, the LED will BLOW! (literally)
The charging feature is a nice addition, and I was surprised to see that it feeds a current of 900mA! Not too shabby at all.
The Eagle Eye X2R was supplied for review by GearBest. If the flashlight appeals to you,  then here's the link to visit their site!
Please follow Lightsngear and like us: