Here's a good reason for giving something a chance that might be a little unfamiliar. The Utorch UT02 is the perfect example of offering more than the name might imply.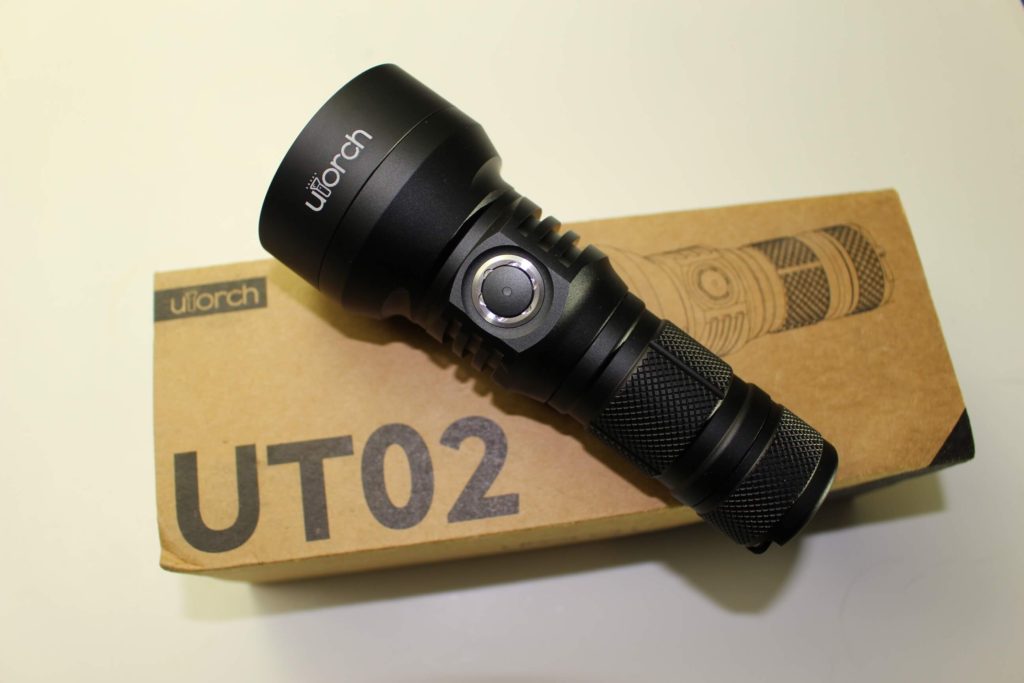 It wasn't long ago that I reviewed the Utorch UT01, a small, single AA (14500) flashlight that goes well beyond its size, in terms of performance. Meanwhile, the UT02 is more than quadruple the size of the UT01, but ITS performance is just plain amazing!
Ample Package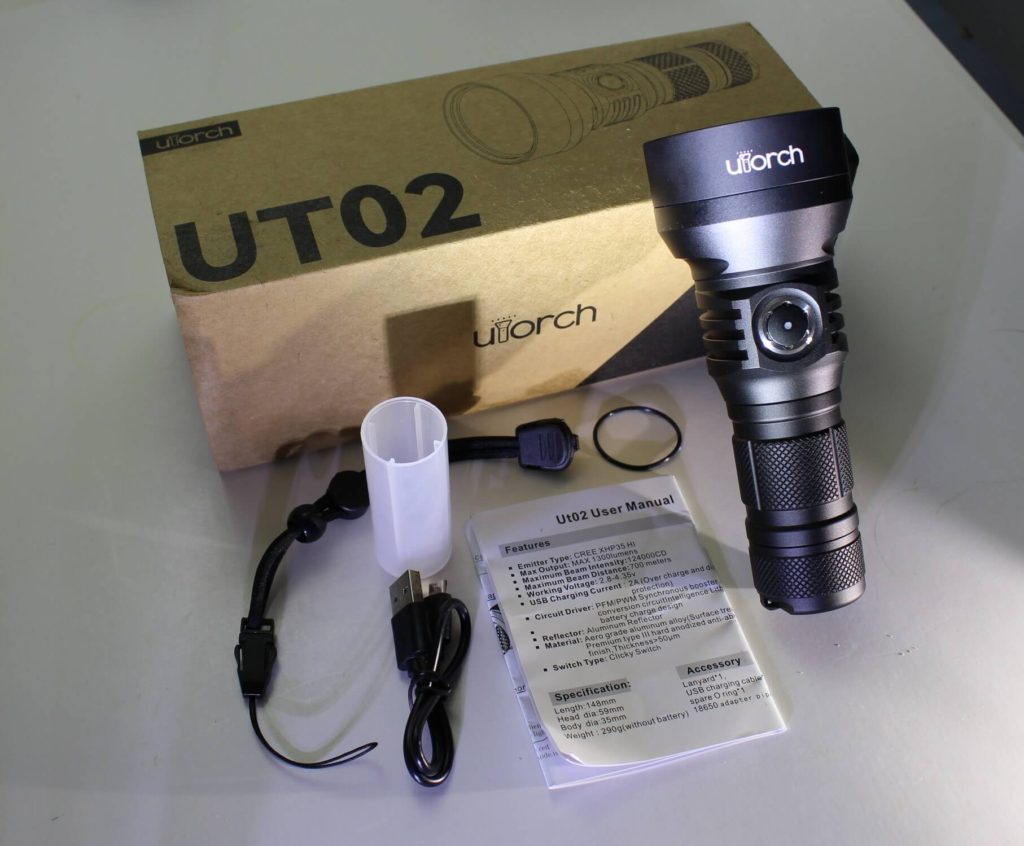 From the photo, you should be able to identify a very large box, a pretty big flashlight, and some fine accessories which include a micro USB charging cable, a spare o-ring, a user manual, an adjustable lanyard and a clear battery tube.
Specifications

Length; 148mm (5.82″)
Head Diameter; 59mm (2.32″)
Body Width; 35mm (1.37″)
Weight; 381 grams (incl., a 26650 battery)
Utorch UT02 Features
LED; At the heart of UT02, is a Cree "XHP35 HI". This, combined with the deep smooth reflector, gives the beam an extremely tight focus, thus allowing for tremendous throw. Add to that the width of the head, and you get a reasonable spill as well.
Beam Intensity; 124,000 cd (candlepower)
Beam Distance; 700 meters (765 yards)
Working Voltage; 2.8 to 4.35
Mode Memory
USB Rechargeable
Body Material; Aero-grade aluminum-alloy.
Body Finish; Type III hard anodized
Impact Resistant; to 1.5 meters
Waterproof; to IPX-7 (that means submersible to 3′ or 1 meter)
Modes and Output
First and foremost, the UT02 operates on just one battery. This can be either a 3.7v rechargeable 26650 (recommended) or a 3.7v 18650. The flashlight tube is designed for a 26650, so to accommodate a thinner 18650, there's a plastic insert included.
One thing to note, the runtimes given are only applicable when using a 5200mAh 26650. With an 18650, I'd expect those figures to be knocked back by about a third.
Low; 15 lumens (100 hours)
Medium 1; 100 lumens (12 hours)
Medium 2; 300 lumens (5 hours)
High; 650 lumens (3 hours)
Turbo; 1300 lumens (1.25 hours)
Strobe
SOS
How to Operate the Utorch UT02

Like many quality flashlights, the UT02 has only one button… on the side.
One short press activates the light. Each continuing short press advances to the next mode. The sequence is from low to turbo. A HOLDING press turns it off.
For the flashing modes, double click, either from OFF, or from any other mode. Within the
flashing sequence, there are actually three modes; strobe, "breathe flash" and SOS. In breathe flash, a purplish-pink LED beneath the power switch slowly ramps on and off. If you're asking, "what's the point of that", it's for locating the light if you're in a very dark setting and have placed it somewhere that you might have trouble remembering later. To activate it, you need to get to strobe, then single-click for "breathe flash". A third click gets to SOS… and to turn off, press and hold.
Mode memory will always recall the last mode used. So once you've been using it for a bit, it will activate at that mode with a HOLDING PRESS of the switch, while the light is off.
For "instant" low mode… (from OFF) perform one short click. If that is the ONLY mode you use at that particular time, "memory" will still recall the previous mode (to low) the next time it's used.
On turbo mode, there's a slight step-down after about three minutes. Even then it's still over 1000 lumens, so it's not terribly dramatic. Should use require turbo mode a little longer, just click through the modes, or turn the light off and back on again.
As the battery voltage diminishes, the power switch LED will appear as a solid glow.
Beam Gallery
Charging the Battery in Your UT02
Pull-back the USB dust-flap and insert the micro USB cable. Once charging has started, you'll see the "red" indicator within the power switch. Charging time is dependent on several factors. What's impressive about the internal charging, is that the light uses a VERY high current! Within the manual, it boasts 2A (2000mA). This is the highest internal current I've seen to date!
I tested it by charging the 5000mAh 26650 battery that's in the photo above. It wasn't drained very much, so the current it started with was 1.3A… still quite impressive. Like any other internal charging, the current drops as the battery nears capacity. As "fullness" approached, the current dropped to near .3A (300mA).
Perhaps a bit different than other rechargeable flashlights, when it's finished the cycle, the LED indicator turns "blue" instead of the traditional green.
Let's Talk Specifics
The Utorch UT02 isn't exactly a pocket flashlight, but it's a lot of power for any pocket you can fit it into!
For any scenario where you must need a flashlight to illuminate at a long distance, is where the UT02 would be of the most use.
Since the side button is the only means of power, I hope it has the resilience to last. On MY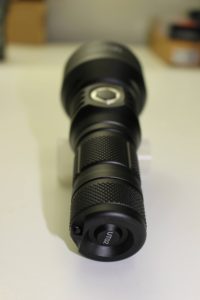 light, the power switch is a little squishy, and a firm deliberate press is needed for the electronics to respond.
The charging portion of the UT02 is the most powerful I've seen to date… regardless of flashlight size!
The fact you can use two different sizes of lithium batteries is convenient, not to mention the fact they can be charged inside the light.
My friends at GearBest supplied the Utorch UT02 for review. To make it part of your next exploration, please visit them today!
Please follow Lightsngear and like us: