Here's something unique… a very small 14500/AA flashlight that packs up to 800 lumens in its tiny frame! The Utorch UT01, is actually a flattering clone of the Manker E11… but is a little cheaper.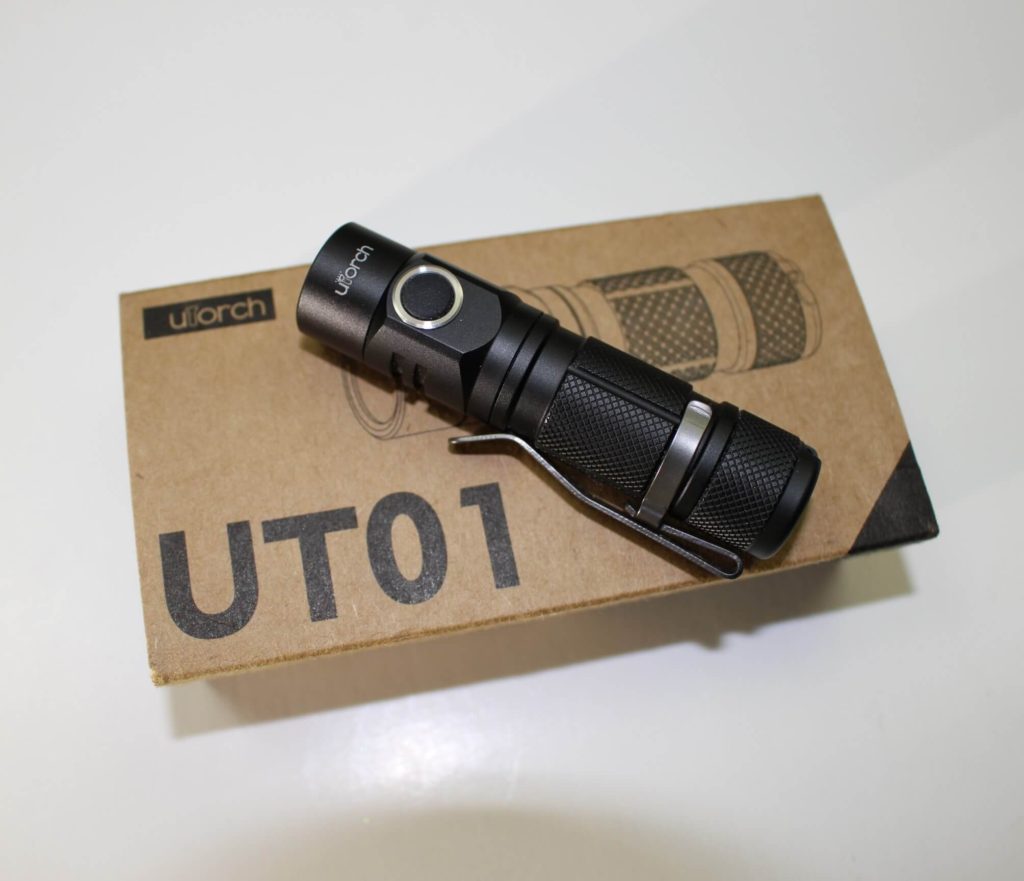 Simple Packaging … Fine Accessories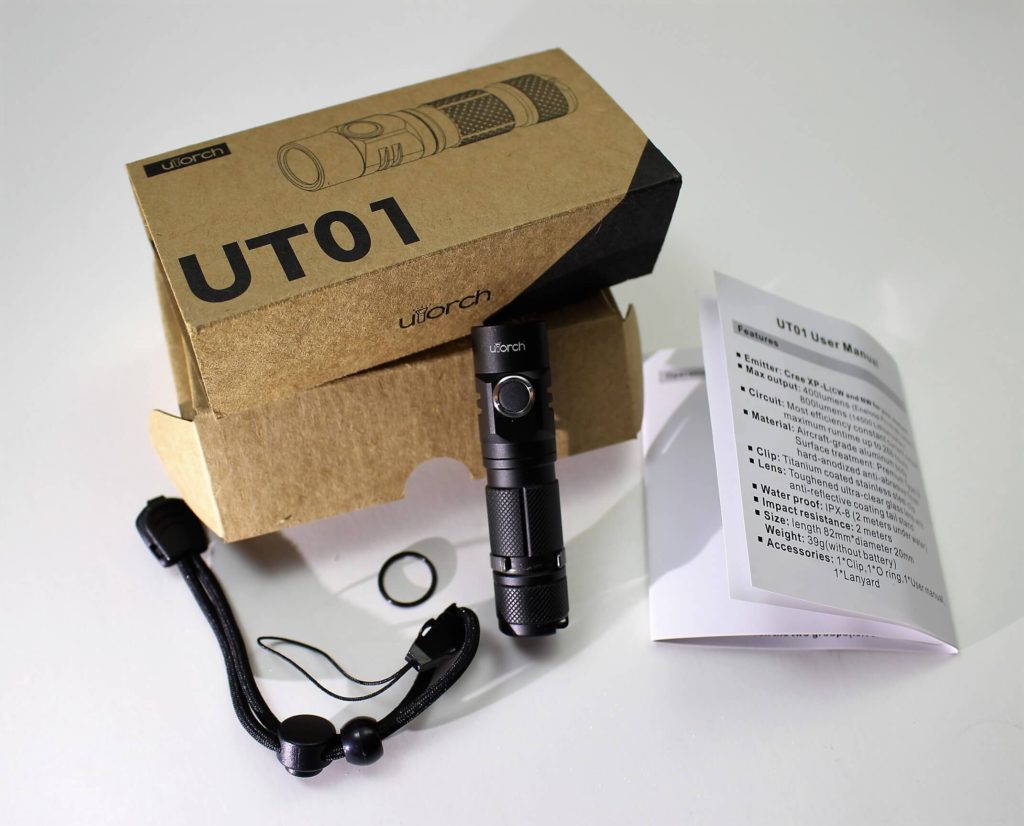 From the photo, you can see that there's a plain brown box, and a printed plain brown outer sleeve. The contents reveal a UT01 flashlight, a spare o-ring, an adjustable lanyard, stainless steel pocket clip, and a user manual.
Weights and Measures
So, the Utorch is pretty small… just 3.3″ tall. Weight-wise; a mere 58.7 grams… which includes a battery!
Features 
First of all, it uses a Cree XP-L LED, and comes in two different tints. There's a "CW" (cool-white) version, and a "NW" (neutral-white) version. This reviewed version is NW. 
It's made from aircraft-grade aluminum, and features a Type III, hard anodized, anti scratch surface.
The lens is toughened ultra-clear glass with an anti-reflective coating.
It's waterproof to IPX-8 and is submersible to 2 meters. It's also impact resistant to 2 meters as well.
Mode memory recalls the last mode used.
Battery Acceptance and Output 
The Utorch UT01 runs on one battery. You can choose from the following;
1.2v NiMH rechargeable
1.5v alkaline (standard) battery
*  For the best performance, the recommended battery is a 14500.
Ouput (modes) are as follows; (using a 14500)
Moonlight; 10 lumens
Low; 100 lumens
Medium; 320 lumens
High; 800 lumens
Strobe; 800 lumens
SOS; 300 lumens
Location Beacon; 80 lumens
Here's what to expect when using a AA (or NiMH) battery;
Moonlight; 2 lumens
Low; 60 lumens
Medium; 200 lumens
High; 400 lumens
Strobe; 400 lumens
SOS; 200 lumens
Location Beacon; 50 lumens
Operating the Utorch UT01 
All operations are performed with the side switch.
To turn it on just click the switch. Moonlight mode is what you'll get. With each additional (regular) click, the modes will advance. The sequence is from moonlight to high. As soon as a different mode is selected, the memory function will recall it the next time the light is switched on. To recall it, press and HOLD the switch. A holding press is also required to turn the light off.
For strobe, a double-click is required. This can be done whether the light is off, or on. An additional click from strobe, will activate SOS. A third click will activate location beacon mode. From ANY of the flashing modes, a HOLDING press is required to turn off the light. It will not go from an emergency mode back to any of the four regular modes. If you continue to just "click" from either strobe, SOS, or beacon… it'll continue to cycle through each of them over and over. You MUST HOLD the switch to exit completely.
Let's See it Work
Please note that ALL beam shots are taken using a 14500 lithium battery.
In Conclusion…
The Utorch UT01 is a powerful little flashlight. With the beam being very bright and having a nice wide coverage area, I see no reason not to recommend it. It's tiny enough to fit anywhere, and the button works and responds well. As I said, THIS is the neutral-white version which has a "warmer" tint. Cool-white is also available if you prefer that.
As I linked to at the top of the page, the UT01 was cloned from the Manker E11. I don't happen to have that one… but I assume it's identical, and both will provide the same performance.
My UT01 was kindly provided by GearBest, who is the proprietary merchant of the Utorch. Please visit them HERE, should you like the look of the light.
Questions or comments??? I love to hear from you!!
Please follow Lightsngear and like us: