Has Nitecore reinvented the camping light? It's possible. As innovative as they've been in all areas of everyday-carry flashlights, they now have the Nitecore LR30. It's an LED camping light which is both very portable, and quite versatile.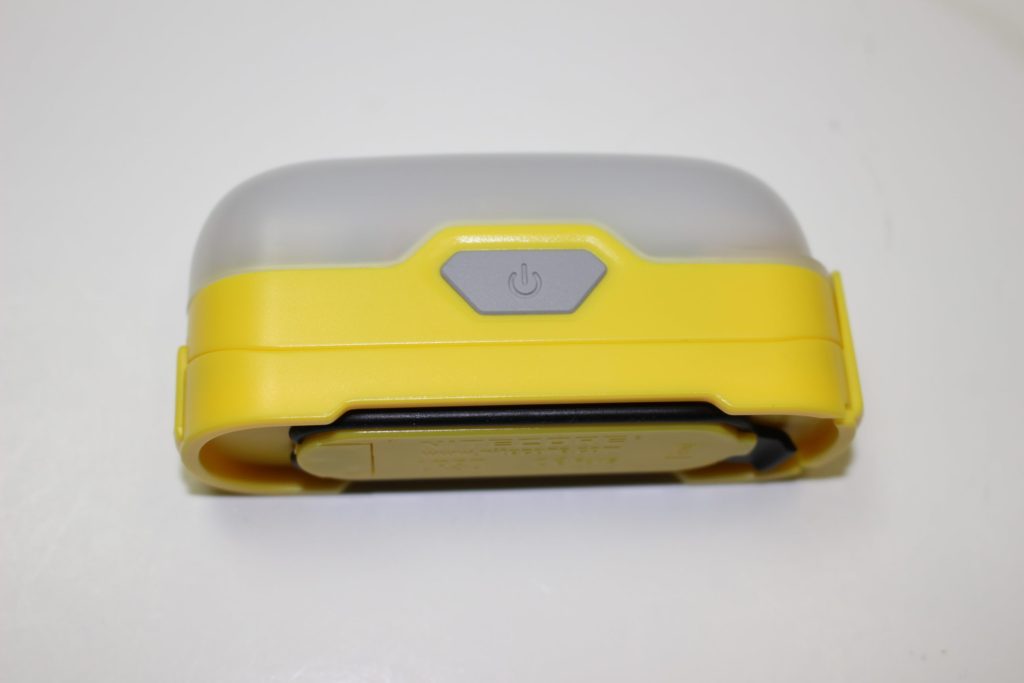 Little Package
As you can see, the light comes neatly packed in a typical blister-like package. Inside, you'll find a user manual, and a spare waterproof ring.
The light comes in your choice of three colors. Yellow, blue, green.
Features and Specifications 
Size; 3.62″ long, 1.72″ high and 1.24″ wide
Weight; 62 grams (2.18 oz) without batteries
Two selectable light types; (White and Red) Six white LED's and one red LED
Power source; ONE 3.7v 18650 battery or TWO 3.7v 16340 batteries or TWO disposable CR123 3v batteries
A built-in power (battery voltage) indicator — which also doubles as a location indicator (for the user, not as an emergency flasher)
A constant current circuit keeps brightness up as battery depletes
Magnetic base sticks to any metal surface
Waterproof to IPX-6 (not submersible, but can withstand heavy doses)
Impact resistant to 1.5 meters
Beam distance; 20 meters
Lighting Modes and Runtime 
So, you get the three traditional modes… low, medium & high…plus "flashing" and SOS, both in RED illumination.
Output and runtime measurements below are when using an 18650 battery.
Low; 12 lumens for 62 hours
Medium; 85 lumens for 8 hrs and 30 mins
High; 205 lumens for 3 hours (Note; to prevent overheating, the light will ramp down to a slightly lower output after 10 mins of continuous use)
RED LED; 45 lumens for 8 hours
Nitecore LR30 Operating Procedure 
Detach the hinged lower portion of the unit and insert one or two batteries. Once you do, the blue power indicator will blink the battery voltage. If the cell is at a full charge (4.1) the indicator will blink four times, then pause, and blink a fifth time. You can check cell voltage anytime by clicking the power switch, once.
To switch on the LR30, press and HOLD the button. Press and HOLD once again to turn it off. Once on, a single click advances the mode.
To activate the red LED, double-click the power button (when the light is off). While it's on, press the button with cycle through a flashing mode (not strobe) and SOS.
Close-Range Illumination Indicator 
So if you're not far away from the light and don't have it switched on… you can set it so the little blue indicator flashes every two seconds… to let you know where it is.
To do this, HOLD the power button for three seconds while the light is on. It will switch off, and activate the blinking LED. Nitecore claims the light can remain in this mode for six months before the battery can no longer supply ample voltage.
The BIG Pictures
Do I Like the Nitecore LR30?
Yes…. for what it is. As you can see from the photos, it works best when hanging (or affixed to something magnetic) above the area you're in.
The magnetic base can be very handy. I'm sure the red LED has its uses… especially if you need it to signal someone or attract attention!
GearBest was kind enough to supply the LR30 for review, and if you believe it's cool enough to take on YOUR next camping adventure, click here!
Prefer to shop Amazon Prime??? Then click here!!
Please follow Lightsngear and like us: