I'm not ready to say that Nitecore flashlights are getting redundant yet. Therefore the new Nitecore MT10C, has taken a popular interface, and tweaked it just a bit, so it's still fresh.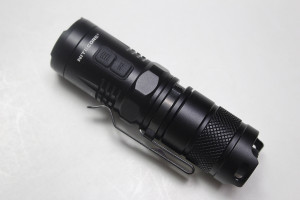 The "Need to Know" Basics
Taking up just a hair shy of 3.5″ the MT10C packs an LED punch!
The LED is a CREE XM-L2 U2, whereby nestled under an orange-peel reflector, can project its beam up to 190 meters.
Only one battery is required. Nitecore recommends a disposable CR123. However its other compatible batteries are what I favor. This would be either (1)- IMR [rechargeable] 18350, or (1) [rechargeable] RCR123/16340.
Output (brightness) depends on the battery used.
With a CR123, the levels are as follows;
Turbo – 480 lumens for 45 mins
High – 280 lumens for 90 mins
Medium – 135 lumens for 3 hours
Low – 50 lumens for 8 hours
Ultra low – 1 lumen for 170 hours
With a 18350 battery (my choice!);
Turbo – 920 lumens for 30 mins*
High – 500 lumens for 45 mins
Medium – 180 lumens for 105 mins
Low – 70 lumens for 5 hours
Ultra low – 1 lumen for 120 hours
*Please note; to prevent over-heating, the MT10C will lower its output if left on Turbo for more than three minutes continuously. 
Other Features 
A tail switch for tactical operations
A secondary

red

LED for signalling purposes
Battery voltage indicator (flashes in red)
A highly efficient constant current circuit for maximum runtime
Reverse polarity protection guards against improperly inserted batteries
A stainless steel titanium-plated 2-way pocket clip
Toughened ultra-clear mineral glass lens
A body with HAIII type military grade hard-anodization
Completely waterproof to IPX-8 standards
Stands on its base for use as a candle
Accessories include a user manual, a lanyard, a spare tail cap cover, a belt holster, pocket clip and 2 – spare o-rings
Time to Fire It Up! 
Okay so here's the basic operatation of the Nitecore MT10C.
You have a tail cap switch, and two side-mounted mode switches.
Pressing (clicking) the rear switch activates the light. Momentary use is accessed by giving the switch a partial (soft) press.
One the rear button is clicked, the side-buttons change the modes.
If when a new battery is first inserted, or at ANY time, you can check its voltage. To do that, press and HOLD both mode buttons, while pressing the tail switch at the same time. The red LED will "blink" the voltage reading. If you just hold the tail button during this procedure and then release it, the light will be off. If you "click" the tail button at the start of the procedure, once the voltage check is finished, the light will be ON, and enter a constant "red" signalling mode…until the tail button is clicked off.
Okay, your first click of the tail switch will activate the ultra-low mode.
To advance to the next levels, press the top mode switch. Once you get to Turbo, it stops advancing and any continued presses of the switch will do nothing. To ascend through the modes, you need to press the bottom mode button.
If from ultra-low mode, you press the bottom mode button, you'll get constant illumination from the red LED. A second press of the bottom button and the red LED will blink continuously.
If from ANY mode, you press and HOLD the top mode button, it will activate Turbo.
Flashing modes? Yup, the MT10C has strobe, location beacon and SOS.
To access all flashing modes, the light must already be on. Just press and HOLD both mode buttons. Strobe will come first. Press both buttons again for Location Beacon. For SOS, press and hold the buttons a third time. All three flashing modes utilize the main (white) LED only.
Beam Shot Photos? Yup, They're Right Here!
As always, click on each for a full-size image
Likes and Other Random Thoughts
The recent EC11, EA11 & EC20, all have a similar mode switching operation, but lack the tail cap switch for tactical use.
Meanwhile, the MT10C is a very useful adaptation of the EC & EA family. It's just as bright, and although it's just a tad longer than the EC11, the agility of operating tactically is a small plus.
The switching on this light is somewhat unique. On most, your only choice is to go from low to high. But here, since the tail cap switch acts as on/off, this frees up the mode switches to only be used for changing modes. Therefore, you can go brighter and lower at will, and never have to go the entire cycle to get back to low again. Of course having instant access to Turbo is never a bad thing.
In case you haven't noticed, I didn't included 'medium mode' within the beam shot photos for a very simple reason. The difference between low and medium is not that much. 70 and 180 lumens sounds like a reasonable span…but in actual use, to the naked eye, the difference was too slight to be able to compare. In my opinion, medium output should've been 250 lumens.
If you can (or would like to) envision a Nitecore MT10C attached to your belt, just click here!
If you have questions for me to answer, or a comment to make on this post, please do so below and I'll get back to you as soon as possible.
Please follow Lightsngear and like us: