When you're hot … you're hot! And Nitecore, is hot!! This is the reason our spotlight is now poised on the Nitecore EC11…the very smallest of the Explorer series.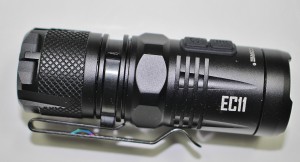 Cool Accessories
So, as with all Nitecore flashlights, your EC11 comes in a nice compact box.
Accessories include a lanyard, spare o-rings, a belt sheath, instruction manual, and a battery tube for using CR123/16340 batteries.
Power in Your Pocket
This little devil is only 2.95″ long! BUT…don't let the size fool you, because its output is an astounding 900 lumens when set to Turbo mode. This is undoubtedly the brightest light, in the smallest form factor I've ever seen! A few years ago this level of light, coming from something as small as this, was absolutely unthinkable.
Batteries, Brightness & the Bragging Factor
So, you've got this pint-sized flashlight in your pocket, and you're just itching to show it off.
With FIVE regular lighting modes, plus Strobe, SOS, & Location Beacon, there's lots to "flash around". Plus… you haven't even shown them the red LED light yet!!
"Man that's really small" is what you'll hear a lot of.
Then, when you start pressing the switches and changing the modes…
"Wait a minute…it has a RED light on it too?… that's awesome!"
"What kind of battery does that take?" they'll ask. You answer, "just one".
Yes, it's a 3.0 or 3.7 volt Lithium-ion battery. Either a disposable CR123 or a rechargeable 16340, or… the type of battery that the EC11 is actually designed for, a 18350 rechargeable!
Please note that a 18350 "protected" battery is usually Lithium-ion. But a 18350 "unprotected" battery is normally an IMR. Both are 3.7 volts.
Please also note that Nitecore does NOT recommend "flat-top" batteries for the EC11! In most cases they won't work. Only "button-top" batteries are guaranteed to work.
I personally recommend Efest 18350 IMR batteries.
So, here are the facts, directly from Nitecore.
IMR 18350 (rechargeable) battery;
Ultra low — 1 lumen
Low  — 70 lumens
Medium — 160 lumens
High — 300 lumens
Turbo — 900 lumens
Lithium 16340 (rechargeable) battery;
Overall lumen brightness when operating on a rechargeable 16340 (RCR123) will be very similar to the 18350 lumen levels above. Just slightly lower on high and turbo.
CR123 disposable battery;
Ultra low — 1 lumen
Low — 40 lumens
Medium — 100 lumens
High — 230 lumens
Turbo — 430 lumens
Family Traits
As with the recently reviewed EA11, the EC11 has much in common.
A CREE XM-L2 (U2) LED powers the light. The two side buttons perform ALL the lighting functions.
The Power Button;
Turns the light on (memory function)
Turns the light on in ultra low mode
Accesses location beacon mode in RED
The Mode Button;
Switches modes when the light is on
Accesses all "blinking"modes while in any lighting mode
Accesses constant RED LED
Accesses flashing RED LED
Accesses turbo mode
Lock it Out
Since it's possible (but not inevitable) that your EC11 can be unknowingly activated in your pocket, there are two ways to lock out the light. The first method is a simple loosening of the tail cap. To unlock, tighten it again. The second is by pressing and holding the two switches (AT THE SAME TIME) for about one second. You'll see a bright flash, followed by several RED blinks. It's now locked. To unlock it, just press and hold ONE of the buttons again.
Beam Shot Gallery
ALL photos were taken using an IMR 18350 battery.
Please click on each image to view full size
Observations and Discoveries
The Nitecore EC11 is a great pocket companion! Its similarities to the previously reviewed EA11, end with the sole usage of a smaller battery.
The drawback to both these lights, seems to be where Nitecore sacrificed battery runtime for the brightness "wow factor".  However one might argue that it's not completely based on output, since the lights offer lower lumens when using a less powerful battery, but fail to make it up in runtime hours. All this means is that when using the light away from home, extra batteries are essential! Or, you can conserve battery power by not running the light above medium mode.
I also detected low frequency Pulse Width Modulation (PWM) when using the EC11 on low, medium and high modes. As with PWM, this is only noticeable when illuminating quickly moving objects. Types of instances include your hand in front of the light…the blades of a fan…flowing water…that kind of thing.
In relevance to size, the EC21's output is nothing short of amazing. Keep in mind this "amazing" output is only possible with a 3.7 volt battery. The 3 volts supplied by a disposable CR123 will only deliver HALF of the advertised output.
The additional battery sleeve is useful to minimize rattle when using the slightly smaller  16340/CR123 battery.
I think you'll be pleased should you decide to get your own EC11  you can do so here!
Please follow Lightsngear and like us: