With the Nitecore EC21, you'll find style and innovation. Nitecore has been leading the way in flashlight technology of late, and has succeeded in producing another exceptional product in their ever-growing line of LED products.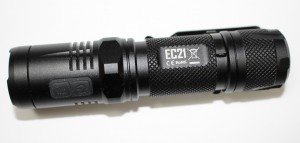 I'm excited to describe this light to you, because aside from its simplistic facade, the two little buttons on the bezel perform a multitude of useful functions.
NUTS AND BOLTS
I first need to address the size of the EC21. For a light that runs on (1) 18650 or (2) CR123 batteries, it's astonishingly small! 4.25″ to be exact. In contrast, the recently reviewed Jetbeam WL-S2, is over FIVE inches long. Although that length is more typical with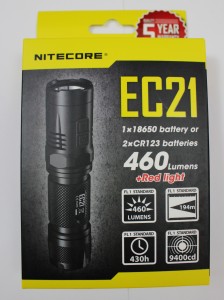 manufacturers.
Officially, the batteries that work in this light are:
Body-wise, you'll find the EC21 encased in hard-anodized military grade HA III aluminum. The scratch-resistant lens is made of toughened ultra-clear mineral glass. It's waterproof to IPX-8 standards…and submersible up to 2 meters in depth.
THE ABC'S OF THE L.E.D.
Most of the lights produced these days use a CREE XM-L LED. The XM-L beam pattern is typically "floody" in nature, meaning that the center spot is quite wide. This results in slightly less throw within the beam distance. The EC21 however, features an XP-G2 (R5) LED. This is a throwback to many of the LED's that came out several years ago. With the XP-G2, the center beam spot is much narrower, allowing the beam to throw in greater distances. Nitecore has measured this distance at up to 194 meters (636 feet.)
WHOA! CHECK OUT THE

RED

GLOW!
An added extra within this nifty light, is a secondary LED. A low-lumen red one! The photo on the left shows where the red LED is…as circled.
click each photo for a full-size image
THE LUMENS
In lumens, the EC21 tops out at 460. When comparing that figure to much of its competition within other 18650-based lights, that might seem low. But with the more focused beam, the throwing distance will be on par, or even greater in some circumstances, when compared to XM-L lights that have twice the lumen output.
The measured lumen levels as per Nitecore are as follows;
moonlight – 1 lumen
low – 20 lumens
medium – 100 lumens
high – 210 lumens
turbo – 460 lumens
These are very well spaced, and easy to adjust to. You also have access to three signaling modes; location beacon, SOS and strobe.
THESE SWITCHES DO "DOUBLE-DUTY"

For the EC21, the tail cap is used only for changing batteries, and standing on its own. ALL power switching is accomplished by two tiny buttons on the head.
The top button is for mode changing. The bottom for on/off operation.
So here's where the EC21 gets interesting.
The 'power' switch on the bottom is used for turning the light on and off. But, here's what else it can do:
Press and hold for "instant" moonlight mode
Press and hold while in ANY regular lighting mode, and the

RED

LED will flash every 2 seconds!
The 'mode' switch serves a number of purposes. With the light on, each press will advance it to the next level of brightness. But, here's what else it can do:
Pressing and holding while in ANY regular lighting mode will activate 'strobe'. Press and hold a second time, to activate 'location beacon' (flashes white). Press and hold a third time to access SOS. One final quick press will return to the original lighting mode*.
* The last operation can be achieved in any flashing mode.
Quickly press while the light is OFF to activate the

red

LED. It will illuminate constantly in this mode. Pressing either button will shut it off.
While in

red

illumination mode, press and HOLD the switch, and the

red

LED will flash continuously…about every ¾ second.
Press and hold from OFF to activate 'turbo' mode. Note: If you switch it off from this mode, it will return to turbo the next time you switch it on. To ensure that it will come on in a lower mode, you will need to press and hold the power switch.
OKAY, LET'S FLIP THAT POWER SWITCH!
click each image to view it full-size
THE FINAL ANALYSIS
I was pleasantly surprised with the overall performance of the Nitecore EC21. It has enough modes to compliment any lighting situation. The red LED is more useable than on other lights I've seen, including a previous model from Nitecore.
The compact size makes it very pocket-able, and the supplied pocket clip is quite sturdy. As handy as the two switch buttons on the head are, in pitch dark, it's a bit challenging to locate them in an instant. I would suggest if the clip is attached, to align it to the buttons. That would make them easier to find, and less likely for the light to activate in your pocket.
Whatever you think of the Nitecore EC21, I'd love to know in the comment section below.
For your own personal EC21, click here!
Please follow Lightsngear and like us: