Some new lights have been added to the Jetbeam roster, using a "WL" prefix. In this post, I'll examine the Jetbeam WL-S2 model which trumpets a 900 lumen output!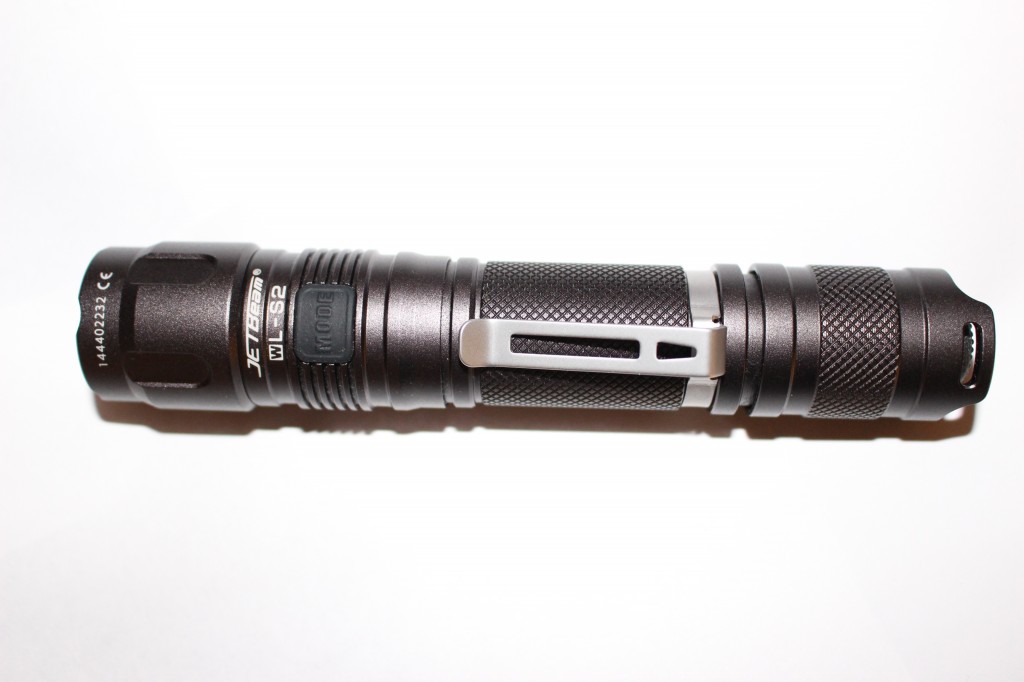 PLAIN & SIMPLE

The blue cardboard packaging holds the lights securely, and provides a very sturdy belt holster, in addition to a user manual, lanyard, spare switch-cap and o-rings.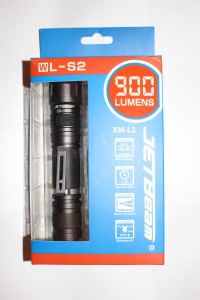 FACTS & FIGURES
With a CREE XM-L2 LED, and an orange peel reflector, the S2 produces a very clean beam. Throw is fairly good and is advertised at 260 meters (853 ft).
Lumen rating is at 900 on turbo mode. But Jetbeam claims that that is only possible when using two rechargeable 16340 batteries. With one 18650, they've rated it at 790 lumens. (More on batteries coming up.)
It's just over 5″ long and weighs 3.6 ounces. It's also waterproof to IP-X standards…I believe a submersion of 2 meters for 30 minutes was the test.
Its housing is a premium type III hard-anodized anti-abrasive finish, made from HA-III military hard-anodized aluminum alloy. Pretty indestructible.
THE BATTERY CLAIMS
Anywhere on the internet where you'll see the WL-S2 for sale, you'll read within the specifications that it accepts ALL (most common) battery types! And by this I mean;
(1) 18650 [rechargeable]
(1) 16340 [rechargeable]
(1) CR123 [disposable]
(1) AA!! [disposable]
(2) 16340*
(2) CR123
*** The following paragraph has an update following the review***
This is misleading, and left me scratching my head in disbelief. The length of the tube on the S2 is standard for a 18650 light. So I thought…there's no way it could utilize ONE smaller battery unless they included an extra (smaller) tube within the package. They don't. So within these descriptions, Jetbeam references "DIY" and "S1" tube kits! Now YOU'RE probably saying…huh? (I was too)
Within the WL family, there's also an S1 version. The S1 is slightly shorter than the S2. 109mm compared to 145mm. It uses a smaller battery tube. It claims to operate on basically the same battery configurations. But in truth, it only does by way of swapping the tube from the S2. So from this, all I can surmise, is that Jetbeam "suggests" the customer purchase both lights. Owning both permits the heads, tubes and tail caps to be interchangeable. This also allows other (singular) battery types to be used….including standard AA's. The S1 as sold, is meant to accommodate only ONE 16340 (or CR123) or ONE AA or ONE rechargeable 14500. As I say, these claims (at first glance) are quite misleading and require a clear explanation.
*** Please see the update to this scenario following the review***
As I mentioned, none of this is explained on the packaging, or within their literature. And for many consumers this could be an unfortunate surprise. I like Jetbeam products and if you're new to their name, don't think that this sort of chicanery is typical of them.
* The WL-S2 is heavy on amps. In recent tests on Turbo mode using two 16340 rechargeable cells, a draw of about 2.5 amps was measured. This is a bit of a strain on this type of battery. Although it allows the light to shine bright, it can result in less run-time, and perhaps quicker degradation of the cells. For a two-cell configuration, a better recommendation might be to use two "IMR" 16340 batteries. Similarly you can also use two IMR 18350 batteries.
THE POWER OF LITTLE BLINKING LIGHTS

Pictured, is the "mode" switch. Once the tail cap is pressed and the light is on, the mode switched is used to change illumination levels. Most LED lights tend to cycle from low to high. In the case of the WL-S2, it cycles from turbo to low. Personally, I find this a bit more difficult getting used to. The modes are as follows;
Turbo
High
Medium
Low
Moonlight
Strobe*
SOS*
*Strobe and SOS are accessed by holding the mode switch while already in one of the regular modes. One quick press returns to the previous mode.
The mode switch covers two functions. The switching as described above is its main function, but it also serves as a power indicator.
As soon as the light is activated, the mode switch glows for 5 seconds. The illumination
portion is divided into two sides. If the battery you've inserted is full, it will display a "full glow" (as pictured). As the battery drops below 50% voltage, the LEFT SIDE of the mode switch will blink. I'm uncertain as to how low it must go before the next stage, but as a warning that the battery must be charged soon, the left side will cease blinking, and the RIGHT side will take the blinking to the next level.
FLIPPING THE SWITCH!

(click each image to view full-size)

Don't hesitate to make yourself known should you have questions about the Jetbeam WL-S2. I'm here to help.
TO ADD A WL-S2 TO YOUR OWN FLASHLIGHT ARSENAL,
CLICK HERE 

OR

 HERE.

**NEW** 
AN IMPORTANT UPDATE FOR THE WL-S2!!
Since writing the paragraph above, regarding Jetbeam's description of the S2 and its somewhat deceitful battery configurations, I have since obtained the WL-S1 tube and tail cap. This, as per Jetbeam's description, is what transforms the larger S2 into the smaller S1! This now makes perfect sense out of what Jetbeam was referring to…regarding the "DIY" configuration.
Here are some photos to illustrate what I'm talking about. Please note that a pocket clip comes pre-attached to the tail cap.
Here are the two sections when separated.
What you see in the next two photos are the two sections of the S1 tightened together. Once together, they replace the original S2 tube and cap.
It actually attaches in two stages. The first stage (shown as "loosely tightened")  is to accommodate a AA-size battery. This also includes either an NiMH, or Lithium-ion 14500 rechargeable battery. The second stage (fully tightened) allows you to use a single CR123 or rechargeable 16340 battery.
The next photo depicts the WL-S2 with the S1 tube and cap attached (and fully tightened) which now makes the entire length of the flashlight, a mere 4.25″ long.
THE END RESULT
So, with the WL-S1 tube and tail cap attached, you now have a more compact flashlight with the exact same functionality as before, but that can be used with a smaller battery!
With the included clip screwed to the cap, this allows the light to sit deeper into your pocket, than with the original cap attachment.
The new configuration also allows the S2 to be used with a AA battery…either rechargeable or disposable. Just be aware that using anything other than a lithium 3.7 volt battery, will result in a much DIMMER light.
So, based upon Turbo Mode, here is what Jetbeam says you can expect when using different types of batteries along with the shorter tube and cap;
(1) 16340 or 14500 rechargeable… 770 lumens
(1) CR123 … 290 lumens
(1) AA (alkaline/NiMH) … 165 lumens
So, it's your choice whether you desire the WL-S2 to be used "as is" or with the additional S1 tube and cap, thus combining the TWO flashlight models into ONE!
Please follow Lightsngear and like us: