It wasn't long ago that I reviewed a Jetbeam product. That was the Jet-1 MK. Now, its sibling has arrived on the scene…the Jetbeam Jet-II MK, and that's what I'm reviewing now.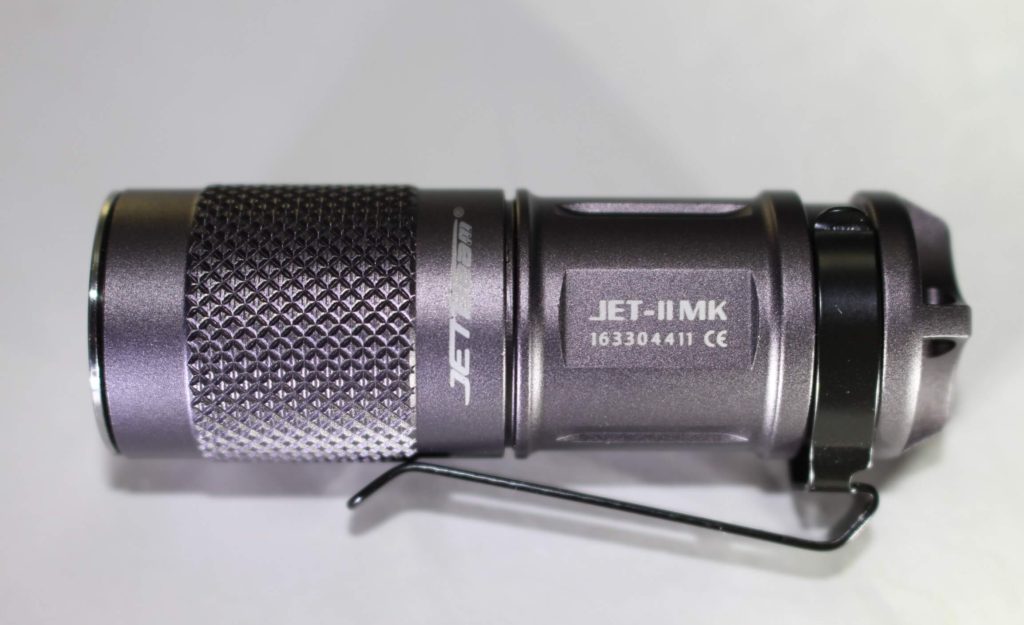 Tidy Little Package 
The Jet-II is nothing short of pint-size! Therefore its package is just as compact. Other than the flashlight, with a pocket clip already attached, there's an owners manual, an adjustable lanyard, a spare o-ring and a warranty card.
Specs & Features
Length; only 2.5″
Weight; only 47 grams WITH a battery!
LED; Cree XP-L HI
Beam distance; maximum of 138 meters! (that's 452 ft)
Reflector; orange peel
Lens; toughened ultra-clear mineral glass
Waterproof; IPX-8 (submersible up to 2 meters)
Impact Resistant; to 1.5 meters
Body; made from aircraft grade aluminum alloy
Battery acceptance; (1) 3v CR123 disposable or (1) 3.7v 16340 rechargeable
Output & Runtime 
So, you have four constant lighting modes on the Jet-II MK.
Ultra-low; 0.5 lumens (for about 15 hours)
Low; 5 lumens (for about 3 hours)
Medium; 100 lumens (for about 1.5 hours)
High; 510 lumens (for about 45 minutes)
There are NO flashing/blinking/emergency modes.
How Does it Work?
Really well!
Oh, you mean how do you work it? Very easily! It's a "twisty", meaning that there are no buttons or switches. Just twist the head, and that's it.
More details? But of course.
So, turning the head counter-clockwise will activate "ultra-low". A second quick twist will activate low, continue again for medium and one final twist for high. When turned off from ANY of these modes, the first twist on again, will always end up in ultra-low. There's no memory for the last mode used.
Let's Light it Up!
So, here are a few beam-shots. As always, clicking on each image will give you a larger view.
Thinking About the Jetbeam Jet-II MK
This is a super-fine little flashlight. It's terribly simple to operate, and one-handed operation is almost a given.
Anybody seeing this light will marvel at its brightness… for being so small. I always counter that by saying size has nothing to do with output. If that were true, then why are 15″ long, D-cell flashlights so dim? It's the LED and other components that "drive" the brightness. Really small flashlights can be as bright as larger ones. But there usually needs to be a limit on output due to the expected heat the LED generates. A very small light can literally become "too hot to handle" if the LED is driven to provide maximum brightness.
With the included clip, the Jet-II attaches to any pocket with ease, and is almost invisible when attached.
The Cree XP-L HI LED produces a beautiful beam with just the right ratio of spot vs. throw. The beam is a very nice white, with no off-color tints.
The only possible negative is BECAUSE it's so small, it can only take one small battery. Because of that, runtime suffers… especially on high. But, when used indoors, medium mode will probably suffice… increasing battery life.
I invite you to check out the Jetbeam Jet-II MK on Amazon!
Please follow Lightsngear and like us: