Klarus has been popping out flashlights lately! Today, I'm taking a closer look at one of their new mini lights, the Klarus Mi7.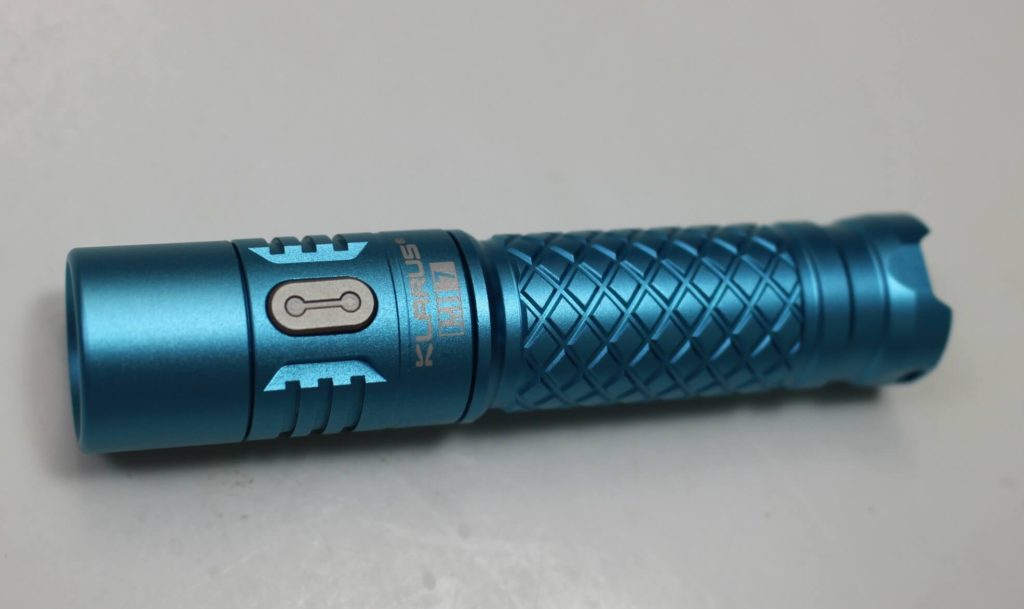 Tiny Light, Tiny Box 
The flashlight comes in a small plastic, light pink and green box with a generic AA battery tucked inside the tube. Also in the box is a much smaller box containing a tiny accessories bag and an instruction manual.
The accessories include a lanyard, an o-ring, and a key-ring attachment. Much to MY chagrin, there's no pocket clip.
The Basics
What kind of battery does it run on? — either (1) standard AA, or rechargeable NiMH (AA) or (1) 3.7v rechargeable 14500 lithium-ion.
What are the modes it offers? Pretty simple; Moonlight, Low and High. It also has Strobe  and SOS.
What is the output of the flashlight? Well, that depends on the battery you choose to use. With a simple AA or NiMH, you'll get 5 lumens on Moonlight, 90 lumens on Low and 330 on High. Strobe offers 300 lumens and SOS offers 90.
If you use a 3.7v 14500, you'll get 5 lumens on Moonlight, 90 lumens on Low, and 700 on High! Strobe will offer 700 lumens and SOS still offers just 90.
On SOS mode using a lithium battery, it should run continuously for about 11 hours. On a standard AA, it runs for about 5 hours on SOS. Running in High mode regardless of battery type, it will get about 45 minutes of constant use.
The Stats
The Klarus Mi7 is small; 3.4″ in length, and not much thicker than a AA battery. It's also light (in weight); 45.6 grams INCLUDING a battery.
The LED is a Cree XP-L HI V3.
It's made from 6061-T6 aerospace aluminum-alloy.
It's waterproof to 2 meters (IPX-8) and impact resistant to 1 meter.
The beam distance has been rated at 110 meters.
The lens is a scratch resistant hardened mineral glass.
It features a constant-current circuit meaning the light will remain as bright as possible as the battery voltage diminishes. It also has NO PWM flickering on low mode!
Operating the Klarus Mi7
From the photos you can see that it has one switch…on the side.
Turning the light on is as easy as giving the switch a quick click. When you do so, it will illuminate on HIGH mode. Another click drops it down to LOW. A THIRD click turns it off.
To access MOONLIGHT mode, the switch needs to be pressed and HELD for about 2 seconds…(from the OFF position). Again, one click from moonlight will turn it off.
A DOUBLE-CLICK from OFF will activate Strobe. A second double-click (during strobe) will activate SOS. A quick click from SOS will turn it off. A DOUBLE-CLICK while it's on, will also activate Strobe…followed by SOS. A single click from either Strobe or SOS (when activated while ON) will return to the previous mode it was in.
There's NO memory on the light. Each time it's turned off, it will turn ON the next time in high mode.
Each beam image below was taken using a 14500 lithium-ion battery. To view full-size, click the image.
Battery Voltage Indicator
When using a 14500 battery, you can check on its power status by clicking the switch THREE times while it's off. The LED will blink the battery power.
3 blinks; over 70% power
2 blinks; between 30 & 70% power
1 blink; less than 30% power
Lock-Out Mode 
Because of the little side switch, there's a chance that the Klarus Mi7 might turn on in your pocket. To lessen the chances of this happening, press and hold the switch while it's off. Hold for 10 seconds (even while it turns ON in moonlight) and wait for it to "blink" the battery capacity. After it does that, it'll be "locked-out". To unlock it when you need to use it, press the switch three times.
Over Discharge Protection
When using any type of battery, the output of the flashlight will automatically drop to a safe level as the voltage decreases.
With NiMH and standard AA's, the output will lower when the battery reaches o.8 volts. With a 14500, it will do the same at 3 volts.
Similarly, on a 14500 with the light set on high, the output will drop a bit after three minutes of continuous use. Don't worry, it's not an enormous drop, but just enough to prevent the light from getting too hot and damaging the LED.
Nice Little Light
The Klarus Mi7 is a very cool little flashlight. It also comes in other colors! The only pet peeve I have about it, is that there's no pocket clip. But, the lanyard and key ring attachment allow for other carrying possibilities.
The two levels of light are useful, and since low isn't terribly low… it can still be used on that level indoors for ample light. Having Moonlight as a third option is much appreciated.
The Mi7 was supplied by GearBest for review. You're invited to visit them should you be interested in seeing the other colors available for the light, and adding it to your collection.
Please let me know if you have any questions about this review and the Klarus Mi7 in general.
Please follow Lightsngear and like us: