In a recent post, I told you about the Jetbeam II MK mini flashlight. Now, it's time to introduce its tough little cousin, the Jetbeam Jet-II PRO, mini flashlight!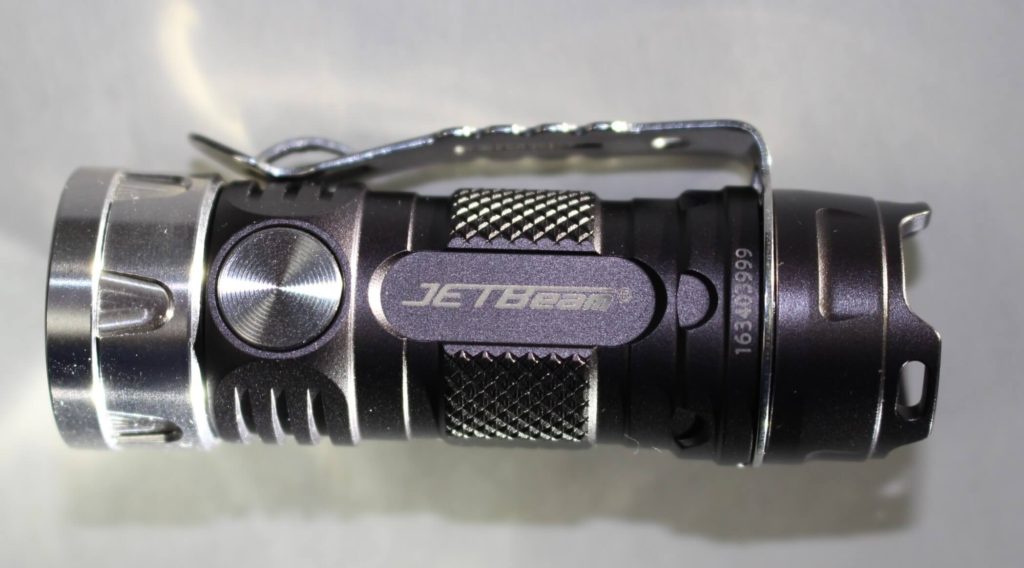 Same Packaging
So, just like the MK, the PRO version has the same package, which includes an instruction manual, a spare o-ring, an adjustable lanyard, and a warranty card. A pocket clip is already attached to the light. One additional accessory is a "defense ring" which when attached to the head, can be used to break glass or (seriously) defend yourself against an attacker.
Specs & Features
This guy is tiny! It's only 2.66″ long, and weighs a mere 56g including a battery.
The LED is a Cree XP-L HI, with a maximum beam distance of 138 meters.
It is impact resistant to 1.5 meters and waterproof (IPX-8) to 2 meters.
Its orange peel reflector produces a nice overall beam pattern. It has a good ratio of flood versus throw.
The lens is coated mineral glass for clarity and toughness, and the body is a TypeIII hard-anodized aero-grade aluminum alloy.
Uses just ONE rechargeable 16340 battery, or a disposable CR123.
It features four constant lighting modes; Ultra low – Low – Medium – High, and ONE emergency mode; Strobe.
Mode memory recalls the last mode used.
Offers a unique timing feature to preserve battery power.
Also features a "lock-out" mode to prevent accidental activation.
As for output and runtime;
Ultra low — 0.5 lumens for 150 hours
Low — 5 lumens for 3 hours
Medium — 100 lumens for 1.5 hours
High — 510 lumens for 45 minutes
Using the Defense (Strike Bezel) Ring
Already attached to the head, is a thin outer ring. To utilize the Defense Ring accessory, remove the thin ring and screw on the other ring. The Defense Ring is reversible. With the spiked end forward, the flashlight becomes a deadly weapon! Breaking glass, or seriously injuring someone, is a distinct possibility when using this particular tool. As I said, it's reversible… so you can tighten the spiked end onto the head by turning it around. This results in the head of light being smooth, as it was with the original ring attached.
Locking it Out
Since the button can turn the light on with one quick click, there's a chance this might happen while in your pocket. To prevent accidental activation, press and HOLD the button while the light is OFF. You'll see a short "flash". It's now locked. To unlock, press and hold again for three seconds. The light will respond by turning on in HIGH mode.
Even when locked-out, it's still possible to use it. Just double-click (while off) and you'll get "moonlight". A second double-click will activate "high". Then, by pressing and HOLDING the switch, it'll cycle through the other modes.
"Turning On" the Jetbeam Jet-II PRO
What is unique about this flashlight… and differentiates it from the Jet-II MK, is that it's controlled by an electronic side-switch.
For general use, a short press of the switch turns the light on. What I have discovered though, is if the tail cap has been loosened or the battery switched out, the switch appears to require a holding press….for several seconds, in order for the light to work normally. This action will put the light on, in high mode. A "one second" holding press is required to change modes once the light is on. To turn it off at any time, just do a quick press. Once the initial action is complete, a quick press will activate the light in the last mode used.
Ultra-low is activated (from OFF) by DOUBLE-clicking the switch.
Strobe can be activated anytime as well. Whether the light is off, or on, a TRIPLE-click will engage it. If you're IN strobe and need to return to the mode you were in previously, DOUBLE-click the switch.
High mode can be reached instantly from any of the lower modes, by DOUBLE-clicking.
As per the manual, if you leave the Jet-II PRO on high mode for an extended period, its automatic system for dealing with heat buildup, will slowly lower the brightness to near 65% of total output.
Timing Feature!
So have you ever wished that you could just turn a flashlight on, and set it down…and have it TURN OFF all by itself? Well, your wish has come true!
As well as its other fine features, the Jetbeam Jet-II PRO offers a user selected, pre-defined "timer" which will turn the light off, after either three or nine minutes.
To activate the timer, the light must already be on. All you do is quickly press the switch FOUR times. It will respond by flashing twice, and return to the previous mode. It will now turn OFF after three minutes. So, what if you want it to stay on for nine minutes? Press the button again…four times – the light will flash THREE times, and remain on for nine minutes. Is that handy or what??
Nice Beam Huh?
In Conclusion
I like the Jetbeam Jet-II PRO very much! Once you get the button sequences down, for what you need to do, it's a great little light. It's very small and very bright… what's not to like about that?
Do I have ANY complaints? Just one. Each time the tail cap is removed, the pocket clip falls off. If you replace it quickly and tighten the cap, chances are the light won't work. This is because the ring at the base of the clip, is preventing the cap from tightening completely. Is there a fix? Yes. There are little notches on the tube of the light, which a "tooth" at the base of the clip needs to fit into. This will ensure the cap closes completely over the clip. Obviously if you need to do this in the dark… you won't have much success.
Overall, this is a fine flashlight which I recommend wholeheartedly.
Looking for a buying link? Then click here and you'll be transported to GearBest, who supplied the Jetbeam Jet-II PRO for review.
Prefer Amazon? Then click here 🙂
Please follow Lightsngear and like us: