Jetbeam Jet-1 MK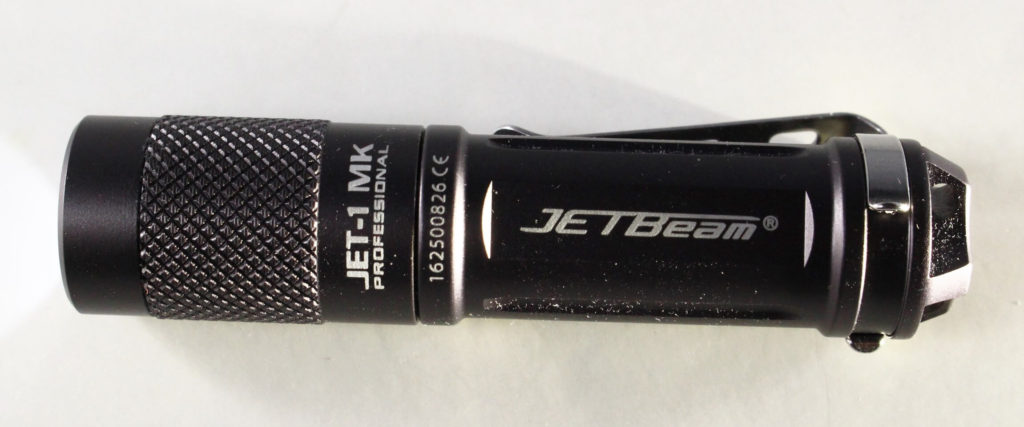 I'm pleased to bring you the new Jetbeam Jet-1 MK, which has earned a position within a growing field of smaller EDC flashlights of late.
Nice Little Package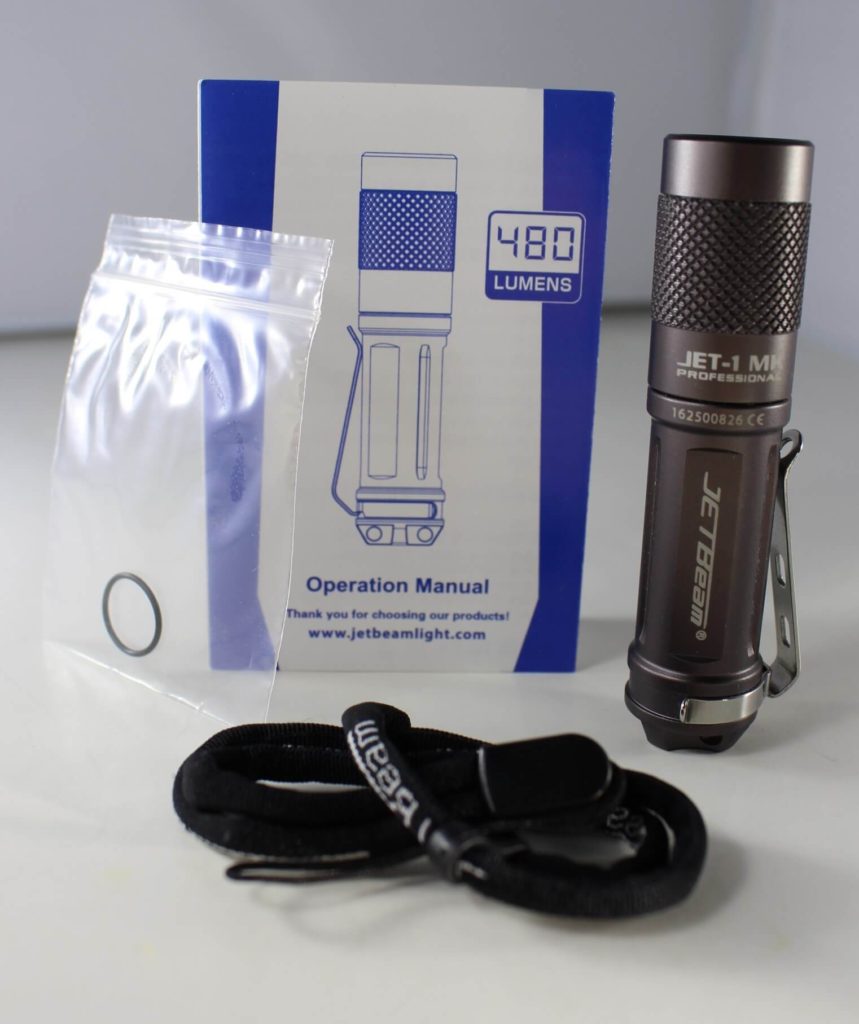 Say what you will, sometimes good things really DO come in small packages! So here, along with the very tiny Jet-1 MK flashlight, you get an instruction manual, a spare o-ring and an adjustable lanyard. A nice little pocket clip is already attached.
Jetbeam Jet-1 MK Specifications 
Length…it's small — only 83 mm (3.26″)
Weight…it's light! — only 1.7oz
Battery; runs on just ONE AA battery (either alkaline or 1.2v NiMH rechargeable) However, to get the advertised performance, you must use ONE 3.7v rechargeable 14500 lithium battery (recommended)
LED; A genuine Cree XP-G2
Output;  Low: 1.5 lumens … Medium: 30 lumens  … High: (14500)  480 lumens  …  High: (AA) – 150 lumens. There are no "flashing" (blinky) modes.
Beam distance; 130 meters
Impact resistant; 1 meter
Waterproof; IPX-8 (submersible to 2 meters)
Lens; made from toughened ultra clear mineral glass
Body material; Military grade TypeIII hard anodizing
Tail-stands perfectly
Just Give it a (One-Handed) Twist
Switching on the Jet-1 MK is a breeze! First, you'll need to insert the battery, (button end first) which is done by completely unscrewing the head.
To turn it on, simply twist the head to the left. You'll see "low" first. Twist it to the right (off) then back left again and you'll advance to "medium". Repeat a third time and you'll get "high" mode.
Memory; The last mode you used is memorized for the next time you twist it on. If for instance it comes on in high, and you want medium… then you'll need to give it a quick double twist. You'll go to low first, then medium. The twisting action when using both hands can be done very quickly, so don't approach this as a daunting task.
On the light I received, the head movement can be performed very easily with almost no tension. You might even say it's loose! This of course aids in effortless one-handed operation.
Nice Beam!
Please note all images with the exception of the one noted, are taken using a 3.7v 14500 battery.
My Conclusion
The Jetbeam Jet-1 MK is a super everyday-carry flashlight! There are attachment holes within the tailcap allowing for various methods of taking it wherever you need to go.
High mode with the XP-G2 LED is very bright. Runtime on high is estimated at 30 minutes. There doesn't appear to be any automatic step-down, so it'll run as long as the battery can support it. Please note; when running on high (w/14500)…it gets hot quite quickly. If you were wearing gloves, that wouldn't be an issue. Also notice the pictures above showing the differences on high when using an NiMH rechargeable as opposed to a 14500 lithium.
For general "quick, hand me a flashlight" use, this is a terrific little light. It would however fall short if you needed something for self defense or in a dire emergency. With no strobe or SOS, you only have high mode to attract someone's attention.
I'm recommending the Jet-1 MK for its ease of use, convenience and brightness.
The Jetbeam Jet-1 MK was provided for review by GearBest. If you'd like to consider a purchase, please visit their site.
Prefer Amazon? Then click here!
Please follow Lightsngear and like us: