Today's flashlight review, is for the Jetbeam E10R. You can also call it the "Jet E10R" if "flashlight correctness" is your thing.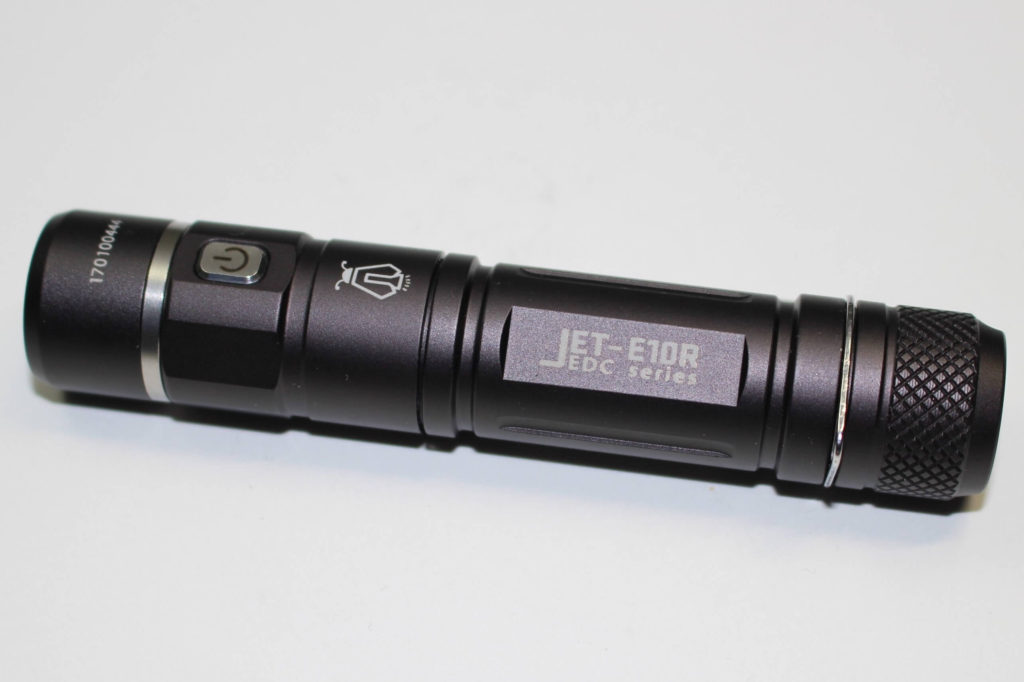 It's an extremely compact everyday-carry light, that's also USB rechargeable.
The Jetbeam E10R Package
Along with the flashlight, the E10R package includes two o-rings, an adjustable lanyard, a USB charging cable, a user manual and a warranty card.
Statistically Speaking 
The E10R is a great EDC flashlight. With a sturdy pocket clip already attached, any pocket would welcome it with much room to spare!
It's 3.8″ long, no bigger in circumphrance than a AA battery, and weighs only 55 grams, with the battery installed.
The LED is a Cree XP-L HI, which sits within a smooth reflector, which helps to project its beam up to 129 meters (141 yards). Top output with a 14500 battery is 650 lumens.
Speaking of battery acceptance, a lithium-ion 3.7v 14500, is recommended, and is the only way of achieving 650 lumens. Other usable battery types are either 'one' 1.2v NiMH, or a standard 1.5v disposable AA.
It is waterproof to 2 meters underwater, and impact resistant to 1 meter.
The body material is aero grade aluminum alloy, and coated with a TypeIII hard anodized and anti-abrasive finish.
Output and Runtime
There are three basic modes, low, medium and high… plus strobe. Nothing fancy. The sequence is from high to low.
So, here's what you can expect regarding the two types of batteries.
AA/NiMH
Low; 4 lumens (100 hours)
Medium; 46 lumens (9 hours)
High; 190 lumens (just over 1 hour)
14500
Low and medium are the same
High; 650 lumens (30 minutes)
Simple Operation
The tiny side-switch is power central. To activate the light just give it a quick press. Each additional press will advance the mode. A holding press turns it off. Mode memory will recall the last mode used.
Double-click the switch, either while on or off, to activate strobe. One press from strobe puts it in the 'next' mode in sequence, from where it was previously, or a holding press turns it off.
Charging the Battery
To expose the USB charging port you need to completely unscrew the head. Just be careful not to let it out of your site while the battery is charging!
Connect the cable to a USB source, and away you go. You'll see a small LED illuminate once charging begins. If it's a 14500 battery, the little light will be red.  If charging an NiMH, the light will be green. Once the 14500 charge is complete, the LED will turn blue! For an NiMH, the green light will go out.
Checking Out the Beam
Jetbeam E10R Observations
This is a nice little EDC flashlight. It's very handy for everyday lighting needs.
However, here's where it's handicapped. It's a relatively inexpensive flashlight, which in itself isn't a bad thing. But the low cost means less modes. And since it only has three modes, its usefulness in certain circumstances is limited.  What is REALLY needs is another mode, somewhere between medium and high. Because in some cases, medium isn't enough light, but (with a 14500 battery) high is a bit too much. Of course for better spacing, you can use an NiMH, but with that, the output on high mode is very limited.
Although I recommend using a 14500 lithium battery, it's a bit disappointing that the light gets quite hot after about ten minutes of use on high. Plus, the battery doesn't last long on that level either.
Don't get me wrong, the E10R is a useful light… but in my opinion it's a bit limited. The fact that it's USB rechargeable, is its one big asset.
There are several AA flashlights which I would more enthusiastically recommend. Three worth mentioning are the Manker T01 — the Nitecore EA11 — and in terms of a similar price, a BIG recommendation for the Utorch UT01!
If you'd like to get an E10R, hop on over to Banggood, where you're assured of getting a good price!
Amazon Prime is also a good place to check it out as well.
Please follow Lightsngear and like us: